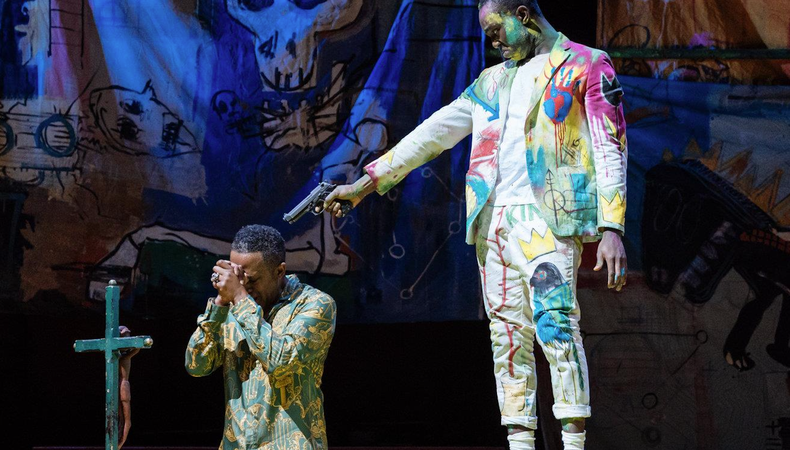 Welcome to Decoded, a series that deciphers different corners of the UK performance landscape. This week, Backstage examines the Royal Shakespeare Company. It's been around for over a century and still going strong. We take a look at why that is and how you can get involved.
Don't Say: "Yet again, all the public money goes to borrr-ing men in tights."
Do Say: "A forward-thinking and innovative theatre company working hard to bring the Bard to new global audiences."
What is it?
The Royal Shakespeare Company – or RSC – is one of the UK's leading theatre companies. Focusing primarily on the work of little-known playwright William Shakespeare, the RSC also performs the work of Shakespeare's contemporaries and modern writers too. In fact, one of its biggest recent hits didn't feature any codpieces or men in hose at all – Tim Minchin's Matilda The Musical was developed by the RSC over seven years and has now been seen by over nine million people on three continents. The company also had a hand in the success of another non-Bard hit – Les Misérables, so there's more to their output than just Mr W. Shakespeare Esq.
Unlike most other major theatre companies, the RSC's main base is not in London but in Shakespeare's hometown – Stratford-upon-Avon. In 1875, beer magnate Charles Flower came up with the idea that the town should have a permanent subsidised company of actors and donated a site for the theatre. By 1925, the company had become one of the most prestigious in Britain and was granted a royal charter – and the RSC was born.
Led by artistic director Gregory Doran since 2013, the RSC has three theatres and is one of the best-funded theatre companies in the UK. It regularly puts work on in the West End and Newcastle as well as broadcasting productions to cinemas across the world through its Live from Stratford-upon-Avon screenings. Like other arts institutions, the RSC is also keen to reach out to more diverse, unrepresented audiences and is working towards that aim.
Looking for your next stage role? Check out our UK castings
Why Should I Care?
If you're an actor, the RSC is one of the companies you probably aspire to work for – and if so, you'd be in good company. Dame Judi Dench, David Oyelowo, Sir Ian McKellen and Damian Lewis all launched their careers in Stratford, and most British actors of note have spent time in an RSC production. The company has helped train generations of actors and off-stage staff – and as their starry list of alumni shows, they've not done a bad job of it.
So, having an RSC production on your CV always looks good – even if you begin by playing Third Staff Carrier to the Left. Doing Shakespeare well isn't easy and the RSC works with actors to master "the dynamics of Shakespeare's language which are an art form in themselves" – offering regular support from its voice department. Basically, if you've worked at the RSC, it's prestigious and impressive and it says to casting directors that you're trained, are good with text and can be relied upon.
However, something to think about: the RSC isn't for everyone. Contracts are usually six months minimum and often over a year – a long time to be in Stratford if you don't live there. Some actors don't like to be away from the centre of the business in London – but for many, their time in Stratford is a treasured career high.
How do I get Involved?
The Royal Shakespeare Company has its own in-house casting department headed up by Hannah Miller with support from Helena Palmer, Matthew Dewsbury and Martin Poile. You can get hold of them on 0207 845 0500 or email via suggestions@rsc.org.uk.
Hannah Miller has said that the RSC takes in people at different stages of their career – noting that there's at least between one and five people who are in their first year after graduating. She and her team are known for taking themselves off to the theatre to find new talent and she wants people to get in touch with her department if they're keen to work at the RSC.
If you're at an earlier stage of your career, the RSC Next Generation might be a scheme to bear in mind. Described as a "unique talent development programme," it aims to give "young people from financially disadvantaged backgrounds the opportunity to gain experience and explore whether a career in the theatre is for them." Young aspiring actors, directors and backstage staff can apply.
What else do I need to know?
The RSC has recently committed to reflecting the UK's "gender, ethnicity, regionality and disability" and the company is also showing a fresh modern outlook in other areas, too. Despite being forced to shift completely online, their hi-tech immersive production of A Midsummer Night's Dream called Dream definitely made an impact on audiences around the world. Artistic Director Gregory Doran told the BBC: "It's not a replacement to being in the space with the performers but it opens up new opportunities. Shakespeare was our greatest storyteller and it's brilliant that we get the opportunity to use one of his plays to discover what could be possible for live performance." See – it's not all men in ill-fitting tights.
More in our Decoded series: