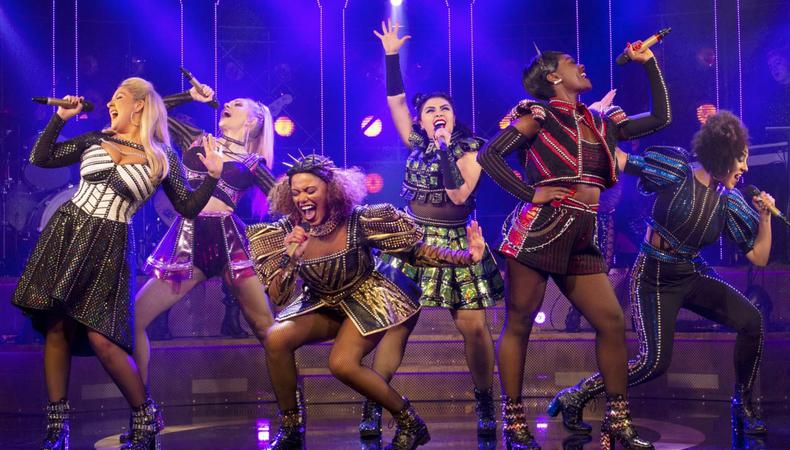 It's a tough time for actors right now, but The Slate – Backstage's live series of classes, seminars, and digital exercises – will help turn time on your hands to your advantage.
Headed by a husband and wife team, Pearson Casting is an international casting house based in the UK. In a live Q&A session with Backstage, casting director Rosie Pearson discusses how they approach casting a musical, the ethos behind how she runs the company with her partner James, and why there's always a place for open auditions.
How confident is the casting world right now?
"Certainly, in overseas work, the clients are incredibly optimistic about driving forward through this. There is an enormous market out there and they want to get going again, so as soon as they can trust that can happen, everything from cruise ships to the overseas theatre industry will start. People are investigating what social distancing options there are until we can return to whatever the 'new normal' is."
How does Pearson approach castings?
"As former actors, our approach in all of our casting work stems from the question: 'What is it we want to feel like when we walk in an audition room?' We were thinking: what do we want to not do? We didn't want to be elitist or exclusive; we never wanted to make actors feel like 'I haven't trained at the right place,' or 'I don't have the right agent.' If you don't have the right CV, that shouldn't exclude you from being considered or getting in the room. And we talked a lot about what we want a casting process to feel like. How many times have we, as performers, sat by a phone or an email, waiting for a response? Rather than going: 'Well, this is how things have always been done,' we thought: 'How do we want a casting company to treat us and other performers?' That's always been our ethos. We've definitely not come from anyone else's ethos or system."
How do you cast a musical?
"We've got so many different elements to take into account. Someone has to be able to dance to whatever level is in that show, there's vocal skill, obviously, and then acting as well. I think it gets forgotten how many skillsets a musical theatre performer needs to be able to bring into the room.
In the traditional casting structure, we would start with a private call on your own, hearing one or two songs of your choice, then material from the show, and we might do some script work. And then there'll be a movement or dance call towards the end. But some shows need us to flip it around.
We just cast a revival of RENT, which has been postponed [because of the pandemic], but it's opening this year which is going to be amazing. But RENT isn't really a dance-based show, at least not in this production. So, we were casting for people who had an interest in exploring movement rather than dancers. And the focus came down to vocal styling, the right feel for the show. Casting directors always talk about that 'feel' – are you the right feel in terms of your energy and your look? But for this, that meant people who were rock vocalists, not musical theatre or pop, but kind of like rock singers who had a great connection to the text. We wanted great actors who were happy to work intuitively with the director. In contrast, Six the Musical ended up being a dance-call, first. We started by running the vocal first, then acting and then dance last. But we were losing people that we absolutely fell in love with because the dance element of the show is so important. It's integral to the feel of this pop concert – everyone is onstage the entire time and it's technical in ways that people don't necessarily realise. So, it completely depends on the show."
How can singers work on their 'belt'?
"Be safe, and find a singing teacher you really trust. People are doing really great online classes at the moment. But here's the thing to focus on: it's less about creating sound and more about connecting to the lyric. So, a belt – or any kind of vocal dynamic – should come out of an organic place within that character or scene. The reason we belt is to amplify the emotion, not just to create a loud sound. The more you can connect that psychologically to the lyric or into the text, the better overall your vocal will be. Don't try to run before you walk. If creating a belt sound is new to you, create a safe belt sound in the middle of your range and sing songs that don't tire you out quickly. And make sure everything that you're doing is safe!"
Why do open castings still count?
"On the whole, our auditions calls are private, mostly for time. But for Six, we try for at least one open call a year so that we can meet talent and give people the opportunity. Sometimes, people haven't put their CVs together well – they don't reflect the skills that they have, or performers don't have footage that really showcases what they can do. So, we do try for open calls. There's a lot of reasons why someone may not be represented: maybe it didn't work out with their last agent – agencies go under or let people go if they haven't been working. And there are hundreds of reasons why someone may not have booked a job for a year or two. So, we try to see as much talent as possible, especially for overseas jobs. Not everybody wants to go and work abroad, even if it's doing Six. They don't necessarily want to work on a ship for six months, or they've got commitments back home. So, by opening that up to everybody, we find lots of talent that isn't repped for some reason."
Check out the full Q&A for more insight, tips and tricks, including overcoming audition nerves and advice on how to get in touch with casting directors.
Resources: