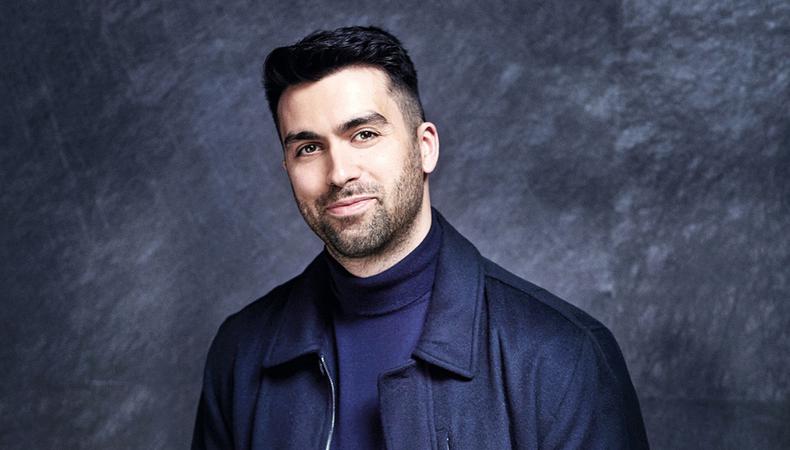 It's a tough time for actors right now, but The Slate – Backstage's live series of classes, seminars, and digital exercises – will help turn time on your hands to your advantage.
There are plenty of brilliant takeaways from our recent chat with David Mumeni. Known to UK audiences from the critically acclaimed Stath lets Flats, Dead Pixels, and Sliced, he's also a writer and the founder of Open Door, which supports people from low-income backgrounds applying to drama school. Here, Mumeni speaks about his journey to founding the initiative, and he shares his top tips for auditioning.
On his journey to Open Door
"A lot of my friends went to straight to the National Youth Theatre – those who were confident. I knew I needed a bit more – I wanted to be really good as opposed to just be an actor or be famous. I wanted to be better than people thought I could be. I was 18 and school was trying to get me to do university, which I knew would be terrible because I couldn't write essays. Which is mad now, because I write!
I started auditioning for drama school but I didn't really know what I was doing. It's hard to get in now, but back then it was really hard if you were Black, Asian or ethnic minority. If you weren't essentially middle class and white there were more barriers – people had more unconscious bias about what you are and what your ability was. So, I remember going: 'I'll be the trained Adam Deacon,' because he was the only actor I knew anywhere near my skin tone. I ended up going to Drama Centre, and it was just the school for me – I had an amazing time. There was definitely stuff about class there, maybe less stuff with race, but perhaps I didn't really notice at the time. But the training itself was invaluable. And it's probably why I ended up wanting to do Open Door – making sure everyone has access to what I had."
On picking a drama school
"Look at their alumni. Their recent alumni. It's great if Judi Dench went there 50 years ago but that was a different school, so look at people from the last five years. Who are they? What work are they doing? Sometimes, people get pulled in if it's got a new building, but a building doesn't matter if no one comes to the showcase, or if the training isn't any good. Look at what the actors are doing.
With drama schools, people think you have to offer them something: 'I think RADA likes more of this rather than that.' But you have no idea – you can't know! These stories people have where they've heard they like you if you are a certain way – even if you did know, you can't spend three years being someone else. Just show what you are, and if they don't like it, fine – someone else will. That's often the case – one place likes you, other places don't."
On changing your mindset about audition panels
"We think when we do auditions, [the panel] is waiting for us to mess up. We tend to ignore the fact that panels and casting directors want people to be good! So, change your mindset. Don't think they're waiting for you to mess up, or that they don't like your ideas. Why would they be looking for bad people? They literally want the best people!"
On acting, not trying out for the role
"As a professional actor, you shouldn't really try and 'go for parts.' If I'm thinking about that, I won't be any good. And I just have no control over getting the part or not. Instead, try and do a really good job at the acting, so you're showing them: 'If you give me this part, this is what I would do with it. And if you like it, great, and if not, fine.' I think that idea empowers anyone to do an audition.
Your job is to be an actor in that moment. If it's a drama school audition, your job is to go: 'If you want me as a student, this is the type of acting I do, this is what I prepared.' Or if you're a professional actor: 'This is how I read this part that you see me for.' And I've found that's led to me getting cast in other roles, ones I didn't even audition for. I went up for a lead role in Snow White and The Huntsman and was asked to play Lead Soldier instead. It got cut from the film in the end, as these things often do. But I got paid to do three weeks of horse-riding lessons! There's been lots of times where I haven't got the part I'm going up for but they'll bring me in for another show they're doing. And I think bringing that attitude to any audition is really useful. And don't be a knobhead.
Those are basically the rules for acting."