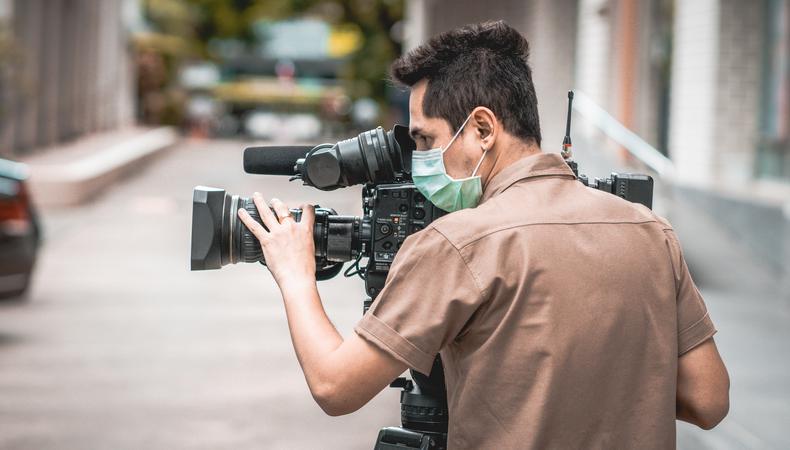 With regular work scarce, UK creatives are juggling survival jobs while advancing their art.
We all know that the Covid-19 pandemic has not been kind to the arts, hitting freelancers and the self-employed harder financially than many could have expected at the start of 2020, when the details of what was to come for the industry was still unclear.
Data from March last year showed theatre ticket sales falling by 92%, and there have been repeated calls for the UK government to offer more support to the arts sector.
A ban on crowds and mass gatherings in many cases has translated to work drying up completely for actors, musicians, directors, and anyone else working in live entertainment. And even for screen actors and filmmakers, finding work has become much more complicated.
But life goes on, and people have been forced to adapt to a new situation with no firm end-date in sight. The feast-and-famine periods of old have threatened to become one long dry spell and creatives have been forced to get… well, creative to support themselves while continuing to pursue their ambitions.
We spoke to two UK creatives who know first-hand how difficult striking this balance can be, and who have still managed to create work they're proud of in 2020.
Looking for your next screen, VO or stage role? Check out our UK castings
Seize opportunities
The Covid-19 crisis has caused hardship for many, but for some it's meant finally having time to dedicate to aspirational projects.
Stephan Pierre Mitchell is a London-based filmmaker who recently released his directorial debut, Deleted. He tells Backstage: "Having a second job during lockdown enabled me to save for the current project I'm finishing filming. I believe you have to speculate to accumulate by investing – with a level of risk – in order to profit in the future."
Similarly creating an opportunity from a bad situation, actor Maria Louis decided after a few weeks of lockdown that she would need to find acting work she could complete from home.
"I had worked in voiceover pretty frequently over the last few years and the London Voice Boutique encouraged all their clients to set up a home studio if they had the motivation and the funds to do so," she said.
"I did a ton of research, invested in some second-hand kit from eBay, made a website and got pushy on LinkedIn. The work started steadily flowing in, from e-learning books to radio plays."
Save where you can
Cost-cutting has been a major theme of the financial life of self-employed creatives, actors, and others working in the arts. Those who've never had the benefit of a steady 9-to-5 may be particularly well-equipped to handle the uncertainty of the current job market, but that doesn't mean it's been easy.
"Personally, cutting out treats and little luxuries works for me," said Mitchell. "I started cooking more at home – every penny counts.
"Like many people, I managed to save a lot by avoiding expensive transportation costs, hiring meeting-room spaces, or food and coffee on the go, by sticking to Zoom calls and FaceTime etc. The rehearsal process for my upcoming film was done pretty much entirely through Zoom."
Embrace the quiet
Without the pandemic, says Louis, she might not have been entering the new year with a second stream of income. Now, she can supplement the steady income she receives from her job as an office manager and PA with creative work she loves.
"It has encouraged me to diversify my income and not take anything for granted," she says. "And to always have a buffer of savings for emergencies."
"We have all been given the gift of time during the pandemic," says Mitchell. "I realised how much time there is in a day to dedicate towards my projects without distractions. Creatively, I have grown so much by using this time to enrich my imagination and making my story turned from impossible to a possibility.
"Outside my four walls, an invisible disease is taking over the world, [but] in my house everything is possible, so I put that into writing… I've realised how much entertainment means to people to be able to switch off from their working day during lockdown, to relax and enter another world. It is important to be able to mentally escape during these times, even if we can't physically."
Continue to invest in the future
When working on his projects, Mitchell treated it like a start-up business, investing in himself before anyone could see the finished project. But the complexities of dealing with a limited budget has gotten no simpler during the pandemic.
"Planning and dividing the budget between all areas of the film is key so you aren't overspending in one area and neglecting another," he says. "It's very important that you research experienced crew, which can be costly. Asking for favours can be good when budgets are low, which gives opportunities to emerging talent and creatives.
"But when you're on a deadline it's often safer to get experienced crew in, as you know they will deliver at a high quality and turn it around in a short amount of time, which can be less costly in terms of day rates."
Don't burn out
While economic hardship can cause its share of emotional turmoil, those feelings can easily turn into physical distress in the form of the dreaded burnout. It's always been a danger for those in the arts who are encouraged to have multiple side hustles while also making enough money to support themselves, but it's a problem that's only been exacerbated by the pandemic.
"I struggle sometimes with exhaustion," Mitchell tells us. "I have a strange body-clock at the moment – juggling both jobs trying to keep a roof over my head in a city like London while prioritising my project can be challenging. But in my opinion, a true artist will always find a way of displaying that art. We are born with it and it never leaves."
While there is hope for the future in the form of a vaccine and the path it clears towards normality, the fallout for the Covid-19 "generation" is yet to fully reveal itself. That said, the resilience of the creative sector and those within it could also be what helps get us back to a good place.
Opportunities certainly look a little different, from socially distanced performances to hustling for remote work from the home office, but they're out there.
As Louis puts it: "It feels nice to look back at 2020 and not be totally disheartened. As my agent always says after an unsuccessful audition – onwards!"