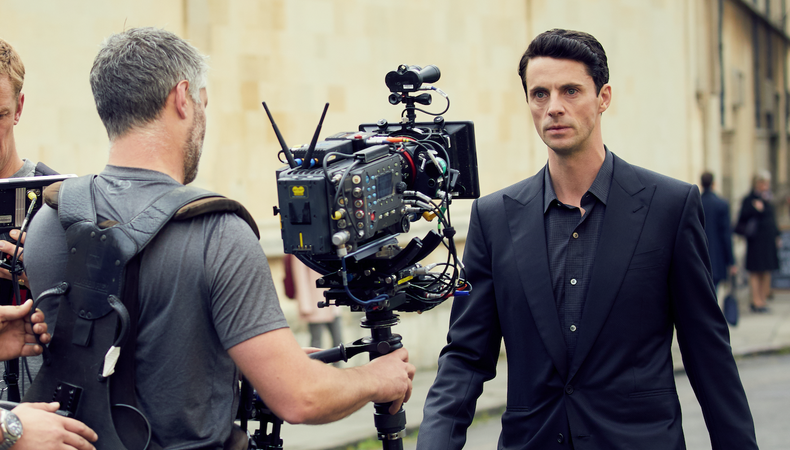 It's now seven months since the UK government said that TV and film shoots could resume following the abrupt Covid-19 shutdowns in the spring.
What started out as a trickle in the summer has now become something of a flood; drama producers are scrambling to hire cast and crew as a legion of delayed and new shows all vie to film in the new year.
Even though the UK has begun its vaccination campaign against Covid-19, actors are returning to sets that operate in a very different way to pre-pandemic times – and they will remain so until the spring at the earliest.
Masks, social distancing, and testing are the cornerstone of the new safety protocols adopted by productions, which are all taking their lead from the British Film Commission's safe shooting guidelines published on May 31.
With the safety procedures comes something else. Actors, producers, crew and casting agents contacted by Backstage all speak of an unmistakably different atmosphere on sets. On the plus side, all say they feel safe, and are impressed by how productions have managed to restart with comprehensive protocols in place.
But, as in most of wider society, the work environment has become more sterile and functional: masks have created subtle barriers between people on set, while social distancing rules have made it much harder to interact with others.
Looking for your next TV role? Check out our UK castings
Change starts in pre-production
For actors, the changes are noticeable even before they get a job. Casting is now done via self-tapes rather than live auditions. It's a "massive change" for casting agents and actors, says casting director Julie Harkin, the founder of Julie Harkin Casting, whose recent credits include I May Destroy You, The Salisbury Poisonings, and Industry.
Harkin says she misses "the buzz and the hum" of actors practising their lines in the waiting room, ahead of a casting. "It all feels a bit disconnected now. It's taken out a lot of the personal, human connection that is such an exciting, necessary and fun part of the casting job. You really get a sense of someone's energy when they are physically beside you."
Meanwhile, writers and producers are poring through scripts before production starts, looking to minimise or to rethink scenes that are difficult – and expensive – to produce in Covid-19 times, such as those shot abroad or involving large crowds.
Smaller sequences are being reworked too. Rather than filming a dialogue scene in the cramped confines of a car, the actors might now be filmed walking towards the vehicle or leaning over the car. "We're obsessed with the scripts," says Susy Liddell, director of production at Us and Life producer Drama Republic, which has three new dramas set to shoot next year, including ITV's The Confessions of Frannie Langton, and Emily Blunt-fronted The English for the BBC and Amazon. "We try to reduce the number of people and extras, and to reduce the close contact scenes."
For those about to join a production, testing is key. The Stranger and Years and Years producer Red Production Company, for example, insists that extras, supporting artists and leads are tested twice in the run-up to joining a production: they need two clear tests in the seven days before starting. Once shooting starts, Red then tests twice a week, says executive producer Michaela Fereday.
The company doesn't ask actors to isolate in that time, but to adhere to government guidelines. Some production companies will ask – and pay for – talent to isolate ahead of production.
For those joining a production, the feeling isn't so much anxiety about being safe – but more a sense of appreciation and enthusiasm to be back on set at a time when so much of life has been disrupted. "I'm just super grateful that we're even able to still film," says actor Steven Cree, who restarted on A Discovery of Witches in September. Speaking from the set of the Sky drama in Cardiff, Cree cites the "completely horrific" year that so many actors have had, particularly in the theatre. "My overriding feeling was just excitement to be back at work."
Safe shooting practices vary by production
On set, safe shooting practices vary by production. The soaps, which were among the first dramas to return, are able to echo real-life Covid-19 times on screen. Actors can be socially distanced and wear masks during some performances. As with many other productions, the temperature of cast and crew is taken on arrival, while filming units operate in colour-coded groups to help minimise interactions.
However, Death in Paradise, one of the first UK scripted shows to restart in June in Guadeloupe, did not divide cast and crew up into small and separate cohorts. Rather, it decided to maintain Guadeloupe's one-metre social distancing rule for everybody.
But, in common with many other productions, a full-time COVID-19 supervisor made sure safety protocols were being implemented correctly. Tim Key, executive producer at Death in Paradise producer Red Planet, describes the role as that of "an enabler as much as an enforcer" who can help the production achieve what it wants while remaining safe.
The cast and crew also signed written pledges to maintain social distance regulations outside work hours during their stay on the island.
By contrast, Red Production realised it would have to allow close contact among actors for the shoot of its upcoming BBC One period drama Ridley Road, set against the backdrop of the fight against fascism in 1960s London. It's a love story as much as a political thriller, with fights, large rallies and intimate scenes. "It literally has everything in it that needs to break social distancing," says Fereday.
But cast and crew are only allowed to break the two-metre distance rule when absolutely necessary. Any time the camera isn't rolling, the cast are asked to put their masks on – and they shouldn't be on set if they don't need to be.
In some ways, this has become self-policing. Anyone who comes into close contact with someone from the production who tests positive knows that they will be asked to isolate. "You have to think that anybody you're next to unnecessarily without PPE on, if they test positive, they are taking you down with them," says Fereday.
Bitter experience has taught the cast what can happen when things go wrong.
Steven Cree says there's been a couple of days of production shutdowns on A Discovery of Witches. "The first days that happened was slightly surreal. We were in the middle of filming a scene, we just suddenly had to stop. Everyone had to go home, get Covid tested and then find out the result. It was like a real military operation."
Ridley Road had to stand down for a full two weeks after a lead actor tested positive in the routine testing regime. He never had any symptoms, but he had just filmed an intimate scene with the lead actress (who, amazingly, didn't contract coronavirus). "We had to look at everybody who was a close contact, and in the end, we had to halt the shoot," says Fereday. "That stand down cost us £260,000."
Intimate scenes are still being filmed
As this example shows, though, intimate scenes are still being filmed. Intimacy co-ordinator Vanessa Coffey, whose credits include I Hate Suzie, has recently worked on a BBC drama series filmed under Covid-19 safety protocols. "To be honest, I felt almost safer being on set than I would in my own home…the first AD was calling out every 20 minutes to sanitise."
Coffey says that the first time she oversaw an intimate scene under the safety protocols, she was very conscious of wearing a mask while working with the performers. "It just created a strange barrier…I didn't feel the same connection to the actors. I felt there was not so much a distrust, but there was a distance."
Now, she tries to speak to the actors outside at a safe distance without a mask beforehand. "We're talking about very private, personal things to them – they want to know who is behind the mask and that it is not a faceless individual who is talking them through moments of real intimacy."
Others agree that masks are causing "fundamental differences" to shooting in Covid-19 times. Cree says normally he would know most of the crew, but masks make this harder – particularly when getting to know new joiners.
"One of the runners on this is a guy called Tom. They have mask breaks every couple of hours so people can get outside and take the masks off. And I saw Tom with his mask off for the very first time – I didn't realise he had a beard, quite a big beard. I had no idea what he really looked like."
Cree adds: "Because each department is having to stay within their own bubble on the set, there is not the same level of interaction. And even when you are near them, there is a barrier up because they are wearing masks."
On A Discovery of Witches, the cast rehearse with masks on. For the final rehearsal and the scene itself, masks are off. "It's a little odd rehearsing with the mask on," says Cree. "It's difficult to tell, but I don't feel that it necessarily takes anything away from the performance."
Ridley Road does things slightly differently. The cast wear visors instead of masks between takes and during rehearsals. "It was really hard running lines in rehearsals [with masks]," Fereday says. "They can't really see each other's expressions."
Interaction is difficult
Interaction is also difficult for actors off-set. Rather than congregating in trailers or a green room together at the unit base between takes, they are now spread out. "If we're filming on a street in a house, for example, we might have to take some rooms in the house next door and the one next door to give them space to sit in," says Fereday. The production has also had to quadruple the number of vehicles it hires. Only two people can travel at any one time in a people carrier meant for six. Again, this necessarily lessens the moments when cast and crew can chat and engage.
Crowd scenes are also carefully marshalled, so that interaction with extras is limited. Ridley Road has shot large crowd scenes, involving 80 extras. All were tested, and then placed in separate groups of 10 or 15. Six of the extras were allowed in the circumference around the main cast.
Even the make-up and costume departments are more spread out. Makeup artists, for example, are in two trucks rather than one, and wear full PPE – masks, visors and gloves. To minimise the risk of cross-contamination, each actor is assigned their own brushes.
Mealtimes are also very different. Instead of gathering at big tables to eat together, cast and crew are provided with individual lunch packs. Ridley Road, for example, has moved to a "continuous day" contract. Instead of stopping for lunch for an hour as in a traditional shoot, cast and crew eat when they can. In return, the working day is two hours shorter – one for lunch plus an hour extra.
Some people like this system, says Fereday, who admits "it's just not great if you're exterior, it's cold, and it's pouring down, and you've got to eat your food like that."
Such protocols are, of course, the price of keeping everyone safe on set – and for being able to work. It has made the "camaraderie" of production much more difficult to replicate, says Drama Republic's Susy Liddell, who has just finished off crime drama The Irregulars for Netflix.
"It's still been good," says Cree of his experience shooting A Discovery of Witches under Covid-19 protocols. "But it's just different."
"Sometimes you can't quite put your finger on it. One of the great things about sets is that there's a lot of great fun, banter and conversation. But it feels far more functional at times than it has done in the past."