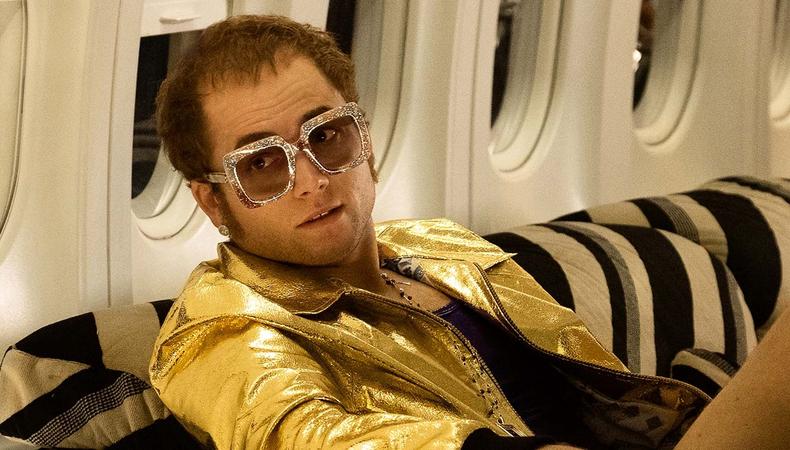 Hello, and welcome back to Week in Review, our roundup of industry-wide news. From stage to screens big and small, we've got you covered. It's everything you need to know and all you can't afford to miss.
Taron Egerton speaks out against Russian censorship of Rocketman
Rocketman star Taron Egerton has spoken of his disappointment that gay scenes have been cut from the Elton John biopic in Russia. Russian film critics reported that around five minutes of cuts include scenes with kissing, sex, and oral sex between men. Echoing strong condemnation of the censorship by Elton John himself, Egerton told followers on Instagram: "I am crestfallen that the decision was made to censor our movie for the Russian market." Egerton claimed he wasn't previously aware of the decision but that he "in no way" condones the cuts, adding: "Love is love. No compromises." John described the decision as a "sad reflection of the divided world we still live in." Read more here.
Phoebe Waller-Bridge on making female Bond characters 'feel like real people'
Fleabag and Killing Eve creator Phoebe Waller-Bridge has spoken about her writing and advising role on the 25th James Bond film for the first time, telling Deadline that although Bond was still relevant, the iconic franchise needed to "treat women properly," even if the character of 007 doesn't. Speaking after being brought on to Bond 25 at the request of star Daniel Craig, Waller-Bridge downplayed her role on the production so far, saying "it's unfair to say that I'm writing the script," but added that she was excited to write dialogue for Craig.
However, she did confirm her role in making female characters "feel like real people. I just want 
to make sure that when they get those pages through, that Lashana [Lynch], Léa [Seydoux] and Ana [de Armas] open them and go, 'I can't wait to do that.' As an actress, I very rarely had that feeling early in my career. That brings me much pleasure, knowing that I'm giving that to an actress."
Acknowledging discussions around whether the character of Bond "is relevant now because of who he is and the way he treats women", Waller-Bridge said: "I think that's bollocks. I think he's absolutely relevant now. It has just got to grow. It has just got to evolve, and the important thing is that the film treats the women properly. He doesn't have to. He needs to be true to this character." Read more here.
READ: What Every Actor Can Learn From Phoebe Waller-Bridge
Richard Eyre claims gender-swapped Shakespeare is 'a very bad decision'
Acclaimed theatre and film director Sir Richard Eyre this week criticised gender-swapped productions of Shakespeare, claiming that changes to the text risk losing the beat and rhythm of the Bard. Speaking at the Hay Festival, the former National Theatre artistic director said a recent RSC production of Timon of Athens had made a "very bad decision" in making a character female because changing gender pronouns meant "tampering with the beat and rhythm" of the text. Eyre argued "you can do anything with [Shakespeare plays]" but that there was no cause to "rework it." Critic and journalist Howard Sherman responded on Twitter, saying "Richard Eyre needs to join the 21st century." Read more here.
A new Creative Content Fund from the BFI
The BFI's UK Creative Content Fund was launched this week, hoping to raise £20 million to support recently established film and TV production companies and to take advantage of tax breaks for investors. Marking the first time the BFI, a public body, has worked with the private investment market, the fund is designed to bring new investors to the booming UK screen industry. Money raised will support recently established independent companies to develop content but will also put a "priority focus" on diversity and inclusion in the industry. Read more here.
READ: What Is the BFI + Why Should You Care?
Robert Glenister reveals depression and anxiety after HMRC ruling
Renowned actor Robert Glenister spoke out last week about his struggle with depression and onstage anxiety throughout his high-profile dispute with the government tax authority HMRC. Currently at risk of losing his home and owing £170,000, Glenister spoke to The Stage in his first interview given since losing a legal battle over what HMRC claim is unpaid National Insurance contributions. Performing in the West End revival of Glengarry Glen Ross in 2017, Glenister revealed he had experienced anxiety linked to the case that led to missed shows and a blackout onstage.
Equity has warned that HMRC's approach to actors was "ruthless" and new guidance for performers' tax would be a "disaster." Speaking of his case, Glenister said he'd not come face to face with a tax inspector despite requests for meetings, and described the "anonymity" of HMRC as "sinister." When asked why HMRC was pursuing actors, he warned: "We are low-hanging fruit, we are vulnerable. We are vulnerable as a profession because there is always an element of 'Where is the next job coming from?' and we are easily intimidated because of that vulnerability." Read more here.
READ: The Essential Actor's Guide to Paying Tax in the UK
Sarah Frankcom's last season is announced
Sarah Frankcom announced her last season as artistic director of Manchester's Royal Exchange Theatre, headlined by a new play by Simon Stephens featuring music by Jarvis Cocker and a gender-swapped Macbeth. Promising to put "outstanding female actors, directors and theatre-makers centre stage," Frankcom's last play at the venue before she becomes principal of LAMDA will be Stephens' Light Falls, a "hymn to the north that focuses on a family brought together after a devastating incident. Elsewhere in the season is musical Gypsy, an adaptation of Brontë's Wuthering Heights and new RashDash piece Oh Mother. Read more here.
READ: The Who's Who of British Theatre's New Wave
Two theatre critics cut in 'cost-cutting' at Evening Standard
Two respected theatre critics have lost their posts at the Evening Standard as the paper makes cuts. Henry Hitchings and Fiona Mountford both confirmed that after 10 and 17 years respectively, both were let go from the London paper. In response to the news, former Guardian critic Lyn Gardner, who lost her post in similar cost-cutting at the paper, described the move as "short-sighted."
For more from Backstage UK, check out the magazine.