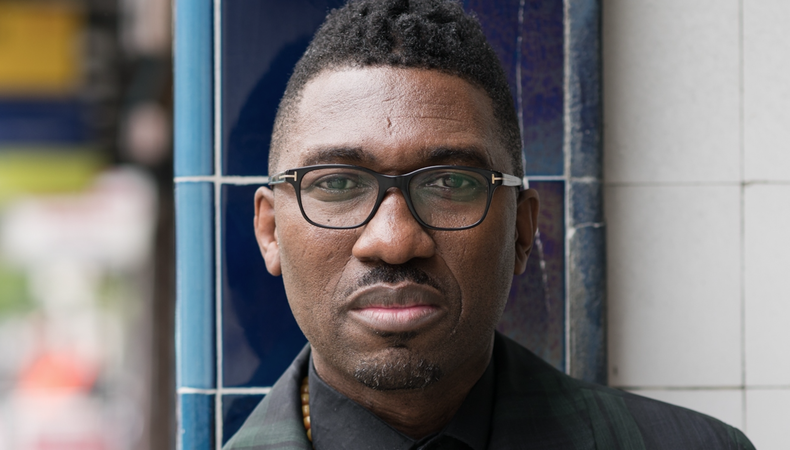 Change is afoot in the British Theatre. A host of top London theatres have changed hands with a new wave of artistic directors taking control, all with different stories to tell and the talent to tell them. Women, people of colour, gay people, young people – the theatre bosses of 2019 look and sound different to their predecessors and have the energy and charisma to bring audiences old and new along for the ride. If you've not heard of this lot, you soon will.
Kwame Kwei-Armah, the Young Vic
Started the job: February 2018
Speaking at a recent meeting of the UK's new artistic directors, the new boss of the Young Vic Kwei-Armah called it the beginning of a new day. The actor, director, and playwright took over at the Young Vic last year promising to bring in new audiences by offering socially relevant productions. So far, we've seen Letitia Wright star in a well-reviewed production of Danai Gurira's The Convert, and a funky Twelfth Night featuring the local community – so it looks like it's going well. Next month he'll also oversee a series of monologues for BBC Four about the life of a Caribbean family after arriving in Britain.
READ: Why Is the Young Vic Theatre So Influential?
Lynette Linton, the Bush Theatre
Started the job: January 2019
Born in a council house in Leytonstone, east London and just 28 years old, Linton is definitely one to watch. A playwright, director, and aspiring Michael Jackson backup dancer, Linton is known for her friendly, creative approach and her take on very modern, relevant themes from mixed-race identity (2017's Hashtag Lightie) to queerness (2013's Step) and even London's chicken shops (2015's Chicken Palace). As the new boss of the innovative Bush Theatre, she's one of the few black women running a theatre in the UK and has promised a "new chapter inspired by all the wonderful artists that populate our unique city." While starting her new job in W12, she's also directing Shakespeare's Richard II at the Globe, a production staffed solely on stage and off by women of colour – and she'll be curating a theatrical response to the Windrush Scandal at the Royal Court. Busy doesn't even begin to cover it.
P.S. Linton's predecessor at the Bush, Madani Younis, is leaving to become the creative director of the UK's largest arts centre, the Southbank. So, yet another fresh figure in another top job.
Michelle Terry, Shakespeare's Globe Theatre
Started the job: April 2018
Unlike many other artistic directors, Michelle Terry is not a director ­­– she's an actor. She took the Globe's top job after the turbulent reign of director Emma Rice, who left after only nine months. Terry is already making her mark, promising "gender-blind, race-blind, disability-blind" casting. Her 2019 season includes Richard II directed by Lynette Linton (see above), A Midsummer Night's Dream, and an idiosyncratic take on the history plays. It's been suggested she lacks her own individual aesthetic but supporters point to the success of previous Globe actor-manager Mark Rylance as to what might lie ahead!
Michael Longhurst, the Donmar Warehouse
Starts the job: March 2019
The Donmar will be 37-year-old Longhurst's first job running a major building but he's definitely familiar with the place. In a statement, he said he was deeply honoured to get the top job at the theatre where he saw his first show aged 15, and he's just finished directing James Norton and Imogen Poots in Belleville at the Covent Garden venue. Aesthetically Longhurst is known for taking risks – his smash hit NT production of Amadeus involved a full orchestra on stage, so expect exciting times at the Donmar.
READ: How to Perform at the Fest Praised as the Future of UK Theatre
Roxana Silbert, the Hampstead Theatre
Starts the job: June 2019
Born in Argentina, Silbert kick-started her career at the Hampstead Theatre as a script reader, and she says it's where she fell in love with new plays. She's coming from a successful tenure as the boss of the Birmingham Rep where she produced the Enoch Powell drama What Shadows, a Bob Marley musical, and a dance-theatre version of Woyzeck – so north London can expect some eclectic choices. Like many on this list, Silbert is known as a champion of inclusivity, accessibility, and new writing – but her commercial nous was no doubt equally appealing for her new bosses. Her first season at Hampstead in September 2019 will also mark the 60th birthday celebrations of the theatre.
Tarek Iskander, the Battersea Arts Centre
Started the job: January 2019
Iskander is a theatre director and playwright who, unusually, has also worked for the NHS in senior and executive roles! He was born in Sunderland but moved to London as a teenager and believes theatre must engage with issues and stories that really reflect real life. He's promised to celebrate the newly renovated south London theatre's "uncompromising, radical and rebellious spirit" and to promote it as a home for pioneering and unrepresented voices.
Plus, all over the country a new set of theatre bosses are stepping up:
Kully Thiarai (National Theatre Wales)
Jackie Wylie (National Theatre of Scotland),
Gemma Bodinetz (Liverpool Everyman)
Annabel Turpin (The Arc in Stockton)
Nadia Fall (Stratford East)
Sarah Frankcom (Royal Exchange in Manchester)
Erica Whyman (Deputy Artistic Director at the RSC)
Indhu Rubasingham (The Kiln in Kilburn)
Rachel O'Riordan (Lyric Hammersmith)
Vicky Featherstone (Royal Court)