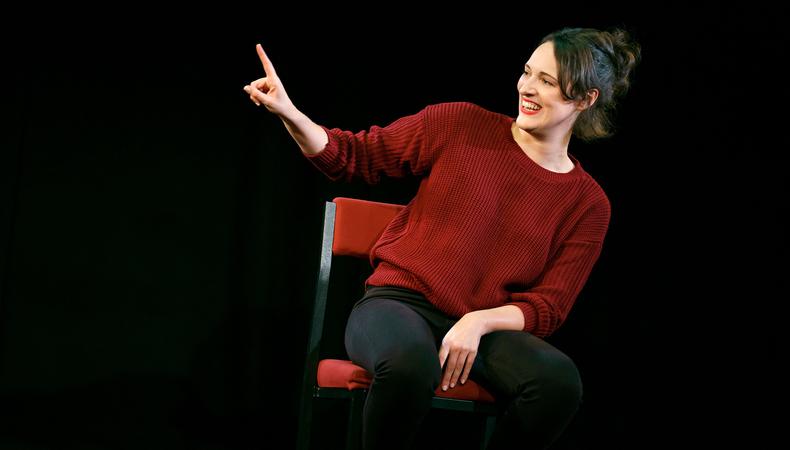 Coronavirus and the lockdown suck, but one positive is the sheer amount of free theatre out there for our eyeballs to enjoy. Suddenly, students of acting can afford to see the very best theatre without worrying about the price. You can indulge your love of theatre from your own home, at any time of the day, while wearing dodgy sweatpants with an elasticated waist. It may not be a great time for real-life socialising, but if you want to see top-class theatre streamed live to your screen, right now is a golden age. Here are Backstage's top picks of what's on offer.
Fleabag
It's likely you weren't able to get a ticket to see Phoebe Waller-Bridge's sell-out West End run in her most famous role. Well, fear not – the live production of Fleabag is available online and for download with all proceeds going to COVID-19-related charities. In a statement, Waller-Bridge said: "I hope this filmed performance of Fleabag can help raise money while providing a little theatrical entertainment in these isolated times….Thank you in advance to those who donate. Now go get into bed with Fleabag! It's for charity!" You can catch the show that kickstarted the Waller-Bridge phenomenon for as little as £4 ($5) right here. Available till 27 April.
National Theatre
You'd expect the National Theatre (NT) to lead from the front during a national crisis and they haven't disappointed – they've opened up their vast NT Live vault of filmed performances. For the next two months, the theatre will stream a show from its archive every Thursday night, then it will be available to watch on YouTube for the following week. Sally Cookson's 2017 production of Jane Eyre is currently showing, to be followed by Bryony Lavery's adaptation of Robert Louis Stevenson's Treasure Island on 16 April, and Shakespeare's Twelfth Night starring Tamsin Greig on 23 April. And there's more to come.
Shakespeare's Globe
The Bard sure likes to go big. Shakespeare's Globe is releasing 40 free titles over the next month or so. Six of the main stage shows will be shown via the theatre's YouTube channel, one at a time on rotation every two weeks – and if that's not enough, there are also 34 Globe to Globe international performances available to watch. And they're including lots of supporting materials accompany the plays, like podcasts, texts, and rehearsal videos.
Andrew Lloyd Webber
If Shakespeare and heavy literary texts aren't your thing, especially at the moment, then fear not: Lord Lloyd-Webber is here to add a little showbiz to proceedings. He's launched his own YouTube channel, the appropriately named The Shows Must Go On, and will be streaming some of his biggest hits every Friday. On Good Friday (10 April), the arena production of Jesus Christ Superstar with Tim Minchin streams, and at some point, Lloyd Webber will be screening By Jeeves – what he describes as his "disaster musical." See you there!
The Hampstead Theatre
The Hampstead Theatre joins the streaming revolution by making a couple of its most notable productions available online in association with the Guardian. Beth Steel's Wonderland, directed by the theatre's previous artistic director Edward Hall, looks at the miners' strike of the mid-80s. If that's not your cup of tea then Howard Benton's 2013 play Drawing the Line is available from 13 April. Howard Davies' production tells the story of the partitioning of India in 1947 and won rave reviews when it was first staged.
Looking for acting work during isolation? Check out our work-from-home auditions.
Wind in the Willows
Coronavirus has hit the theatre industry hard, closing hit shows and prospective hits before they even had the chance to open. The glitzy West End production of Wind in the Willows starring Rufus Hound is available to stream right now here in return for a small donation to help provide financial and emotional support to all theatre workers.
What else?
Dance hub Sadler's Wells has created a full-length programme of dance performances and workshops to help people during lockdown. The BBC will be broadcasting six Royal Shakespeare Company (RSC) shows, newly filmed recordings of Mike Bartlett's Albion, Emma Rice's Wise Children, and Battersea Arts Centre's hit version of Frankenstein, as well as BalletBoyz's new piece, Deluxe. The Royal Court's production of David Ireland's Cyprus Avenue is now available on YouTube. Starring Stephen Rea as a Belfast Loyalist in the midst of a psychotic episode, it's probably not one to watch if you're feeling a little delicate.