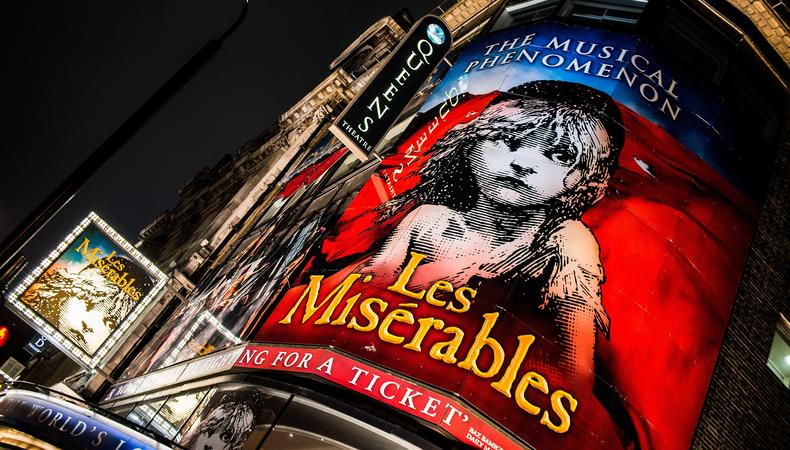 It's been three months since lockdown began and although film and TV is now adapting to the challenging circumstances, theatres across the UK remain closed and stage heavyweights are warning the entire industry is in peril. For screen projects, producers are taking their first tentative steps towards restarting productions, with big-budget films and soaps the odd couple at the front of the pack.
At the start of May, Britain passed the grim milestone of having the highest death toll in Europe, but the rate of deaths and recorded new infections are continuing to fall. The UK and regional government plans to end lockdown have relaxed restrictions enough to allow some of the screen industry to get back to work under strict safety guidelines, but the story is very different for cinemas and live entertainment, where it's not easy to predict how long social distancing measures will remain in force to protect performers, crew, and audiences or when audiences will feel confident enough to return. There's also much discussion about how the economic toll of Coronavirus and how it will affect the business of the industry.
What is more certain is that the industry will be changed by this. Despite emergency cash injections and the efforts of fundraisers, theatre is an unhappy place, having lost an estimated £330 million of income. One of England's most important regional theatres has gone into administration, Edinburgh's Royal Lyceum has entered "hibernation," and many in the industry are calling for a state rescue package to ensure there will be theatres left to reopen. The screen industry is looking more resilient, with digital releases meaning that income is still possible and cinemas reopening in England on 10 July.
Castings for work-from-home roles and tentatively scheduled projects are still going ahead, with performers who can self-shoot and record their own voiceovers in the best position right now. From speaking to casting directors from across the industry, it looks likely that self-taping will be the default way to get seen for the time being, with "pre-castings" becoming the norm and in-person castings reserved for final rounds.
For actors who have lost income, the government's Self-employment Income Support Scheme has eased the financial impact of lockdown, and a second grant will become available in August (we've created a breakdown of this and other financial aid available to actors). However, acting union Equity has been vocal in its belief that the scheme does not go far enough and is campaigning for a better deal for freelancers. In the meantime, many performers have turned to Universal Credit.
This article will be updated as COVID-19–related industry changes arise.
Auditions
While theatres remain closed and film and TV production is just restarting, auditions remain heavily affected. Equity's latest deal means theatre producers now have the flexibility to contract performers and protect future seasons. However, the West End won't open until August at the earliest and most other theatres have said they'll remain closed until 2021. Even then, many aim to stage their 2020 seasons in 2021, so many actors cast in stage shows before lockdown will have secure work to return to.
With the TV, film and commercials industry restarting, auditions have been picking up, with casting directors reporting that shorter, smaller productions are the first to cast with confidence. For drama, Soaps are filming again and plans are in place to restart high-end dramas. In reality, getting back onset is slow, with EastEnders cutting 10 minutes of its runtime when it returns four nights a week. Just as it's not going to be business as usual onset, it won't be a busy time for castings just yet. In the meantime, take this free course on working safely onset and keep checking our castings.
Recording good quality audio at home has never been more important, as the amount of castings for voiceovers testifies. If you've got equipment then now is the time to make use of it. If you need any support, check out our guide on setting up your home studio and on which voice agents to be approaching.
While social distancing remains, various initiatives are being launched in order to find a way forward. The Slate, our own series of seminars, classes, and live Q&As, is up and running, with lots to look forward to. See here for a full calendar. If you've missed anything, check back for highlights and write-ups, like a guide on how to nail commercial castings and an acting coach on using your experiences to inform your performance. If you're using this time to improve or edit your first showreel, check out our guide from an editor and a casting director.
Elsewhere, casting directors Sophie Holland and Faye Timby launched #CastingCrushesCorona, offering one-to-one video sessions for actors with casting directors across the industry. She tells Backstage: "The response has been overwhelming – thousands of actors have reached out. We had no idea that there would be such an appetite for the one-to-one sessions, or that other casting directors would be so willing to dive in and stand with us in supporting the industry. Those who have families and can't give time to one-to-one sessions are encouraging actors to send over reels, monologues, and self-tapes." Plenty others are following suit, including fellow CDs James and Rosie Pearson, who are running cheap surgeries on CVs and showreels, and the CDA, who are hosting Q&A sessions. In fact, as numerous CDs tell us, now has never been a better time to hone your package and get in touch with casting directors directly.
The Coronavirus Theatre Club is matching writers and actors to create live-streamed new works. Their first stream went out on 29 March and since then they've created 42 new monologues, all available to view on their YouTube. Similarly, Keep On Writing is challenging writers to 24-hour plays, with actors like Julie Hesmondhalgh performing monologues. BBC Arts and leading industry figures have followed suit, with Unprecedented: Theatre from a State of Isolation coming soon to a screen very near you and many new plays made in isolation available online.
Festivals + Independents
The Edinburgh Fringe was cancelled in April and Scotland's cautious approach to relaxing the lockdown makes it unlikely that any mass gatherings will be possible this summer. This year will be the first in more than 70 that the world's largest arts festival won't take place and artists are struggling to make sense of the industry without an August in Edinburgh. However, the Fringe Society has already stressed that in the event that lockdown is lifted and venues can stage productions, there's a plan in place to support performers and artists wanting to present shows. Read more in our full update on the Fringe here.
The BFI Flare was the first in a long list of film festival cancellations, including the Edinburgh International Film Festival. The London Film Festival, booked for October, is currently still going ahead.
West End and beyond
Despite theatres in England technically being able to reopen on 4 July, all West End houses remain closed until 2 August and some shows have cancelled performances into September. Andrew Lloyd Webber is pushing for musicals to reopen with social distancing measures in place as soon as possible, in part to show how resilient the industry can be. However, other producers are less optimistic, with Les Mis and Hamilton closed until at least 2021. It is thought that this is the first time all of London's theatres have closed because of a public health emergency since London was last visited by the plague in 1665–1666. It is the first time that all major venues in the UK have closed simultaneously.
Many who work in theatre have "fallen between the cracks" of financial support, and the buildings themselves are desperately seeking income, with venues offering refunds but urging ticket holders to donate the cost of their ticket to help the industry get through this period of immense uncertainty. SOLT and UK Theatre warned back in March that with more than 290,000 people working in the industry, the closure of theatres and public venues will have a "devastating impact." The Nuffield Southampton was the first major casualty, with the theatre going into administration. Now, Edinburgh's Lyceum has gone into "hibernation," cancelling their 2020 season and reducing wages to protect itself in the longer term. The National Theatre (NT) has warned that 30% of their staff may have to go in order for the building to survive, and producer Sonia Friedman has urged the government to step in and support the performing arts before the industry faces "complete obliteration." She warns that without such a rescue package, "more than 1,000 theatres around the country will be insolvent and might shut down for good."
Despite lockdown, many theatres and companies have been active online and in their communities. The Old Vic is hosting a live stream of Lungs, starring Claire Foy and Matt Smith, and The National Theatre of Scotland (NTS) and Manchester's Home were quick off the mark, creating online programmes of work in response to the virus. There's also a raft of archive productions available to watch online. The National Theatre is showing past NT Live performances for free on YouTube, Andrew Lloyd Webber is sharing recordings of hit musicals for free and a number of theatre productions are available, with updates daily here.
Television
The UK's biggest broadcasters have now laid out plans to restart TV production, with dramas on hiatus since lockdown now resuming and rescheduling shoots. Returning series Peaky Blinders, Line of Duty and Netflix's The Witcher and The Crown were all halted by the pandemic but are restarting production now. It's been a complex and fraught process to kick back into gear, as this in-depth look at Netflix shows.
Although the BBC could continue bringing The Archers to Radio 4, TV soaps are only just returning to production now lockdown is easing. Emmerdale and Coronation Street are shooting with social distancing on set but while new episodes of EastEnders are off-air, the soap is being replaced with a companion documentary series, presented by Stacey Dooley.
Some productions scheduled later in 2020 are sticking to their intended production programmes, and we'll be back with updates as and when they are announced.
Film
Blockbusters with the cash to start filming in tough circumstances have been the first to get back to business. Production teams are returning to sets across England now, with Jurassic World: Dominion the first major film to resume shooting in the UK from July. How the film industry makes money is a different story, with cinemas planning to reopen in England on 10 July but uncertainty over how quickly audiences will return. Predictions of low audiences and shuttered cinemas have already forced upcoming releases, including the new Bond film No Time to Die and Disney's Mulan, to reschedule for later in 2020. Disney's Spring blockbuster Artemis Fowl became the largest and most high-profile digital release to date when it was added to streaming platform Disney+. But some producers are betting nothing right now, with Christopher Nolan's new film Tenet (originally planned for a 17 July release) now airing without a release date.
And while captive audiences would normally be a bonanza for the on-demand industry, Netflix's productions across the world had to be postponed and the company has put aside $100 million to protect their freelancers alongside £1 million into the BFI's relief fund.

Pay + Support
Following the shutdown, union Equity released a statement promising to "ensure that members are treated fairly during this uncertain period," and they're pushing for the government to take account of freelancers. There's advice and guidance for those concerned about the impact of loss of earnings or work as a result of production cancellations and venues shutting down as well as information for those seeking sick pay. Check out Equity's dedicated coronavirus page, with information updated as events unfold.
HMRC has established a helpline for the self-employed and businesses who will be affected by cancellations or restrictions. Advice provided will be around tax and any benefits you may be eligible for. The Coronavirus Helpline: 0300 456 3565 or 0800 0159 559.
Artsminds continues to offer confidential support services for performers and creative practitioners.
A lot of actors will be worried about their finances right now. It's worth seeing if you're eligible for support from either the Actors' Benevolent Fund or the Film and TV Charity.
We'll be back with more information and updates as they happen. In the meantime, get in touch with writer Laurence Cook on Twitter to tell us about new initiatives and what you're doing to keep busy.
For more from Backstage UK, check out the magazine.