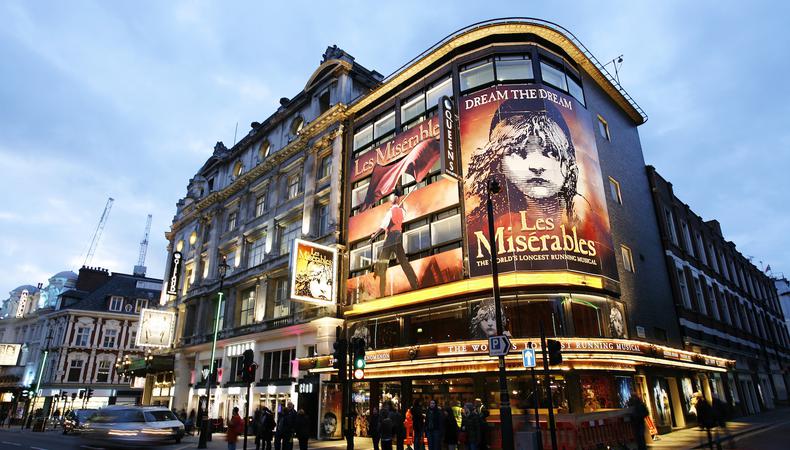 The UK may have started inoculating its citizens with the COVID-19 vaccine but that doesn't mean it's averting lockdown. Since Dec. 16, London has been under Tier 3 lockdown, which means many non-essential businesses have gone back to being closed, including live theater and cinemas. Then on Jan. 5, the UK was placed under a nationwide lockdown, as a new, more infectious variant spread around the country.
The lockdowns mean non-essential business will close until at least mid-February (though government officials have indicated that the shutdown will likely last until March). Movie theaters and live performances, including the West End, will continue to be closed. They were open briefly in early December, but were shut down again in mid-December.
Film productions have been allowed to continue, provided they follow COVID-safe guidelines.
"For the arts/creative sectors this means you should work from home unless you can't—exemptions include for training and rehearsal of performances, recording studios and film & TV production," said Oliver Dowden, UK Secretary of State for Digital, Culture, Media and Sport on Twitter.
The continued closures have been met with criticism from the entertainment sector. On the West End, shows such as "Six" and "Everybody's Talking About Jamie" had reopened to limited audiences. Those shows had been forced to shut down again.
In December, Equity general secretary Paul W. Fleming issued a statement decrying "this chaotic government. They have wasted money on buildings they now closed until a vaccine is available. They have wasted talent—when 40% of our members have had no furlough or SEISS support since March they are increasingly leaving the industry. They have wasted goodwill with no planning to protect public health or our economy. They have wasted lives."
Equity represents over 51,000 entertainment workers, actors among them, across different sectors, including film and theater.
Both the UK Cinema Association and Equity are urging the British government to provide allocated funding to their sectors. Equity has started advocating for universal basic income for creative artists, saying that the current welfare system in the UK has left out freelance workers. "It's time for the government to step up, dig deep, and commit to a Basic Income Guarantee for Equity members of just £1,000 a month until June of next year. It's time for £1 billion for theatres and variety venues to not just stay shut, but present work in new and innovative ways across the UK," said Fleming.
The UK Cinema Association has launched Keep the Magic Alive, a social media campaign. "We believe that many cinemas will need further direct funding if they are to survive and recover in 2021," said Phil Clapp, CEO of the UK Cinema Association in a statement.
Back in December, composer Andrew Lloyd Webber released a statement saying that he supported the government's decision to put London on lockdown, and that "the top priority surely now must be to roll out the vaccination program so that leisure businesses can reopen as soon as possible," he said. "But I do hope that even a crumb of the 1.57 billion pounds made available for the arts could be given to those who have spent an enormous amount of time and money to mount productions for this season and to support the actors, musicians, and stage crews who will yet again be put out of a job."
Lloyd Webber has been a vocal advocate for the theater industry and has been testifying at government hearings. He also participated in the COVID-19 vaccine trials. The UK's National Health Service is currently inoculating its residents with the Pfizer/BioNTech vaccine and the Oxford University/AstraZeneca vaccine. Over a million people in the UK have received the vaccines.
Another notable British artist who has also gotten the COVID-19 vaccine: Ian McKellen, who said that he felt "euphoric" after receiving his first dose, according to the Daily Mail. He also urged other people in his age group—he's 81—to take the vaccine, which comes in two doses, injected three weeks apart: "The take-up amongst the older generation will be 100%, it ought to be, because you're having it not just for yourself but for people who you are close to—you're doing your bit for society."
Let's hope British residents listen to McKellen, so that the West End and movie theaters can safely reopen.