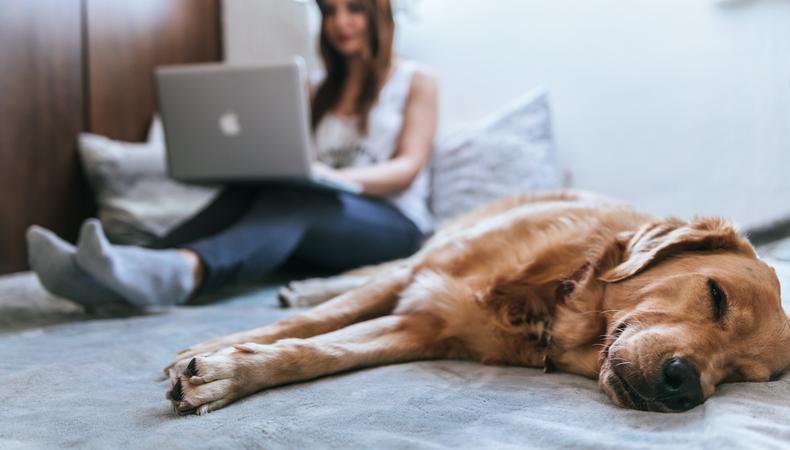 Self-isolation and social distancing don't have to mean separating yourself from theatre, culture and the arts. If you can't get out to experience your normal sources of inspiration, fear not – there's plenty for actors and performers of all types to find online. As everyone adapts to the new Coronavirus-shaped reality, we're taking a look at how you can get your cultural fix from the comfort of your own home, one click at a time.
Watch some live-streamed theatre
Actor Robert Myles has set up online reading group The Show Must Go Online for professional and amateur actors to perform Shakespeare's plays in the order they're believed to have been written. Its aim is to be "a fun, sociable way for actors and theatre-makers to stay connected and creative during these unprecedented times, and also provide audiences with something that's live, that's raw, that feels spontaneous and exciting – replicating the theatre experience for those who need to self-isolate." The first reading of The Two Gentleman of Verona will be live-streamed on YouTube on Thursday 19 March.
Newly up on Instagram this week is the very ironically named Viral Monologues. Twenty actors, including big names such as Patrick Wilson, Rachel Dratch, Hugh Dancy, and David Cross take on brand new monologues written especially for them. Most are around the 10-minute mark, and many look like they've been filmed, appropriately enough, at home.
Back over on this side of the pond, comedy-improv group The Showstoppers had to cancel their run at London's Haymarket Theatre due to the outbreak. However, for one night only they decided – as they were "dressed and ready to go" – to put a performance of their hit musical out on Facebook live. Every performance is obviously different but if you want to catch this unique, never-to-be-repeated improv musical you can find it here.
Coronavirus + the UK Entertainment Industry—the Latest
Staying with a musical theme, London's Theatre Cafe will host Leave a Light On, a series of intimate concerts in their Shaftesbury Avenue home from next week. The concerts will consist of a 45-minute live piano set three times a day, and they're promising a mix of big names and newcomers which viewers will pay a small fee to watch, with the money going to actors who have temporarily lost their income. Producer Eliza Jackson told Variety: "We're in for something special. This can be a scary world for a freelance worker, so we all need to do what we can to support each other, and this is Jamie and my small way of doing our bit to help our community."
Equity's Coronavirus + Financial Support Advice For Actors
Read a script
Being a brilliant actor is one thing but without a great script, you'll be in trouble. So, why not spend some self-isolation time perusing one of the many great online script archives? SimplyScripts has a great database of current films such as Joker, Booksmart, and Ad Astra to take a look at. UCLA's Library is a good place to start looking for that script you always wanted to have a crack at. After reading all those top scripts, you'll be able to spot a winner a mile off once Corona is a distant memory. Time definitely well spent.
Watch an Oscar-winning performance
Resist the urge to watch yet another episode of reality hit Love is Blind on Netflix and instead use your time to watch some of the online streamers' amazing film catalogues. What about Emma Stone's Oscar-winning turn in La La Land, or Julia Roberts' in Erin Brockovich? Classics like West Side Story, Midnight Cowboy, Misery, or Mean Streets? Or, if none of those float your boat, why not take in charismatic acting dynamo Mr John Leguizamo's one-man show, Latin History for Morons, which does what it says on the tin.
Take a wander through a museum for free
OK, so maybe you can't leave the house, or maybe you don't want to, but that doesn't mean you can't take a cyber-wander through the world's best museums. The wonder of Google allows you to stroll through such esteemed institutions as the Guggenheim, The British Museum, Amsterdam's Rijksmuseum, Florence's Uffizi Gallery and over 1,200 more. Queuing and entrance fees are so early-2020 – get clicking right now.
The UK Actor's Guide to Successful Self-Taping
Get your groove on
Being creative means adapting to changing circumstances, but when your circumstances usually involve packing out super-stadiums then you have to adapt more than most. Coldplay's Chris Martin kicked things off by playing a very intimate online gig from his own house which he streamed live on Instagram. He answered fan questions, took requests, and also challenged John Legend to follow suit – which he has done. Apparently, Charlie Puth is next – Martin's #TogetherAtHome initiative looks like it might run and run. Also joining in the online music fest is French pop siren Christine and the Queens, who has been performing live every night at six on her Instagram channel and has been thoroughly bonkers with it.
More for UK actors? Check out the magazine.