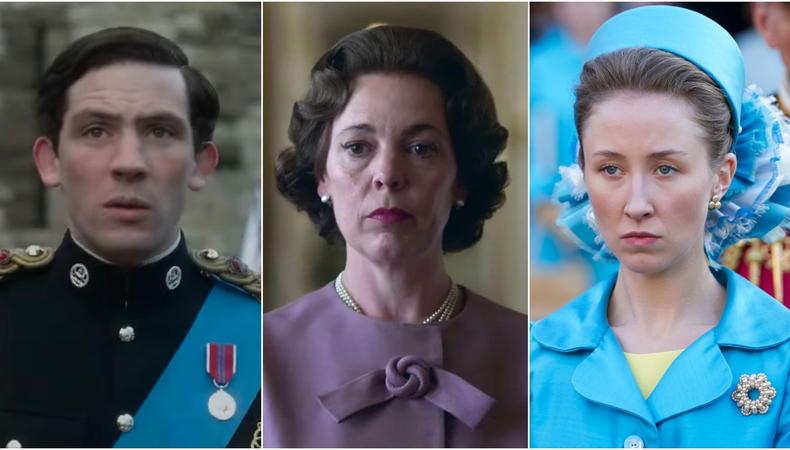 It's been quite the year for Olivia Colman, John O'Connor, and Erin Doherty. 2019 saw Colman pick up an Oscar for Queen Anne in The Favourite before popping into Buckingham Palace for her CBE; O'Connor has topped every year of his career to date with a standout role in Les Misérables alongside Colman; and Doherty (also in Les Mis) has made her mark playing sister to O'Connor's Prince Charles and daughter to Colman's Queen in The Crown. Alongside the critical praise for Doherty's Princess Anne, she's stolen every scene she's been in, not forgetting the poshest rendition of Bowie's Starman.
To discover what's behind this talented trio, Backstage decided to look into what unites them: their training at the illustrious Bristol Old Vic Theatre School. Alongside Colman, O'Connor, and Doherty, Bristol has turned out generations of acclaimed actors and is considered the most selective drama school in the world. We sat down with their artistic director Jenny Stephens to find out what makes Bristol special, how they spot potential, and the lengths one star of The Crown went to build a character.
What links this trio of stars to Bristol?
Erin was part of the first cohort of actors I chose, so she's close to my heart. Josh I knew from coming in as a freelance director and there are people still teaching here who taught Olivia. Obviously, they went through the school in different periods but, like all Bristol graduates, they are marked out by the fact they're grounded, down-to-earth people.
One recent graduate called us "the mad aunt of drama schools" and there's some truth in that – there's something a bit maverick. We look for actors to be themselves and we celebrate the individual within the ensemble. Our actors are also marked out by discipline, professionalism, and kindness – all things commented on again and again by professionals working with our students and graduates. Perhaps it's because we're such a small school, so you get to know each other intimately.
Bristol has a reputation as the most selective drama school in the world. Is that fair?
We have thousands of people apply each year for a very limited amount of places, so we're difficult to get into in terms of numbers. But I always say we're elite not elitist. What's incredible about the place is that within our small year groups you'll find people who are care leavers alongside those from top public schools. A third of the acting students are BAME and 40% of all students are getting non-repayable bursaries. I think you're hard pressed to find world-class training with that kind of inclusivity anywhere else.
READ: The Acting Conservatoires UK Actors Should Know
What are you looking for in auditions?
Potential. Actors who we think can create and inhabit a sophisticated inner life for a character, and do it organically and sincerely. Sometimes, people audition who feel over-schooled and we try and strip away what's been imposed by a teacher and see what their instinct is.
We have a very thorough second round which runs from 9am to 6pm in which there's a voice class, rehearsal, workshops in movement and improv. During all that, we're looking at whether they are good ensemble members. Do they take an interest in other people? Are they open, emotionally available? What's their imagination? It also offers prospective students the chance to look at us and see if they'll be happy here.
Erin Doherty was knocked back from lots of drama schools before coming to Bristol. What did you see in her?
I remember Erin's audition, I was sitting there with our voice teacher next to me and as soon as she left the room we turned to each other and both said: "That was great!" There's a real authenticity to her, she came in with her topknot and big boots on and was like, "a-right!" There was a huge sense of warmth and you could already tell she would be really interesting to work with.
During her time we put on a production of Helen Edmundson's play The Heresy of Love, and Erin played the lead [a nun struggling to reconcile her faith and passion for writing]. Where some actors like to talk around the character and subject, Erin enjoyed exercises like lying on the floor and imagining everything about that person, from where they live to putting your hand on the door of their home, seeing what things are in their room, what they eat, what they read. Erin loved that sort of thing. And each day before rehearsals she'd go to an 8am mass at a Catholic church, all to let that character seep into her and really get under her skin. She's always trying to profoundly understand things but she's also fun, honest, detailed, and has a fantastic instinct. There's nothing pretentious about her.
What do you think each actor had learnt by the time they'd left Bristol?
Bristol gives you a toolkit. We don't impose any one of the acting methodologies, like Meisner or Suzuki. We don't really subscribe to gurus like that apart from touching on Stanislavski for how you unpack text. So, these three will have learnt how to harness what they already had as well as how to build a sophisticated way of getting into character and approaching acting choices.
There's also all the technical stuff you get from training here. Erin came loving theatre and was fantastic onstage, but now she knows how to effortlessly deliver a performance that can be heard everywhere. We do movement and dance, and through that actors learn poise, release and ease. After all that, she'd definitely become more comfortable in herself.
If you were to give Olivia, Josh and Erin any tips for shooting Season 4 of The Crown, what would they be?
Erin is fab, you can see in her Princess Anne that she's a transformational actor. I don't know if I need to give her or Josh and Olivia any tips! We give actors skills to grow their own performances with. Even our students who out doing nativity plays on tour at the moment have that. I went out to see them after they'd be on the road for three weeks and I felt heartened to see all their performances had matured. Bristol actors have that capacity to stay curious and keep growing; it stands them in good stead for their whole career.
Watching The Crown Season 3, Josh, Olivia, and Erin are clearly embodying the characters and have made their own choices. You can see they're generous to other performers and very "present tense" when they're acting. I always tell my students that screen or stage "presence" is just that: being present tense. All three of them are clearly comfortable with who they are. I'm just so proud of them, they're real ambassadors for us.
READ: Why Is the Bristol Old Vic Theatre School so Successful?
Is there something special about studying in the city of Bristol?
Oh yes, there's definitely a sense of community here. People tend to live within a 20-minute walk from the school; you're not getting on a tube and going off home, you're focused on the strong sense of creative community at the school. And we've got this umbilical cord link with Bristol Old Vic Theatre where we're always doing shows. The students are in creative collaboration with the theatre and that's really healthy.
There's so much talk about widening access to drama schools at the moment. Is that what the future looks like for Bristol?
Inclusivity and diversity, or "being normal" as I call it, are essential to the industry and there's rightly been more pressure in the last few years for drama schools to ensure there's a mix of students from all backgrounds. But if you think all drama schools are full of posh people, that's not what happens here. I can put my hand on my heart and say that the best people get in regardless of where they come from. There's an amazing range of backgrounds, so we're doing something right. I'm from inner-city Bradford, and university transformed my life. I think this drama school transforms peoples' lives in the same way.
As for audition fees, we have waivers for those that need it and we will keep reviewing them because that's really important. However, I wouldn't want to spend all our widening participation money on just scrapping audition fees because that doesn't feel like the most strategic way to increase diversity. And I don't want to do anything that would mean we stop seeing everyone who applies.
More for UK actors? Check out the magazine.