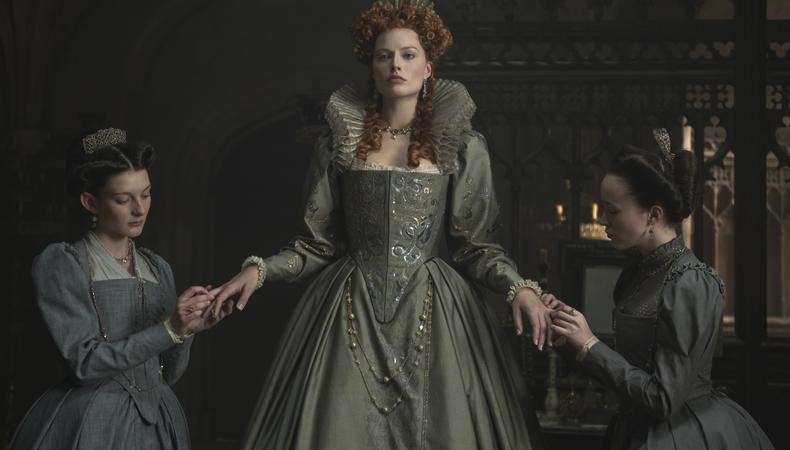 Josie Rourke is rightfully proud of her collection of firsts. She's the first person in her family to go to university, the first woman to become artistic director of the Donmar Warehouse, and the first female theater director to run a major London house, to name a few.
This year, she has added another first to her personal résumé: "Mary Queen of Scots," starring Margot Robbie and Saoirse Ronan, is her first feature film. The period drama follows the lives, reigns, and relationships of Mary Stuart (Ronan) and Elizabeth I (Robbie). Most significantly, though, "Mary Queen of Scots" flips the script on not just the stories of the two women but on the period genre as a whole.
"I'm seeking to tell a better truth about them and a modern truth about them," Rourke says. "Where we are as women and where we are as a society needs to speak to those women and where they sit in our history. We'll never think of them in the same way at any point in our history."
The feature has had a long journey, entering preproduction after years of development in 2012, when Ronan was cast in the titular role. Rourke, who had previously had film offers, heard of Ronan's attachment and was immediately drawn to the project, coming on board in December 2016, followed by "House of Cards" scribe Beau Willimon, who adapted John Guy's biography "Queen of Scots: The True Life of Mary Stuart."
With Alastair Coomer, her longtime casting director at the Donmar, Rourke cast the rest of the film, pulling in major stage and screen stars, including Robbie, David Tennant, Jack Lowden, Gemma Chan, and Adrian Lester.
Putting together a feature, especially your first, has its share of challenges, but Rourke came particularly well-prepared. "One of the things that motivates me is a sense that it's something I've not tried before, and is certainly very present in the women in my life who inspire me," Rourke says. "The challenge of preparation was incredibly exciting."
Her own preparation included reading books on the craft and rewatching films she loves, including period pieces like "Barry Lyndon" and "The Horseman on the Roof." The rest was built from her own experience running theaters, and the environment was created with her dream team of collaborators: costume designer Alexandra Byrne and hair and makeup designer Jenny Shircore.
The world of "Mary Queen of Scots" very clearly comes from Rourke's theatrical eye for detail. The director is intentionally precise, down to exact numbers of people in rooms and identical wall patterns. While she stirred some early controversy by including a climactic confrontation between the two queens that history tells us doesn't exist, filmic flourishes of that nature capture the heart of the project: the complicated dynamic between Mary Stuart and Elizabeth I.
"I think there is a strong theme…that is more classically thought of as a male one," Rourke says, comparing her desired dynamic to Robert De Niro and Al Pacino in "Heat," or even Batman and the Joker. The film itself balances the masculine and feminine throughout, hitting all the points of female pleasure, female pain, female autonomy, and the cost of power. "One of the things that most excites me about the movie is the boldness with which both those women went at the period," Rourke says. "If the movie calls for anything, [it's to] review and improve our contracts with what we ask of women and of their lives and of their sacrifices.
"Part of my responsibility," she concludes, "is to look at both my own identity and those artists around me and say, 'Now I've opened those doors—who can come through them?' "