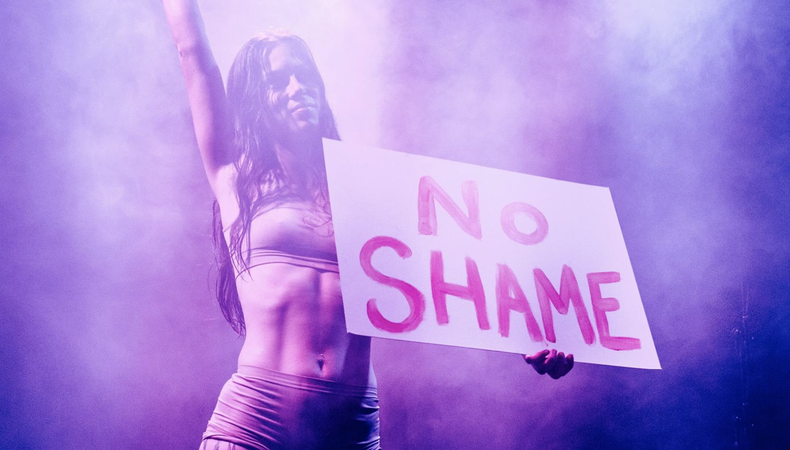 This is Notes From the Edge, a series reporting from the sharp edge of the UK's creative industries. This week, we examine how UK theatre is leading and responding to ­a demand for frank and truthful portrayals of female sexuality and desire.
After decades of seeing stories about sex and female desire written about by men (see Twelfth Night, Cat on a Hot Tin Roof, Miss Julie, Summer and Smoke), stories about female desire written from a female perspective are starting to come to the fore.
This season is chock-full of plays that have female sexuality or desire at their core, and they've been conceived or written by women, too. It includes plays about pornographic directors staged by women (The Censor), women refusing to have sex with their husbands because they have other desires (Emilia), and a whole play about vulvas at London's Ovalhouse.
Who's doing it?
You don't have to look far to notice there are more shows popping up than ever before that put female desire front and centre.
Rejoicing At Her Wondrous Vulva The Young Woman Applauded Herself is on at Ovalhouse Theatre. The production questions why a confident, 21st-century woman would feel inadequate when talking to her partner about sex. Another show, Fuck You Pay Me, is running at the Bunker Theatre, and is Joana Nastari's award-winning debut play: a no-holds-barred, explosive trip through the world of London's strip club culture.
Fran Bushe's Ad Libido explores Bushe's own experience of Female Sexual Dysfunction. Having lied to her partners for years about her levels of sexual fulfilment, Fran decided this would be the year she stopped faking and began "fixing sex." The show is described as a "sex quest" with songs.
Another show that pushes female sexuality to the fore is It Rains Diamonds On Jupiter, running at the Drayton Arms Theatre, which explores one woman's choice to become an escort while she's at university. The play looks at what female sexuality means through the lenses of escorting and of an LGBTQ relationship. It examines whether sex is about simply pleasuring men or whether transactional sex is good for a woman too; and questions whether women feel shame after having sex, and if so, why.
And another: The Censor at the Hope Theatre, by female-led RoundPeg Theatre, edges closer to the line, moving away from a discussion of one woman's view of sex towards an examination of sex in general. A female pornographer comes face to face with a censor – the man whose job it is to determine whether her work can see the light of day.
READ: Tracking the Epic Rise of the 1-Woman Show
Why does it matter?
Hearing these stories about women's desires and pleasure feels like there's been an awakening, says writer Sarah Kosar, whose play Armadillo is on at the Yard Theatre between 30 May and 22 June. Armadillo looks at the impact of a kidnap on a young woman and her obsession with guns. Unable to be aroused without the presence of them, she exists between trauma and shame. Kosar explains that women have previously been seen to have only "one type of desire, which is really convenient for the patriarchy. What I'm interested in is the weird, the uncomfortable, and the private desires we don't share."
Suzy Whitefield, who is producing and acting in The Censor, believes that as a society, "there is a lot of shame around female sexual pleasure. Women are not encouraged to explore or embrace their bodies. We have seen plenty of images of women's bodies being censored online over the last few years: Petra Collins' pubic hair poking out over the top of bikini bottoms, stains of menstruation blood posted by Rupi Kaur, and the Free the Nipple campaign to mention a few. Why are these images so shocking? Why do people feel so strongly about them? And why are they censored? These questions are at the heart of The Censor."
Why should you care?
For too long, women have had their narratives created for them by men. "I think we're becoming more cognisant about who has been telling the stories for all of time," Kosar tells Backstage. "This realisation is making us question our own desires because of it. Have our desires come from men, or from porn, or the media? Maybe women are suddenly thinking – I'd always thought I should have sex this way, but right now, women are starting to ask what has influenced us to make us feel this way."
She adds that for a long time, women's desires have not been taken seriously. "We all walk around in pain – it's a really complicated subject but it's important to keep female stories as human stories, and display the visceral and the naughty, and the good too. It's not simple."
For Whitefield, working on The Censor has changed the way she reflects on her own relationship to sex. "I am being challenged to look at myself, my own views around sex, and how they have been informed by what my education and society has deemed appropriate."
It's a similar feeling for Fran Bushe, who wrote and performs in Ad Libido. She said that she just got exhausted of performing in bed: "I'd make appropriate passive 'ooh' and 'ahh' noises and had been very quiet about what I wanted for years and my writing felt the best and loudest place to reclaim that voice. I felt like the time to demand bedroom equality had arrived but also the time to deconstruct bedroom bravado and say very honestly [that] actually sex isn't like we see in porn; our sex lives aren't Sex in the City, and the penetrative penis-in-vagina sex that we are taught about in school is not the only sex. I wasn't sure that there would be a platform for my story or an audience, but people have rushed to help deconstruct taboos and open conversations about why many women are not enjoying sex."
These plays are starting to slowly change the dialogue around sex. Bushe reveals the time after a show when a woman stopped her husband from leaving the post-show Q&A on Female Pleasure by putting her hand gently on his knee and saying "Oh no, no, no – we are staying for this!" She adds:" I had a male audience member who immediately telephoned his wife after the show to check how sex was for her because he'd never really thought to ask."
The big picture
Despite the clear fringe movement towards plays that celebrate and highlight women's desire, sexual wants, and control, it's hitting the West End at a slightly slower pace. Shows like Emilia by Morgan Lloyd Malcolm, Ella Hickson's The Writer at the Almeida, and the gender-swapped Company at the Gielgud Theatre demonstrate that mainstream audiences are receptive to shows about sexuality, choice, and desire. Home I'm Darling by Laura Wade – about the fetishisation of being a wife – hit the National Theatre in 2018. It may be moving slowly, but it is moving.
For more from Backstage UK, check out the magazine.