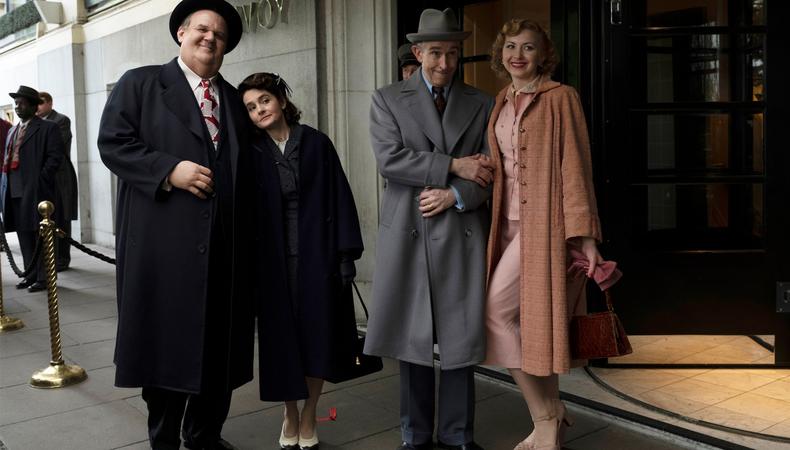 With "Stan & Ollie," director Jon S. Baird knew its potential to be a special film from the start. Jeff Pope's script, he says, tapped into the truth of the iconic comedy duo's relationship and painted it with as much heart as humor. It was more than a love letter to Stan Laurel and Oliver Hardy—it was a love story.
"When I read the script, it made me cry," Baird says. "So I thought, That's a great starting point. The hardest thing is to make an audience laugh and make an audience cry, and that's what we set out to do."
In making a biopic about two of early Hollywood's most lauded and recognizable comedians, a lot rides on the pair of actors hired for the job. In the case of Baird and Pope's film, trust was placed in the adept hands of Steve Coogan and John C. Reilly to play Laurel and Hardy, respectively. Baird recalls that casting the two of them was the plan from the start. Coogan had an existing creative relationship with Pope after working on "Philomena," and he had both the comedic and dramatic chops—and the right accent—to pull it off. Reilly, who scored a Golden Globe nomination for his performance, similarly boasts a wide range of emotional abilities as an actor; he apparently took some convincing, but it soon proved an undeniable offer.
"John C. Reilly is one of the best actors in the world. His dramatic range is incredible, and then people love him for the stuff he does with Will Ferrell. I really couldn't think of anyone better to play [Hardy]," Baird says.
READ: How John C. Reilly Overcomes the Loneliness of Being an Actor
Casting the supporting cast, particularly scene-stealing wives Lucille Hardy and Ida Kitaeva Laurel, proved a more challenging task. The filmmaker wanted strong actors who could stand not just alongside, but up to, Reilly and Coogan. That's what they found in Shirley Henderson, who previously worked with Baird on "Filth" and was cast as Hardy, and Nina Arianda, who had the necessarily Slavic "tough love" mentality and was cast as Laurel.
"We had two brilliant actors who took what was on the page and elevated it," Baird says of the film's women. "A lot of the humor you see in the film maybe wasn't in the script so much, and I think Nina and Shirley worked so hard on elevating that relationship."
Everyone else on the call sheet, Baird reveals, had to audition—even if they just had a line. He was in the room for each one.
"Even if it's a one-line part, I'll be in the room, and I'll see 20 people for it, because I want to know when that person walks through the door, how they are with the casting director," he says. "Are they respectful? Are they nervous? Are they comfortable? That makes a big difference. You've got to create a team, you've got to create a family, and they've got to be in that place."
The director's main piece of advice for actors auditioning for that one line is simple enough, but often hard in practice: "Just be yourself when you come through that door. That's a huge, huge step forward, I think, when you meet a director, because it puts them at ease as well. You want someone you'll be able to have a joke with, somebody you'll be able to trust, and somebody who won't give you issues over the small things—just a real team player. Someone who's willing to do it for the greater good.
"It's a difficult thing to do," he adds. "I admire actors more than anything. I really do. It's why I do the job. I get how difficult it is, but my advice is just relax, be yourself, and have fun when you go into an audition. That's what I think."