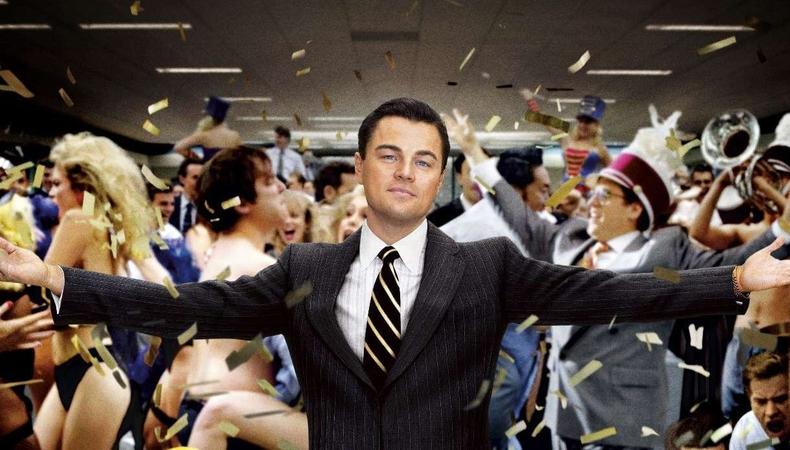 Hello, and welcome back to Week in Review, our roundup of industry-wide news. From stage to screens big and small, we've got you covered. It's everything you need to know and all you can't afford to miss.
Immersive actors to get personal alarms
The producers of the immersive experience based on The Wolf of Wall Street are introducing safeguarding measures and personal alarms in a bid to protect actors and participants. The move follows a series of incidents at immersive productions in London, with Equity warning actors they risk facing "nightmarish" situations in interactive shows with unruly audience members. A 2018 exposé on Punchdrunk's Sleep No More in New York found numerous complaints of sexual harassment and misconduct by performers and supporting staff, and last year an interactive production of The Great Gatsby saw the police called after two incidents of sexual assault.
The immersive adaptation of the memoir by former stockbroker and convicted fraudster Jordan Belfort opened in London this week after a city-wide advertising campaign that sold audience members the chance to "plunge yourself into a world of greed, power, and excess." Producers have introduced door security, personal alarm buttons, a system to flag "problematic audience members" and CCTV. Charlotte Bence of Equity said smaller shows posed the most risk for performers as they lacked the resources and experience to cope with the demands of immersive theatre. Read more here.
Two-thirds of performers asked to change how they look
More than two-thirds of performers claim to have been asked to change how they look, and more than 75% feel they have to look a certain way to get work, according to a survey on the pressures felt by actors. Of the those asked to change appearance, a third had experienced requests to lose weight for a role or to make them more castable. 67% were asked to change their hairstyle and 45% told to dye their hair. One actor claimed they were told to shave their legs before an audition while another said their agent encouraged them to gain weight for castings.
The survey of almost 400 professional performers, conducted by Equity's Women's Committee and the Centre for Contemporary British Theatre at Royal Holloway University, found a majority had their appearance criticised by someone in the industry and had tried to lose weight ahead of auditions. Respondents felt that there was more pressure on women to appear a certain way than men and that alongside the financial toll of changing appearances, the experience had a detrimental effect on mental health.
Equity's Kelly Burke said: "So often the time, energy, money, space, and other resources we're required to invest are out of balance with the work on the other end." Burke hoped the report would "open up a much healthier and more inclusive conversation around how we deal with appearance in our industry." Read more here.
READ: Equity Engages With Fringe, Netflix, HMRC + More UK Union News
Stars warn UK is lagging behind on new musicals
Stars of musical theatre Jenna Russell and Caroline Sheen have warned a UK Hamilton won't happen until producers learn to support new musicals. Speaking at this year's The Stage Debut Awards, Russell said we should "play the long game," adding that the US model saw producers support teams through years of pre-production instead of rushing new musicals into large venues. Sheen, a veteran of new musicals alongside classics like Les Misérables, said the UK was "lagging behind" the US and urged the industry to take more risks with exciting new work. She told The Stage: "People need to start putting their money into things that may look like a risk but that will pay off in the end because there is some really exciting talent out there and that needs support."
Mark Gatiss: cuts have decimated UK arts
Actor and writer Mark Gatiss has argued arts cuts have decimated the opportunities for working-class talent. Speaking at The Stage Debut Awards, Gatiss reflected on his experience of growing up working class in the north-east and his "lifeline" at the now-closed Darlington Arts Centre. Gatiss warned many aspiring performers will no longer have the opportunities he enjoyed because "swingeing" cuts have "decimated the arts." He added: "If you don't see that opportunity yourself, you think those jobs aren't for me. I could never be on the TV or the stage."
Calling the arts an "easy target," Gatiss joins a growing list of performers who are striking out at cuts. Actor and chair of the National Campaign for the Arts Samuel West penned an open letter to No.10 last month warning that funding for arts and culture in Britain had taken a "bigger hit than most." Read more here.
Bob Marley the Musical
A new musical based on the life of Bob Marley is in development, with plans to open in London next year. Given the working title of Bob Marley the Musical, a workshop preview from producers Playful Productions was shown to industry figures earlier this week. Co-produced by Stage Play and Young Vic artistic director Kwame Kwei-Armah, the book is by Billy Elliot writer Lee Hall and director Dominic Cooke (Follies) is attached. Kwei-Armah previously wrote One Love: The Bob Marley Musical, another show based on the life of the reggae star. This new show has the backing of the Marley family and is planned for 2020, marking what would have been Marley's 75th birthday.
Terry Pratchett's The Watch begins production
The Watch, a new series based on Terry Pratchett's popular Discworld novels, has begun production in South Africa. Commissioned by BBC America, it's described as a "disruptive, character-driven" story focusing on Pratchett's misfit cops fighting to save a ramshackle city. The series stars relative newcomer Sam Adewunmi, a 2019 Screen Star of Tomorrow, in a leading role as criminal and time traveller Carcer Dun. Alongside Adewunmi, the "punk rock fantasy thriller" also stars Richard Dormer, Adam Hugill, Jo Eaton-Kent, Marama Corlett and Lara Rossi.
READ: More greenlit projects in the UK
For more from Backstage UK, check out the magazine.