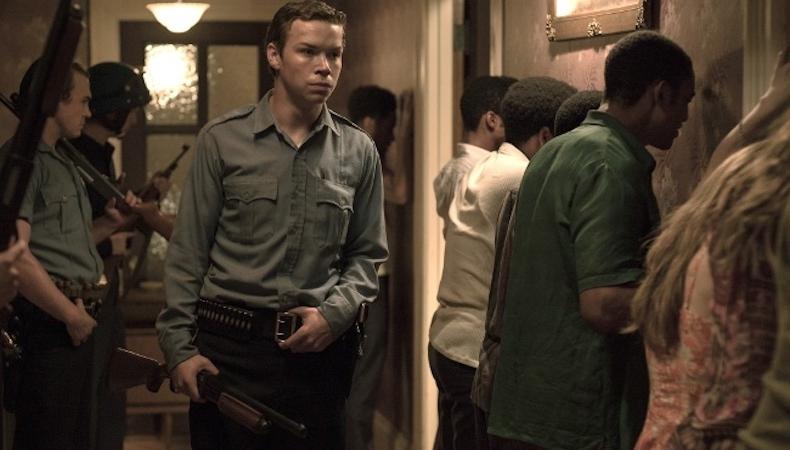 Will Poulter popped into Backstage HQ Aug. 2 to discuss his unforgettable turn in "Detroit," now in theaters nationwide. The BAFTA winner's performance as white supremacist Officer Krauss shakes to the core. He spoke with us about working with Kathryn Bigelow and his main tip for the audition room.
Bigelow gave her actors freedom to explore.
"There's an understated genius to how she creates an environment on set without you knowing it.... [She] gives you the kind of space to be able to operate very freely and explore, improvise, and [not] feel hemmed in or constrained, and that's an amazing office to work in. Kathryn is very trusting of her actors. She gives up a lot of creative control and freedom to you, and that's not something I was expecting. It's a very young cast [and] she's incredibly experienced and nuanced as a filmmaker, so I was fully prepared to be micromanaged. But she gave us a lot of the control, and I'm so grateful for that."
READ: 'Detroit' Star Joseph David-Jones on Kathryn Bigelow + Telling True Stories
To young actors everywhere: perform, perform, perform.
"It's by no means an invention of my own, but perform at any given opportunity and on any stage, however big or small. You learn from the process of performing. If you look at it like a sport, you just get better with practice, and you learn from exposing yourself. One thing I've battled with throughout my career from as early as 10, 11—when I was doing school plays—is nerves and stage fright, and I think that only got better and I only developed a sense of confidence by getting back on the horse—all those fun analogies."
He went outside his comfort zone to audition for 'Detroit.'
"I generally try and tape when I can—and what I mean by that is tape in the comfort of my own home, my agency, with the same person, just because we've gotten into a groove and I guess I've found a little bit more success doing that. Most times I've been in the room, I've completely flopped it. Something I've had to remind myself of is that that process is not going to go away for a while and I'm still going to have to audition [in person], so I've been encouraged by my team to face that fear. I thought I was going to throw ['Detroit'] away because of my inability to perform in the room. And I faced my fears, and I'm really happy that I [did]."
Do 'whatever works for you.'
"If you feel like you need to walk into the room and feel supreme confidence, almost verging on arrogance—even if you're not that person, but you have to be that person inside the room in order to get it—do it! As long as you're not being offensive, do whatever you need to do. Walk in as the character if you feel like that's what's necessary."
Want to star in a feature film? Check out Backstage's film audition listings!