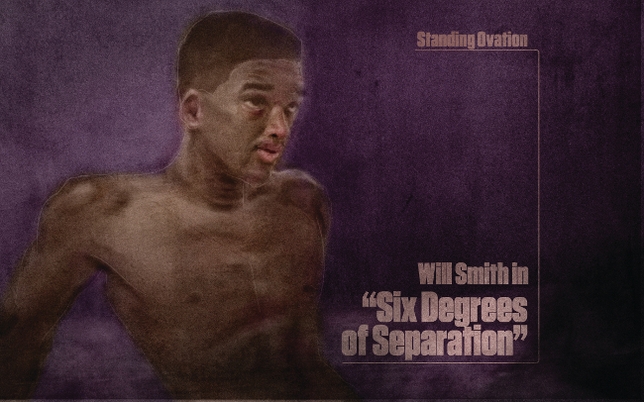 When Will Smith burst into the well-appointed Upper East Side apartment in the opening scene of "Six Degrees of Separation," the 1993 film adaptation of John Guare's Pulitzer-nominated play, it was only a partial shock. We had no idea that this young African-American man, only 25 at the time, would become one of the most powerful people in Hollywood with eight consecutive blockbusters in the coming years and an eventual entertainment empire and family acting dynasty.
At the time, he was the friendly black guy we had grown familiar with on our TV screens because of "The Fresh Prince of Bel-Air," on which he played the oddball street-smart kid from Philly who didn't quite match with his bourgie West Coast relatives. The show—and Smith—were the heirs to the Cosby clan, the benign black family that America desired. That he was now portraying Guare's preppy Harvard student Paul Poitier, the fictional gay son of film legend Sidney Poitier, seemed perfectly plausible. Of course rich white folks would let this strange black guy into their living room—hadn't America already done so?
Although he had a couple of prior film credits to his name, this was Smith's big break. In the film, Smith must be smart and charming, warm and articulate as he elegantly manipulates the rich white people with whom he comes into contact—including Donald Sutherland and an Oscar-nominated Stockard Channing. In his first scene, as he explains that his thesis, about the corrupting influence on young men of J.D. Salinger's "Catcher in the Rye," had been stolen, he commands all white people pay attention and believe him, feeding on their approval in the process. During his monologue, as he explains that "everybody's a phony," he fabulously parrots these privileged white people to get what he wants. "This book is preparing people for bigger moments in their lives than I ever dreamed of," Smith says as Paul, and it seems Smith could be speaking for himself.
The chemistry between Channing (her most successful role since "Grease") and Smith is palpable. We believe in their platonic romance that straddles maternal care and sexual desire. "You watch, it gives me a thrill to be looked at," he tells her. And Channing devours his youth and vitality.
Now let's talk about the kiss. Smith was supposed to give a big, wet smooch to his co-star Anthony Michael Hall—but he refused (on the advice of Denzel Washington, allegedly). Instead, a series of clunky camera tricks are employed so it appears that Smith kisses him, but it shouldn't be written off as a cowardly move. It's easy to forget now, when gay characters seem to appear in every TV show and plenty of Hollywood films, but this seemed radical at the time. Smith did have a sexy-yet-comedic moment with a white male hustler who jumped out of bed, both of them naked. Smith later seduces handsome Eric Thal, a struggling actor, and his girlfriend (played by an unknown Heather Graham) and has sex with him in the back of a horse-drawn carriage in Central Park—certainly a daring move for an untested actor. And all of it works because, although Smith may not be a great actor, he turned out to be extremely successful at seduction. He makes audiences, everyone near him, believe whatever he's selling—whether it's as an undercover agent that polices aliens or a boxing legend. It's something Smith has done in his career ever since.
Jerry Portwood is the executive editor of Out magazine and former editor of New York Press. He's never been very good at playing Six Degrees of Kevin Bacon—but is sure that Will Smith would be.