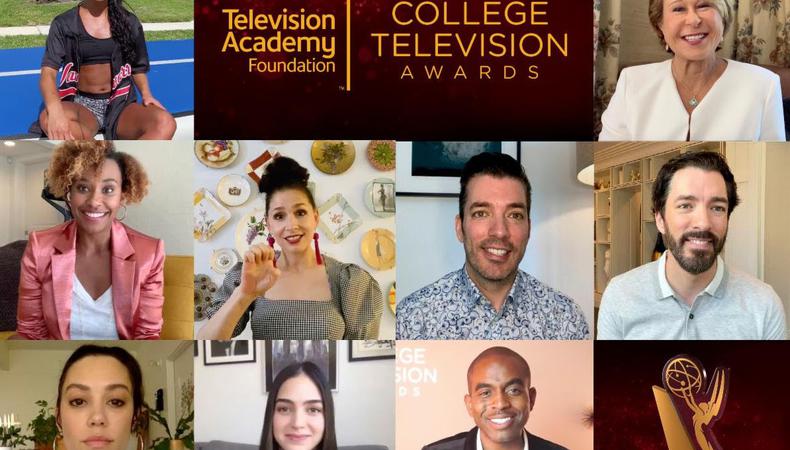 The College Television Awards celebrated its 40th anniversary May 30, handing out eight competitive awards and two special awards—via livestream amid the ongoing COVID-19 pandemic.
This marks the first time the awards were livestreamed, taking to the internet to celebrate the winners instead of gathering in person. The College Television Awards honor excellence in student-produced programming all across the United States, and follow the same structure as its parent award show the Emmys, calling upon Television Academy members to choose the winners.
"Balloon," by Christina Cha, Jeremy Merrifield, and Dave Testa from American Film Institute took top honors, winning the Drama Series category, which comes with a $3,000 dollar prize, as well as the Seymour Bricker Humanitarian Award, which is awarded to a project that best highlights a humanitarian concern and totes a $4,000 cash prize.
Best Comedy Series went to "They Won't Last," also from an American Film Institute team, this one consisting of Richard C. Bailey, Brandon Gale, and Portlynn Tagavi. The other special award of the night, the Loreen Arbus Focus on Disability Scholarship, worth $10,000, was awarded to Quinn Else and Marc Tarczali, again from AFI, for "Fort Irwin."
Madeline Di Nonno, chair of the Television Academy Foundation, said of this year's awards, "Our sincerest appreciation to all the stars, industry leaders and sponsors who helped make this year's College Television Awards virtual experience a reality for students. Congratulations to the winners! We welcome them and all of the nominees into the foundation's alumni family which is dedicated to providing mentoring, support and professional access to the television industry, a vital service for aspiring students at this unprecedented time."
The 2020 livestreamed awards ceremony was hosted by Albert Lawrence, who also hosts CBS' "The Henry Ford's Innovation Nation" and interviews as a correspondent for IMDb's "On the Scene." The academy also tapped a wide array of TV stars to hand out the awards remotely, including Mishel Prada, Melissa Barrera, Gabi Butler, Jimmy Fallon, Tichina Arnold, Grant Gustin, Kelly McCreary, Ryan Michelle Bathe, Drew and Jonathan Scott, Yeardley Smith, and Shoshannah Stern. The academy also surprised nominees with a special congratulatory video from André Holland, Amy Poehler, Amandla Stenberg, Tracey Ullman, Kerry Washington, and Reese Witherspoon. Prior to the show, the foundation coordinated exclusive online events and webinars for the nominees aimed at educating, mentoring and enhancing professional development.
Check out a full list of winners here!