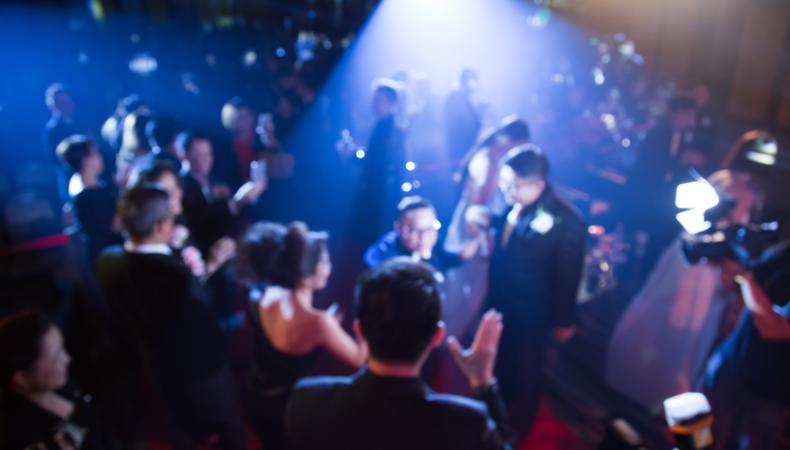 Want the inside scoop on all things awards? Welcome to Letter From the Awards Editor, our series where Backstage's Jack Smart takes a look at the latest film and television news, industry trends, and awards projections that matter to today's working actor.
Dear homebound Backstage reader,
During a recent video conference with my coworkers—somehow it's only been three weeks of video conferences, rather than years, what is time anymore?—it occurred to me that its "Brady Bunch"–like format, those squares of faces filling the computer screen, looked familiar. Just before the winner of an award is announced at a glamorous ceremony, each individual nominee appears on camera, televised in a split screen. Amid this coronavirus crisis, that breathless moment of anticipation featuring five-or-so glowing, expectant faces feels to me reminiscent of a damn Zoom meeting!
The funny (or given our circumstances, not so funny) thing is, that may well be how this year's Emmy Awards, hosted by Jimmy Kimmel, are presented. For the foreseeable future, awards acceptance speeches could be delivered from winners' homes via webcam—or not at all. The Centers for Disease Control and Prevention's restricting in-person gatherings to help combat the spread of COVID-19 has caused arts industries, and their sacred award-giving ceremonies, to grind to a halt: premieres and festivals cancelled, film and television production suspended, the Oscars pushed to April 2021, Broadway and local theaters gone dark. It's an unprecedented cultural and economic phenomenon with still-unforeseen ripple effects for the world of entertainment, and as of yet there's no end in sight.
But while I, as your trusty Backstage awards editor, join the chorus of voices lamenting the postponement of most theater accolades including the Tonys, grapple with the reality of a delayed film awards season, and sort out the confusion of a delayed Emmy nominating period without a single FYC event, I also believe there are reasons to hope. Somehow, some way, the show must go on.
The delay of TV production may affect fall premieres and the suspension of in-person events means an unusual summer for the Television Academy, but the 72nd annual Emmy Awards race is largely unaffected. If anything, the 2021 season could be hit harder by the coronavirus crisis than the 2020 season, which as of now is on track to culminate in the Creative Arts Emmys Sept. 12–13 and Primetime Emmys Sept. 20. Talent in the running for TV's highest honors are still, thanks to the magic of modern technology, able to work with their publicists and members of the press to promote projects. Necessity is the mother of invention, and as we all navigate a Phase 1 nominating window reduced from two weeks to 10 days, and pushed from June into July, creative solutions to Emmy advertising and campaigning are already underway. (Our "In the Envelope" podcast, for one, is recording 100% remotely!)
As my esteemed colleague Casey Mink rightly observed, this crisis "is happening in the time of unlimited television and movies." At this moment in history, a moment when those who are able have been ordered to shelter in place at home, there is more access to onscreen entertainment than ever before since literally the invention of storytelling. I've used these weeks of extra indoor time to catch up on "The Crown," "Succession," and "The Good Place"; how convenient that what usually feels like an overwhelming amount of TV to watch is now available during what feels like an overwhelming amount of time in anxious isolation!
In addition, opportunities for working artists have not disappeared entirely. Commercials still need shooting, voiceover work still needs recording, and the technology has been in place since before COVID-19 to audition via web conference and submit self-tapes seamlessly. Did you know Backstage has a new profile setting specifically for talent looking to work in voiceover? And there is no shortage of gigs and other opportunities that can be booked and executed entirely remotely.
1 Agent's Advice on What You Should Be Doing During the COVID-19 Pandemic
Plus, if you're a writer, or you've always pondered penning that next great screenplay but made excuses about being too busy, now is as good a time as any to get inspired and churn out a draft. Historically, great art emerges in times of crisis. Now is the time to rise to the occasion and create award-worthy stories, or for inspiration to fuel an award-worthy performance.
These are scary times, made all the more scary by their distinct uncertainty. But I believe in the resilience of film, TV, and theater creators and the work that will emerge. We're not in the midst of a stalled awards season—we're in the midst of an awards season that will go down in history as extraordinary.
Whatever the future holds, I have no doubt that months of fear, hardship, and isolation will end with a renewed appreciation for entertainment and the act of coming together as a community to tell and hear stories. Movie theaters will be sources of comfort again, and our renewed understanding of social and digital technologies could launch exciting new art and artists. I look forward to the awards shows of the future, where we all truly honor the industry's best and take nothing and no one for granted.
Sincerely,
Jack
Some More Smart Stuff:
Have you checked out Backstage's new virtual programming, The Slate? Designed to guide or just encourage our community in this strange era, these seminars, Q&As, and interactive sessions are the perfect way to structure your day with fun and informative remote opportunities. Check out this week's schedule here.