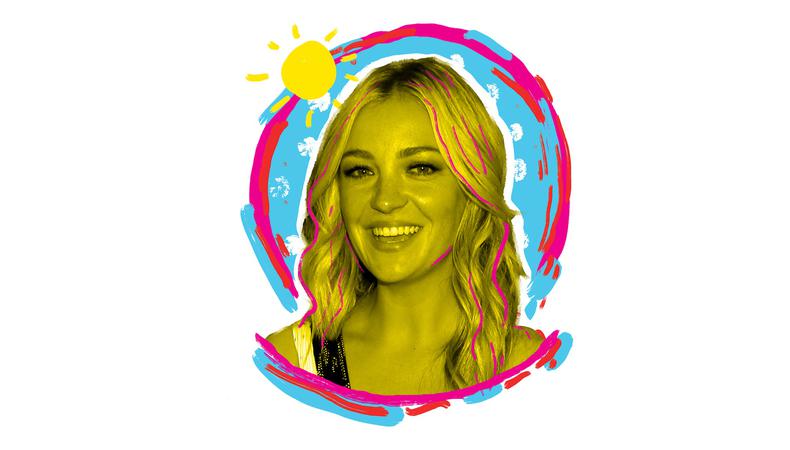 Following in her grandfather's and father's footsteps—the late radio comedian Bob Elliott and current "Schitt's Creek" star Chris Elliott, respectively—Abby Elliott embraced a career in comedy. After charming audiences with her impressions of Angelina Jolie and Zooey Deschanel for four years on "Saturday Night Live," the actor turned from sketch comedy to sitcom on Bravo's "Odd Mom Out" and now NBC's "Indebted" alongside Adam Pally, Fran Drescher, and Steven Weber.
READ: 'SNL' Vet + 'Bless the Harts' Creator Emily Spivey Says You Shouldn't Quit Comedy Just Yet
Tell us about your first day on a professional set. Were you tagging along with your dad, or are those memories from your first working jobs?
My first real memories of being on set were on my dad's sitcoms. I remember it being the most exciting thing in the world. He shot "Get a Life"—I don't think he shot it in front of a live audience, but in my memory, there were a million people around. In reality, it was probably a very chill atmosphere, but as a kid, I interpreted it as the most exciting, glittery experience. Dark sound stages with bright lights are what stick out to me from when I was a kid. That was my first experience on set. My first professional experience, I would say, really, was "Saturday Night Live." I had done improv and sketch comedy at UCB and the Groundlings out in New York and in Los Angeles—I was going back and forth. But actually getting paid, that was "SNL." I skipped a couple of steps. I didn't have 10 years of Groundlings experience, I was 21 and got thrown into this crazy, fast-paced environment.
Would you say "SNL" was your big break?
Definitely. I had done voiceover work on "King of the Hill," but ["SNL" was] my first on-camera break. I did some parody stuff on "Kimmel," because Jimmy loves my dad so much, and I had just moved [to L.A.] and was trying to make connections. I did do some speaking roles in commercial parodies. I remember there was one where I played a TGI Fridays waitress, and it was a commercial for fried fingers because in the news someone had just found a finger in their chicken wings. Little stuff like that. But "SNL" was the biggest thing. It probably helped me that I didn't think there'd be a chance that I'd ever get it because I was so young. I thought, Why don't I just use this as an experiment to see if I can feel confident and work through my nerves in front of Lorne Michaels. It ended up going way better than I had anticipated. That was a shock to my system, and I started pretty much immediately because they were hiring mid-season. It was after Maya Rudolph, Amy Poehler, and Tina [Fey] had all left.
What advice would you give your younger self?
I would tell my younger self to be the most myself. I think I tried so hard to fit into a mold of "other people do this," and if I do impressions, that'll get my foot in the door. Which I did do, and that was great—but I really wanted to do characters, and I got pigeonholed pretty quickly as an impressionist. I would tell my younger self to relax and let what I find funny come out way more, and stop judging and second-guessing what I find funny.
What's the wildest thing you've ever done to get a role?
I think sometimes I feel silly if I dress up, if I'm over the top, [like] auditioning for something that takes place in space and I wear a spacesuit. That would make me feel more uncomfortable than going in in jeans and a T-shirt. I did recently audition to play Ann Coulter—I did not get it, but I read her book. That was eye-opening.
How do you typically prepare for an audition?
Typically, I get it and I look at it a ton, and none of it really sticks until my husband runs it with me. If my husband's not around, my sister usually will. If she's not around, I have, on occasion, recorded the other character and done a back-and-forth with myself, but that throws me off sometimes. I definitely learn by hearing it out loud. I try to read words, and if I'm staring at them, they will not stick. So, running it as much as possible, trying to make the person laugh while I'm doing it if it's comedic, that helps. Also doing it a couple different ways. Doing one at a 10, one at a five, and one just saying the words.
What is your worst audition horror story?
At the beginning of my career, when I was 18, I auditioned for summer stock for a theater in Maine at Bowdoin College. It was musical theater, so I had to sing and dance. The singing portion was great, the acting portion was great, and dancing—I cannot dance for the life of me. I had the worst dancing audition, and I left in the middle of it. I just said, "Bye, Felicia! I can't do it." It's one of those things where you can learn and make it look good—I'll probably get in trouble for saying this, it's just because I can't do it. I would love to do Broadway and dance passably.
If you were to audition for a Broadway musical tomorrow, what would your go-to audition song be?
I'd love to play a comedic character, so I'd probably do "Adelaide's Lament" [from "Guys and Dolls"]. I'd love to play that character.
What performance should every actor see and why?
I love Jennifer Aniston so much. I'm watching "The Morning Show" right now. There's a scene with her and her daughter at college, and it is just such a good scene. I love watching her. She's really funny, and she's also such a good actor.
READ: Eddie Murphy Remembers His 'SNL' Audition + the Advice From Rodney Dangerfield That He (Thankfully) Didn't Take
What has playing this latest role on "Indebted" added to your acting skills?
I'm working with Fran Drescher and Steven Weber, who are sitcom royalty. They get the rhythm of it so well and it's in their bones. Coming into it, I hadn't done a multicam in a while as a regular. To go in and work with these people who knew exactly what to hit, when, was intimidating. But also, they're such kind people and helped me immediately. I started to get it through them. The audience really makes a huge difference. We do pretape some of the show, but when the audience comes in on Friday, it's just this electricity that I remember from "SNL" and performing at UCB and the Groundlings. You start to want to connect with the audience and make them a part of it. That gives you adrenaline to hit the jokes faster or say something a different way.
How did you first get your SAG-AFTRA card?
I think it was a pilot presentation that was directed by this awesome director, Lee Toland Krieger—he directs "You" and "Chilling Adventures of Sabrina." I had a couple of lines; I was throwing up in a toilet, playing a drunk girl.
This story originally appeared in the Feb. 13 issue of Backstage Magazine. Subscribe here.