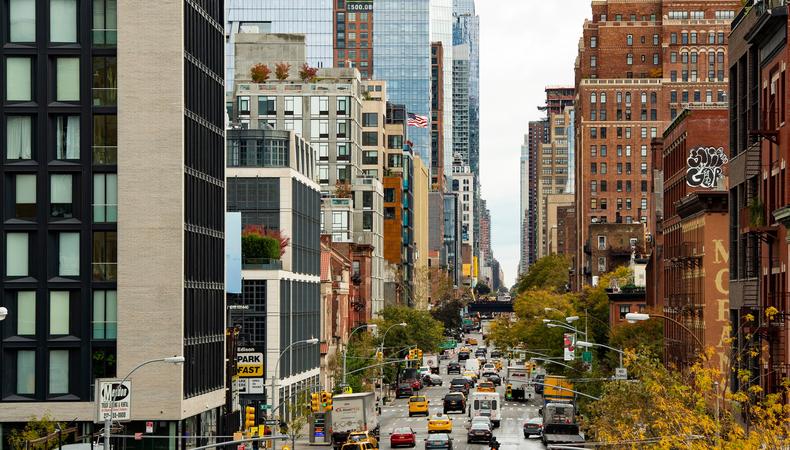 With rent prices increasing by 250 percent in just a few decades, it's no secret that New York City has become one of the most expensive places to live in the nation. In 2016, the NYU Furman Center reported that the median income of New Yorkers had continued an upward climb; for the same time period, Actors' Equity reported that "69 percent [of membership] earned $15,000 or less [annually], illustrating the financial challenges of life as an actor."

As a result of exploding costs in a changing city, actors and other workers in the entertainment industry have been rapidly priced out of the nation's hub for the live entertainment economy. However, the Actors Fund, an advocacy and service organization for American actors, has partnered with developer Joe Restuccia of the Clinton Housing Development Company (CHDC) to open a new affordable housing complex in Manhattan's Clinton-Hell's Kitchen neighborhood with a specific invitation for actors, stage managers, dancers, and workers in the city's entertainment industry.
The new tenement—540 W. 53 Apartments—has 102 rental units designed to provide city homes to a deliberate mix of demographics. The partnership with CHDC is the latest initiative by the Actors Fund's Affordable Housing Initiative helmed by Daniel Arnow. "While the Actors Fund has a portfolio of our own properties, we continue to work with the development community on marketing and development projects with the goal of increasing access to affordable housing opportunities for our constituents," Arnow told Backstage. "We're undoubtedly in a housing crisis in New York City and in many communities across the country."

Rent: Then + Now
Executive director of CHDC and developer of the property, Joe Restuccia reminisces about when he arrived in the city as a stage director in the late '70s: "I never paid more than $200 a month when I started out.... Think about that now! The market has changed because almost every neighborhood now is a desirable place to live and that just pushes [rent] up."

Restuccia has made a name for himself in the Clinton-Hell's Kitchen and Chelsea neighborhoods since taking over as executive director of CHDC in 1986. When he speaks about housing trends in the city, Restuccia sounds more like a grassroots community organizer than a big city real estate developer. "The nature of being in the city is that it's a mix of people," Restuccia told Backstage. "When you're on the train, you don't know how much people make."
For Restuccia and his company, which operates 75 buildings on Manhattan's West Side, the legacy of the neighborhoods being a community of actors and artists is essential to the identity and economy of the city. "It's almost like 90 percent of the actor's union lives in my neighborhood," he said. "And there's a reason for that: matinees. These are people who have to go back and forth on Wednesdays, Saturdays, and Sundays.... Actors have lived, and performing artists have lived here historically on the West Side. It's not even a question."
Slipping Through The Cracks
The development of affordable housing complexes became an urban planning movement starting in the late '60s and '70s when New York City began condemning and repurposing blocks for more affordable residential development. Over the following decades, communities in the city came together and began advocating for more deliberate residential protections for low to middle class workers, small businesses, and nonprofits. However, despite years of deliberate community planning, New York City has seen an undeniable shift towards luxury condos, boutiques, and tech-sector jobs. The city's theater community just witnessed an alarming knock to the city's small business culture when the iconic bookstore the Drama Book Shop announced that it had been priced out of its longtime home in the Theater District.

As Restuccia explains, there has been a focus on low-income families and a rise in 80-20 developments—where developers get tax incentives to price 80 percent of their property to market value and 20 percent to affordable housing. However, there has been little focus on middle-class workers and workers with fluctuating seasonal incomes. For actors in a freelance, gig-based economy, representing your annual earnings can be complicated, chaotic, and non-traditional.

"[F]olks in the performing arts and entertainment community experience a unique set of challenges because of the nature of their work," said Arnow. "Determining your annual income for housing applications is particularly challenging for people in the industry as well as the marketing agents who have the job of reviewing applications and verifying income eligibility."

The Actors Fund has partnered with CHDC because they have trained their associates to interact with workers in the city's entertainment industry competently. "We've always worked with people who've had these variable incomes," said Restuccia. "We know how to do it because—it's not so easy. People have ups and downs—we know the population really well."

In coordinating this opportunity for entertainment workers in America's most famous (and infamous) city, both organizations deliberated carefully with the community's (and population's) needs at the forefront. "One of the unique aspects of this affordable housing opportunity at 540 W. 53 Street is that there are no gaps in the marketing bands," explained Arnow. "It is common for affordable housing projects to have units at different affordability levels, but typically there are gaps between those levels, and people might fall through the cracks if they earn too much or too little. For this project, there are no gaps for qualifying households with incomes from $39,292 to $172,095."

How to Prepare + Apply
To be considered for a unit in the 540 W. 53 Street Apartment Building, potential renters must create a profile through New York City Housing Connect—an online platform operated by the municipality. Once a profile is established, if an actor's Annual Household Income (AHI) is within the range intended for the building, a bid can be submitted for a unit. The next step is up to chance: a lottery is conducted, randomizing eligible applications. From there, lottery winners will be interviewed, and—based on their AHI—they will be placed into one of four potential rent brackets.

The deadline for submitting to the lottery is fast approaching—Dec. 7. If you're interested in applying for affordable housing, go to the building's website here, where it explains, step-by-step how to establish a profile on the city's online platform.

The Actors Fund also offers educational workshop opportunities to train professional performers on how to hunt for affordable housing in the Big Apple. To learn more about these seminars, click here.