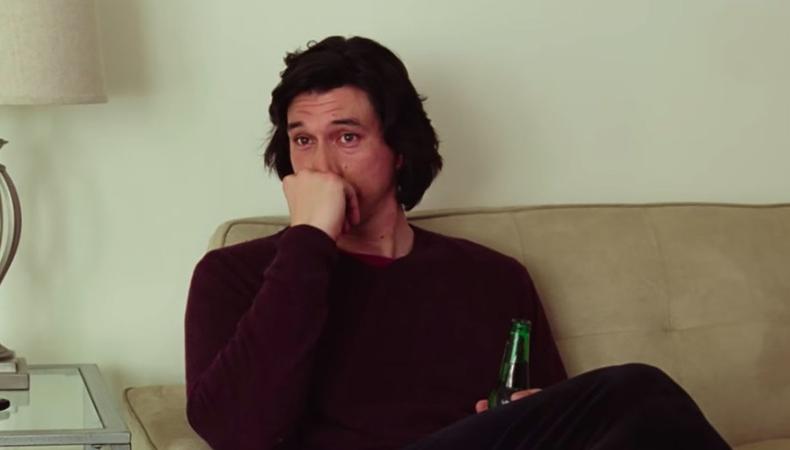 There are enigmatic actors—and then there's Adam Driver. In the decade or so since bursting into the mainstream, the Oscar nominee has redefined eccentrism a few times over. And in case you thought that was just his on-camera or onstage facade, rest assured: Driver is as quirky as you'd hope, and his pre-show routine proves it.
While starring in "Burn This" on Broadway this past spring, the New Yorker observed him in his dressing room habitat and it is, um, enlightening.
"He agreed to let me watch his pre-show routine, of which the burrito bowl was the first step," writes Michael Schulman. "When he finished eating, he went into the bathroom and put his head under a running faucet, while we talked about movies. 'Have you ever seen "The Miracle Worker"?' he said mid-dunk. 'There's a scene with Anne Bancroft and Patty Duke where they're just beating the hell out of each other. Fucking one of the best scenes in film. That's a non sequitur.' He squirted gel into his hand and smeared it into his shaggy black hair. 'With this play, I've been really going to town on this shit. I think you're only supposed to use a handful, but I fucking plow this stuff on.' "
Watch Adam Driver in the Devastating 'Marriage Story' Trailer
Like we said, eccentric.
Elsewhere in the interview, in addition to his declaration that were he not an actor he'd be a furniture-builder (a quirk that worked its way into his "Girls" character), Driver also reflected on the ways in which his religious upbringing has informed his actor purview.
"For a lot of times in my life, I was told there was a right answer. And then, when I got older, I was, like, 'That's fucking total bullshit,' " he said. "I feel that very much with acting, too. If you knew how to do it, you would do it perfectly every time. So anytime anyone tells me, 'This is the right answer,' or 'There's something called toxic masculinity,' I'm, like, What? What are you talking about? I'm skeptical of it, because I feel like I was duped for 17 years of my life."
Suspicion and hair gel seem to be working for Driver—what's your version of that?