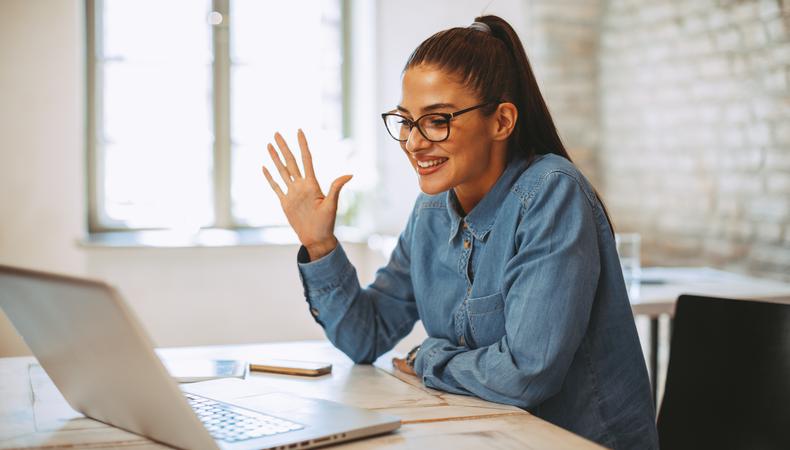 Casting is going to be a different experience for the foreseeable future. While self-tapes are becoming more common, it won't be the only thing casting directors are interested in. Casting is still going to want, and need, to meet and read new people. For a while at least, in an abundance of caution for both the actor and the casting department, many auditions will be moved to online platforms. CD's are going to use them not only to cast projects, but to meet new actors who they haven't met in the past. This is new territory for many and it'll take some extra know-how to shine online.
Here's some advice for handling online casting sessions.
1. Space
No matter how small it may be, it's important to have a space dedicated to auditioning like a professional corner of your personal space. It's hard to be the sharp, creative, professional you need to be in order to book the job if you're sitting on your couch or lying on your bed. Make this area exclusively for preparing your auditions and doing other creative work. When you sit in this space, breathe deeply and feel the power of the professional artist run through your body. This is your sacred, creative ground. A place where you are in control.
On a technical note, this space needs to have a simple, non-distracting background and good lighting. Also, make sure that your internet is strong and doesn't cut out or have a delay.
2. Waiting Room
As many of you know, apps like Zoom have a waiting room feature that allows the host of the session to admit you to the meeting. This will most likely be in use for online sessions. So, although there won't be a waiting room with dozens of your competitors crammed into a small space, there will still be a waiting room and many of the same issues may arise.
When the audition begins, you need to be alert, energized, and relaxed. The in-person waiting room, for all its potential downsides, is certainly energizing! It's now up to you to keep your energy up. Stay physical when you're waiting online so that you don't go flat. The first thing casting will see, or not, when the session begins is your energy. Take deep breaths into the upper chest to relax you and short quick breaths into the belly to keep you sharp and alert. This is one of the advantages of online auditioning: no one can see you in the waiting area. Don't just sit there staring at the screen waiting your turn and getting more and more stressed out. Move your body in energetic and fun ways, remember to breathe, be silly, and be free so that when the CD appears on your screen, you're lit up, happy, relaxed, alert, and ready to blow them away!
3. Auditioning
There are some distinct advantages to the actor in an online auditioning setup. The first is the location. Instead of walking into a strange, possibly chaotic audition room, you're in your own personal audition space, which is your place of power, remember? It's easier to feel equal to the casting director when you're not standing or sitting directly in front of them "on the spot," as it were.
When you're greeting each other, be sure to really pay attention and listen to them. It's harder to make and to feel a personal connection to a person on a screen. Be easy, direct, and conversational. Let them know through your connection to them that they are in good hands and that they can relax and really take you in. The energy and intensity in your listening has to carry over into the work as well. In-person you can feel someone's energy. It's harder to do so when you're not there with them. Your energy will be felt in the work that you do on the words, but it's most truly and purely in your listening and your reacting.
It's also easier to control the pace of an online audition because it has more of a feel of a balanced conversation. So, don't allow the piece to fly by, make sure that all moments are delivered with intensity and land with the full force of your energy.
Now the hard part. Online auditioning is unforgiving. If you lose your energy or intensity on a self-tape, you can always do it again. If it happens in a live audition, it won't read as badly because you're in the room and your energy can still be felt at least a little bit. But in an online audition, if the same happens even for one beat, it's probably over. The read is being so closely scrutinized moment to moment and you're literally right in their face. You need to be working at a very high level to win the job in this scenario and only the actors who can make their energized presence felt through a screen in every moment will have a chance.
This period of isolation quiet is going to give way to unprecedented opportunities and many of those opportunities will take place online. As a studio executive said to me last week, "The floodgates are going to open and we will be looking for everyone!" As always, the jobs will go to the prepared.
Looking for remote work? Backstage has got you covered! Click here for auditions you can do from home!
The views expressed in this article are solely that of the individual(s) providing them,
and do not necessarily reflect the opinions of Backstage or its staff.