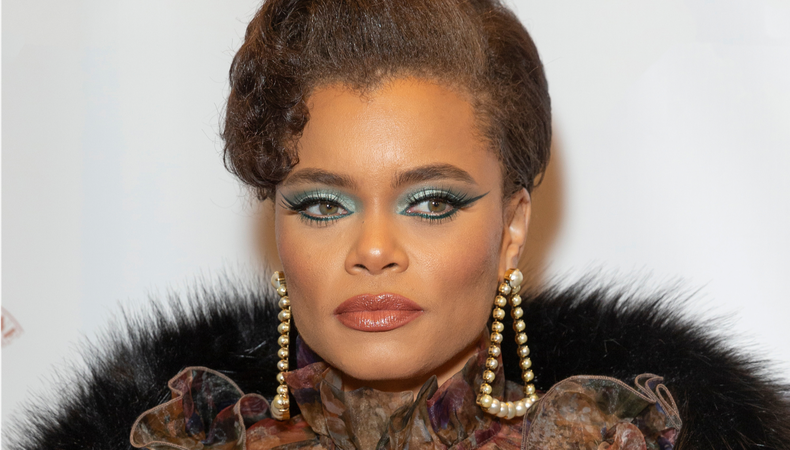 "In the Envelope: The Actor's Podcast" features in-depth conversations with today's most noteworthy actors and creators. Join host and Awards Editor Jack Smart for this guide on how to live the creative life from those who are doing it every day. This episode is brought to you by UCLA's Professional Programs at the School of Theater, Film & Television.
Singer-songwriter-turned-award-winning actor Cassandra Monique Batie goes by Andra Day—a stage name inspired by one of her biggest influences, Billie Holiday. It feels meant to be, then, that Day's recent Golden Globe win and Oscar nomination are for her portrayal of the titular icon in Hulu's film "The United States vs. Billie Holiday."
Meant to be, or, as she puts it, horrifying. "I'm not an actor, we can start right there!" she tells Backstage with a laugh. Other than appearances in "Marshall" and "Cars 3," Day considered herself first and foremost a musician, with a Grammy nomination for her song "Rise Up" and Daytime Emmy nomination for its televised performance. Although she has trained as a performer since her childhood in San Diego, performed at the Oscars with Common, and filmed with the likes of Spike Lee, Day understandably balked at foraying into Hollywood by playing a personal hero.
But she reconsidered after meeting with Lee Daniels, who wanted to direct "The United States vs. Billie Holiday" to emphasize Holiday's largely unknown impact on the early American civil rights movement. Adapted for the screen by Suzan-Lori Parks from Johann Hari's "Chasing the Scream: The First and Last Days of the War on Drugs," the film didn't follow in the footsteps of Diana Ross' Oscar-nominated 1972 film "Lady Day Sings the Blues" or Audra McDonald's Tony-winning take in the play "Lady Day at Emerson's Bar & Grill."
"Once I found out that it would be vindicating her legacy, that we would be talking more about the early war on drugs and [Abel Meeropol's anti-lynching protest song] 'Strange Fruit,' that's what made me go, 'OK, I'll audition,' " remembers Day. "Prayer had a lot to do with it. Trusting Lee and seeing his vision had a lot to do with me saying yes.
"But I still was like, pick somebody else!" she adds. Imposter syndrome is a factor for artists at any career level, let alone one making a feature film debut of such magnitude. "I have to remind myself, just be present and be here and just show up," says Day of her whirlwind introduction to the biz. "It is OK that feelings will come up. The thing that [the film] taught me was to show up. Because that's what Billie did. She made me braver in the sense that the imposter syndrome didn't necessarily go away, the feelings of unworthiness didn't necessarily go away. It was to show up anyway in the midst of those feelings. That's what she did."
In addition to obsessive research into Holiday's public and private personas—"There is not a piece of audio out there with Billie Holiday on it that I have not heard unless it has been intentionally hidden from the public, I promise you!"—Day immersed herself physically into the role with a rigor that she's been informed constitutes "method acting." Although she studied screen portrayals of singers like Marion Cotillard in "La Vie En Rose" and Jamie Foxx in "Ray," Day's pursuit of transformation stemmed from a reverence for Holiday rather than any conscious acting technique.
"If it's authentic and it feels authentic, it doesn't really matter necessarily what technique it is," she says. "As far as the physicality or the mannerisms or her behavior, I did not want to be distracted with my person." That meant a drastic weight loss and experimenting with vices in which Day seldom indulges—alcohol, cigarettes, and swearing among them. "Those things really helped to slow me down in a way that would help me get the physicality of the scene and I wouldn't have to focus so much on that.... Do I recommend it? No, because that's irresponsible!"
Day's approach to capturing Holiday's singing voice is particularly contrary to singer-actors' typical vocal care advice. "All of this [was] pure gravel," she says, pointing to her throat and chest. "I stopped taking care of my voice. No more tea, no more honey, no more lemon...just ice cold, yelling, no scarves, no warmth, you know, not taking care of myself!" To be clear, she does not recommend this to performers; but submerging in Holiday's subconscious thoughts and emotions, both onstage in concert scenes and backstage in her speaking voice, meant her physical and psychological approach were one and the same.
"To me, her voice is just as much a character as she is," Day explains. "I always say her voice is like a scroll. Losing her father was written on it. Every time she was raped is written on it. Every time she dragged a cigarette, every time she slammed heroin, did a speedball, did cocaine, drank, every time she stood up to the cops....all of this is written onto her voice."
Listen to Day's interview in full, as well as casting insider Christine McKenna-Tirella's recommendations for the week, which include a photoshoot for models and commercials for makeup artists.
Listen now on:
Looking for remote work? Backstage has got you covered! Click here for auditions you can do from home!