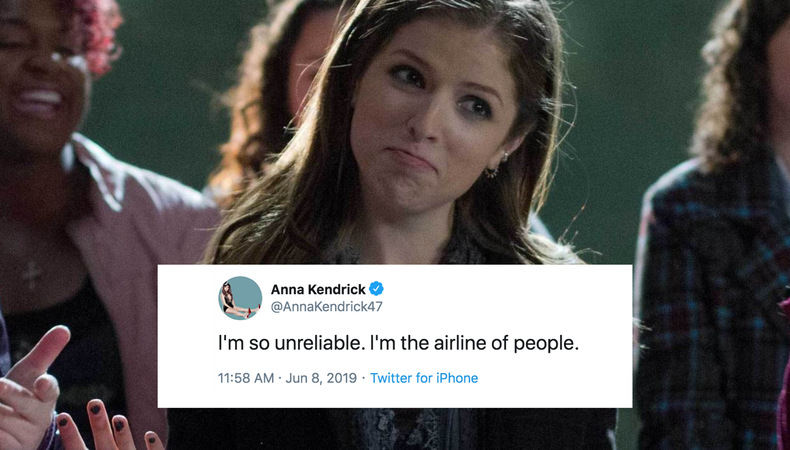 Welcome to Social Studies, wherein we take a deep dive into actors' social media practices. What works, what doesn't, and what should be avoided at all costs? We're glad you asked, and you've come to the right place to find out.
Obviously today the industry pays much of its social media attention to Instagram, and for good reason: Acting is a visual medium and, well, so is Insta. But actors should not turn their noses up at Twitter, especially if they want to brand themselves as comedic (not the same as a comedian, remember).
One actor who epitomizes the usefulness of Twitter: Anna Kendrick, who these days is known as much for her quippy 240-character thoughts as her performances in the "Pitch Perfect" series. And that's all because she's found her Twitter "voice," that elusive but vital social media brand that's equal measures funny, authentic, and endearing. And it's notched her a cool 7.4 million followers.
Let's be real: A little self deprecating "gettin' real" goes a long way.
I'm so unreliable. I'm the airline of people.

— Anna Kendrick (@AnnaKendrick47) June 8, 2019
My online shopping style:

Put everything I like in the cart.

Edit.

Edit more.

Edit until I'm down to one item.

Decide it's not even worth typing out my credit card info.

Watch free porn.

— Anna Kendrick (@AnnaKendrick47) May 21, 2018
Dear Yahoo: how do I get to this timeline where I've slept with Enrique Iqlesias please and thank you. pic.twitter.com/4mmA2i7dse

— Anna Kendrick (@AnnaKendrick47) January 17, 2018
Can they do a "Chopped Basic" for cooking illiterate folks like me? Give contestants tomatoes and olive oil and regular shit and I will still be like, "damn they took that stuff and made a MEAL?" Magic.

— Anna Kendrick (@AnnaKendrick47) March 22, 2019
But ragging on oneself can only go so far; Anna's got some old school Twitter jokes! (Remember, back in the day, when that website was a place where people went to make universal and funny observations? We can return to that magical time—and Miss Kendrick is trying to do so!)
The Samantha American Girl Doll seems like a bitch. Don't @ me.

— Anna Kendrick (@AnnaKendrick47) September 13, 2017
I'm gonna miss the eclipse and I'm really worried no one is gonna post a crappy picture of it on instagram.

— Anna Kendrick (@AnnaKendrick47) August 21, 2017
Sweatpants without pockets, you can fuck all the way off.

— Anna Kendrick (@AnnaKendrick47) April 3, 2019
As a selling point, I don't understand the saying "It's like <thing you love> on steroids!"

Some things are better NOT on steroids. Most things, arguably.

— Anna Kendrick (@AnnaKendrick47) April 4, 2019
The reality is, Kendrick hasn't been the most prolific when it comes to film and television the last couple of years. But she's stayed top of mind—and in favorable opinion—because she's constantly reminding the industry of her charm on Twitter. Oh also, she's poked fun at the very subject of her career, too, and it's perfect. Be like Anna!
Holy shit. I just remembered I was in Twilight.

— Anna Kendrick (@AnnaKendrick47) November 26, 2018