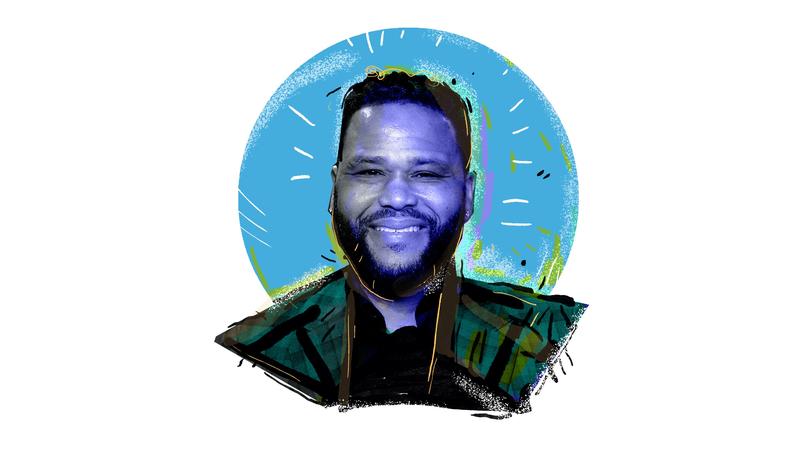 In his five seasons starring in and producing ABC's "Black-ish," Anthony Anderson has earned as many Emmy nominations for lead actor in a comedy series for his portrayal of patriarch Dre. He's hoping this year is the one he walks away with the trophy. "Fingers crossed!" he says. "Hopefully I come home with this one." Speaking with Backstage, Anderson looks back on the conviction that landed him major acting opportunities and performances that had a profound effect on him coming up.
How did you first get your SAG-AFTRA card?
I did extra work on "The Wayans Bros." show. Marlon and I had gone to Howard University together. We really didn't know each other in college, just in passing. We came home to Los Angelees, and a couple years later, he and his brother created the show. I was always hanging out on set because these were my guys, and one day they made me a featured extra on the show and that's how I got my union card. I had 30 days to work as much as I can without joining the union. They give you a chance to make some money to pay that initiation fee. At the end of the 30 days, I didn't have enough money to join the union, so I had to wait a little while longer. My next gig paid me enough money to be able to pay my initiation fee into the union. That next gig was my Saturday morning show "Hang Time" on NBC.
How did you land your first agent?
I had a friend and I would always accompany him to auditions, I'd bring a picture and résumé and crash the auditions. My first agent, it was a very small company here in L.A. called Epstein Wyckoff. This is where my friend was a client. I was always up at the agency with him. There was a gentleman that worked in the children's commercial department, and he believed in me and saw I had a future in this business and he would submit me on his own. He submitted me on a couple commercial auditions I was put on avail for and from that I was put on avail for a television pilot and a movie. The movie was "Waiting to Exhale." It was between myself and Wendall Pierce. I went to the agency one day and I was like, "I need an agent." and he was like, "You need to come in here and read some stuff for me." And I said, "I've already done that, but you should've signed me then." I was very cocky. I said, "I need an agent now because I'm up for two commercials, a television show, and a movie." And he said, "Oh, really? Are you?" I was like, "Jaki Brown-Karman casted the television show and the movie." And he was like, "Well, Jaki Brown-Karman is a very good friend of mine." And I was like, "Oh really? Well you should call her and ask her about me." That was on a Tuesday. Early Wednesday morning, Craig Wykoff, who is the Wykoff in Epstein Wyckoff, he had his assistant call me and said, "Mr. Anderson, Mr. Wykoff would like you to come in and sign your contract of representation." That's how I got my first agent. I didn't get any of those roles I was up for, but that was all that I needed for Craig to believe in me and sign me as a client.
What's the wildest thing you ever did to get a role?
I got a call to audition for "Life" with Eddie Murphy and Martin Lawrence, so I met the casting director and I had read a brief synopsis. Eddie Murphy had fought over the cornbread my character had cooked in the movie. I baked some cornbread right before my meeting with the casting director. So I went there with a fresh pan of cornbread and I walked into her office and she said, "Oh my god, we are so starving. We worked through lunch and here you are. You walk in with cornbread." We talk about the cornbread and me being a chef, and I fed her office cornbread and that was it.
A week later, I got a call saying [director] Ted Demme wanted to meet with me. I go to his production offices and he said, "I hear you cook. Where's my food?" and I said, "When you hire me, you get everything that comes with me. Then I'll make you a meal." He laughed and we talked for maybe five more minutes and then I left. Three or four days later, I get a call from the casting director saying, "You have a producer's meeting with Brian Grazer, Ted Demme, and myself." They sent me over the sides, they didn't send the script; it was top secret. In the sides, it was a monologue for my character, his name is Cookie, and he explains how he was the only one who was able to successfully escape from this prison and he only got caught because he stopped at a rib joint that reminded him of his grandmother's ribs. So I was like, "OK, I'll cook ribs." So I cooked ribs the night before, I made some collard greens and I made baked beans. The next morning, I took everything out of the refrigerator, put it in the oven, wrapped each plate up individually and put it in a picnic basket. I looked like the black Goldilocks. I walked into the production office with this huge picnic basket.
They called my name to go in, and the casting director saw what I had at my feet in the waiting room. The casting director runs to the back of the office and I can hear her saying, "He has food!" I unpack the picnic basket and I give everybody a plate. I do my entire interview as this character Cookie before we even went into the audition. They turned on the camera and we go into the scene. The next thing I know is I get a call saying I'm cast as Cookie in the movie.
I never told anybody this story. My brother called me one day and he said, "Hey man, did you really cook ribs and cornbread for your audition for 'Life'?" And I was like, "Yeah, how did you know that?" And he said, "I'm sitting here watching the director's commentary on the DVD and the director is talking about how you cooked for him and brought it to your audition." I had no idea Ted Demme talked about it in the director's commentary—and that's what got me the role.
What is your worst audition horror story?
I've always been pretty good at going into the room. I did have one experience earlier in my career where I got the job and we went into the table read but I was fired after the table read. I don't think I had a bad audition because I knew that was my calling card for the next audition. Even if I didn't get the role for that particular project, I knew they would remember me from that audition and call me back for something else. I can honestly say I've never had a bad audition.
What advice would you give your younger self?
Never give up, never compromise who you are, always believe in yourself, and know it's not the end of it all. Understand that you are in the business of rejection and the business of "no." Eventually someone will say "yes." What we do is subjective, anyway. As long as you are prepared and you did the job to the best of your ability, you can go to sleep at night. Always be prepared because you never know when that window of opportunity is going to present itself. Stay ready so you don't waste time getting ready. You can't will it any sooner than when it's destined to come. Never be in competition with another person because you don't know their journey. Be competitive with yourself, but never with another person.
What performance should every actor see and why?
What pops into my mind: Robert Downey Jr. in "Tropic Thunder." Robert Downey Jr. is phenomenal with his work. Maybe it was the writing in that particular piece, but his delivery and his conviction playing this black character, very seldom do people give comedic artists their just due in terms of work. I look at what Jim Carrey was able to do in "Me, Myself & Irene." Working with Jim Carrey on that and knowing what he did in the past, you're like, well he's just crazy. He'll come to set and do things that are off-the-wall in hopes that the camera catches something that's remotely funny. Working with Jim on that film, I enjoyed the specificity. Everything he did, and I believe in all his work, had a purpose. I was like, "Wow, I get it. I see why he's here where he is." I learned a lot about specificity from Jim Carey.
Want more stories and advice from the best in the biz? Read more from the Backstage 5 here!