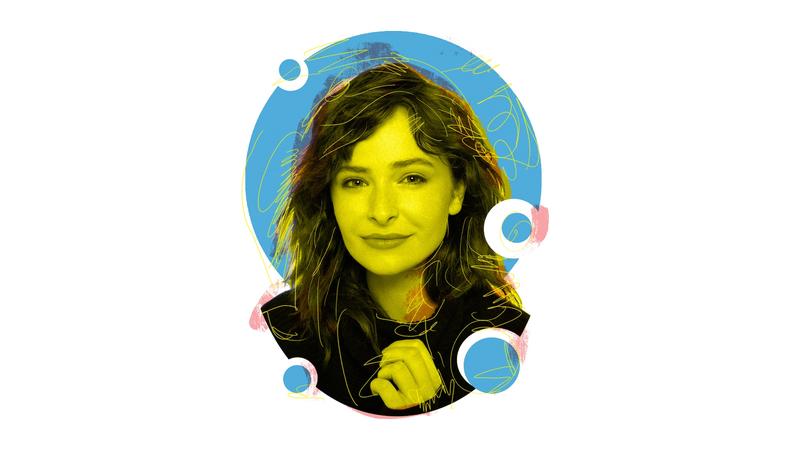 After over a decade of ballet training, Saudi Arabia–born and Australia-raised actor Ashleigh Cummings pirouetted into acting as a teen and never looked back. With a number of Australian film and television credits under her belt, Cummings made her American debut this year with AMC's "NOS4A2" and will play alongside Ansel Elgort in "The Goldfinch" as Pippa, the love interest of Elgort's Theo, who gets wrapped up in the protagonist's central trauma.
What advice would you give your younger self?
I did have the tumult of adolescence; I had a somewhat distressing time toward the end of my life in the Middle East. It was a war-torn area, and I had a lot of those struggles within me [while] trying to fit into a developed world when I came from such a different one. For me, acting was an outlet. There's a myth around creativity as something that has to come from a place of pain. I think that can be limiting. I've found more creative freedom the more I've taken care of myself and looked into myself and paid attention with mindfulness or meditation. You don't have to break yourself down in order to create. But I haven't figured it all out. I'm about to go into a six-month shoot where I'm changing my posture and I'm smoking terrible cigarettes and they have as many carcinogens as regular cigarettes and there will be some kind of toll upon my body from those things. I think it's about finding some kind of balance. I would say, as a young person, look after yourself first and foremost. Look inside and keep paying attention to what your needs are and discover who you are through other characters. But don't abandon yourself.
What's the wildest thing you ever did to get a role?
I'm pretty relentless. I don't understand the word "no." If I haven't gotten callbacks, I'll just tape it again. If no one responds to that tape, I'll do another tape and change it up. At some point, my agent goes, "No, no, they've cast the role." But you never know! I'll keep sending you things.
APPLY: Want to get cast in Australia? Check out our Australia audition listings!
What is your worst audition horror story?
It was one of my first experiences in America, and it was for this huge blockbuster film that Emilia Clarke ended up being cast in. I walked in and did the scene. The casting director looked at me and said, "You're going to win an Oscar one day, aren't you?" So I left feeling pretty good about it. I went back into her casting room not even a week later thinking, She might be the person who gives me an opportunity. She thinks I'm going to win a freaking Oscar! It was for a different project, and she takes one look at me and goes, "Name?" and I go, "Uh, Ashleigh." And she had no idea who I was. I did my audition and she goes, "Thanks so much for coming in." In Australia, everyone says what they think, and you don't get pats on the back. I got to America, and that was my first taste of the whole don't-believe-everything-you-hear [side of the industry]. I usually leave auditions and call my agent immediately and say I'm going to tape it again, because I think I have more to offer than what I did in the room. I don't think I've ever left an audition and thought I nailed it. I don't beat myself up about that in the way that I used to when I was younger. I definitely put my self-worth and self-esteem in the work that I did. I engaged in a process of disentangling with those beliefs. Even though I can see myself do work that isn't up to my standard, it isn't crippling the way it used to be. It's more motivating. I definitely had to learn ways to have a healthy relationship with the work.
How did you get your first big break? Who was the casting director who cast you?
The person who really changed things for me was a guy called Peter McGuire; he's an Australian director. I was with an agency for my dancing. They also did acting work, and it came to a point where I couldn't do dancing anymore, and the agency said, "Do you want to do acting work?" So I auditioned for a commercial and I got it, and that was my first-ever real professional job. The director from that commercial, he emailed my current Australian agent, Lisa Mann, and said, "You need to meet this woman." She wasn't accepting child actors at the time, so he didn't tell her I was 14 [or] 15. I came in my school uniform. But Peter had faith in me. He told me not to go to drama school and develop my instinct first and said I could have this great career. He was a real champion of me. And it lead to me meeting Lisa. As soon as I signed with her, I had actual opportunities to work in a professional realm in television and film. That was the real shift.
In terms of casting directors, back in Australia there's a casting company called Mullinars, and they had faith in me from the very beginning and have cast me in most of my Aussie roles. There's also a woman called Jane Jenkins. I was very hesitant to come out to the States, and she did a workshop in Australia. She was an American casting director who's retired now. But she said, "You need to go to America. You'll have a great career." She's been a mentor of sorts to me. And Ellen Chenoweth cast me in my first real American role [in "The Goldfinch"].
Did you get your SAG-AFTRA card by filming "The Goldfinch"? Do you feel like you've "made it" in America?
Yeah, I did! I don't particularly identify with being one nationality. I've been so lucky to live in so many places around the world. The more away from Australia I've been, the more affiliation I have with it. I don't feel like an American actor or an Aussie actor or a Kiwi actor.
READ: A Love Letter to the Magic of Acting
What has playing this latest role as Pippa added to your acting skills?
It's tricky to identify exactly what I left with, because it was more of a sensation and more of a growth as a human being, which in turn grows you as an actor and a creative. I find it so hard to talk about "The Goldfinch" because it's quite ethereal and quite magical, and it's something you can't put your finger on. And that tells you about the experience. With TV shows, you can say, "I got better at this, I got better at that," but with "The Goldfinch," it was this ineffable expansion of self and craft. That was partly to do with the content of the book and partly to do with John's [Crowley] direction, which was absolutely extraordinary. There's the other creators I got to work with—Ansel, Jeffrey [Wright]—and Jeffrey has a real sense of play, which I was scared to bring to this particular project. Some other TV shows I've been on, they've given me such liberties with the work because I've known my character so well and I've written scenes and sent them off to the writers and they include that in the script. I had so much more creative control. But with "The Goldfinch," I was really surrendering to the work. I didn't ad lib. Everything was written on the page. Finding play within those confines, if you want to use that word, was interesting. John encouraged such stillness within me.
What performance should every actor see and why?
I found the greatest inspiration from Angelina Jolie in "Girl, Interrupted." I find it's incredibly colored, full of contradictions, and then this naturalism alongside of boldness. I love that performance.
This story originally appeared in the Sept. 12 issue of Backstage Magazine. Subscribe here.