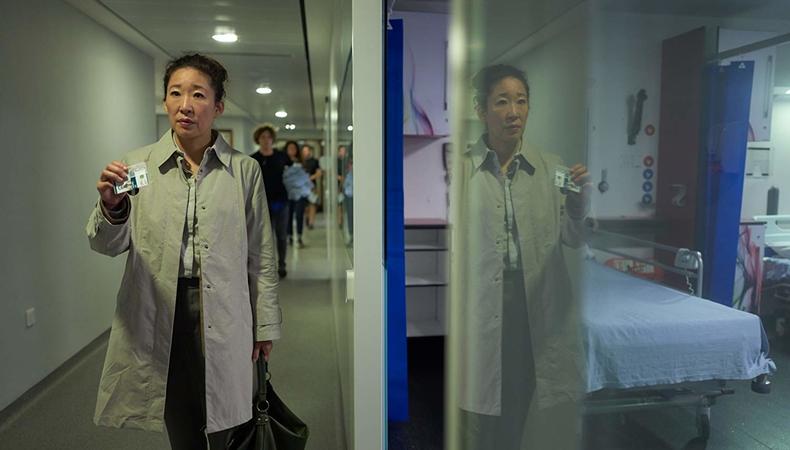 Sandra Oh has had a whirlwind of a year. In addition to being nominated for an Emmy for her role as Eve Polastri in "Killing Eve," the first Emmy nomination ever for an Asian woman in a leading role in a drama series, she won a Screen Actors Guild award and a handful of others for the same role. This small phenomenon just highlights the fact that in the history of American television, we have seldom seen an Asian character, particularly one who is a woman, portray a strong leading character.
Although Claire Foy ended up taking home the Leading Actress Emmy in 2018, it is a huge win for the Asian community to not only see a powerful woman representing us on television but to see Sandra Oh finally be recognized by Hollywood for her talent and work. We can't forget that this is the first nomination in this category for Sandra Oh, because regardless of her outstanding work on "Grey's Anatomy," for which she was Emmy nominated in the supporting actress category, and "Sideways," for which she won a SAG award as part of an outstanding ensemble cast honor, the opportunities for her to be in leading roles have been few and far between.
Despite the critical and awards attention for her work in the role, after leaving "Grey's Anatomy" on which she played doctor Christina Yang, Oh waited four years before appearing in another leading role. "Killing Eve" is based on the books by Luke Jennings, and in the series, Oh's character, Eve Polastri, is white. When she flipped through the script, she was confused—she was unable to find the stereotypical role she's become accustomed to producers wanting her to read for. After speaking with her agent, she finally learned that they wanted her for the lead, realizing how jaded she'd become to the invisible wall in the casting of non-white actors. "It's like, 'Oh, it's so easy! They just called you!' " Oh told Vanity Fair of her "Killing Eve" casting. "Right? In a way, yes, that's true. But in another way, it took 30 years to get this call."
So does this mean we're going to start seeing real changes in Asian-American casting?
READ: 'Killing Eve' EP Reveals Why Sandra Oh Was the Perfect Heroine From Day 1
Some recent projects point to yes. We are seeing more and more Asian characters on TV and in film. Rob Yang is in "Succession" and his character, Lawrence Yee, is the founder of a company called Vaulter, acquired by the family at the center of the show. They do not address the fact that he is Asian, whereas in the past, an Asian character would often be there to fulfill a stereotypical role. On that note, we see Vincent Rodriguez III, on "Crazy Ex-Girlfriend," where he plays Josh Chan, the show's hunky leading man. There is another Josh on the show known as "White Josh," a classification that tickles me, as it usually happens the other way around.
Constance Wu, Henry Golding, and Awkafina starred alongside a basically entirely Asian cast in the studio film "Crazy Rich Asians." The movie made $35 million at the box office its opening week and continued to sell out theaters beyond its successful opening. Since "Joy Luck Club," released in 1993, "Crazy Rich Asians" is the first Hollywood film featuring an all Asian family, led by Asian women in 23 years, and it's the highest grossing rom-com in the last decade. In the same month, John Cho starred in "Searching" and Lana Condor starred in Netflix's "To All the Boys I've Loved Before."
It feels like a far cry from Hollywood's traditional stance that Asian-Americans don't have "box office mojo." It's why Asian actors haven't been called in for roles or gotten big funding to produce our stories. This was also their argument for whitewashing films such as "Ghost in the Shell," "Aloha," and the blatant yellow face in "Cloud Atlas." The majority of roles are then stereotypical—manicurist, pharmacist, foreign exchange student, martial artist, prostitute. On top of being put in a box as far as the types of roles available, creators often require us to add Asian accents to the dialogue. They've even asked us to translate their script into our parents' mother tongue.
After "Joy Luck Club" came out so many years ago, we thought the Mr. Yunioshis ("Breakfast at Tiffany's") and Long Duk Dongs ("Sixteen Candles") were gone and Asian-Americans would be on an even playing field within Hollywood. That hope quickly disappeared when an Asian-American story didn't return to theaters until 2002's "Better Luck Tomorrow." After that, the trend continue and progress remained slow.
READ: Has Diversity in Film and TV Improved? New Study Examines Hollywood's Inclusion Efforts
Things seem different this time around, though. With the emergence of social media, voices can no longer be silenced. After the whitewashing fiascos, the internet bred #StarringJohnCho and #StarringConstanceWu, where movie posters were photoshopped with John Cho and Constance Wu as the leads. Then the success of their August film openings bore the hashtags #AsianAugust and #GoldOpen. It appears to be making its mark on Hollywood.
It seems like the demand for Asian stories has increased. "Crazy Rich Asians" was picked up for a sequel only days after its opening. ABC is developing "Ohana," a Hawaiian family drama, Lillian Yu's "Singles Day," was picked up by New Line Cinema, and Sony and Pascal Pictures are in the early stages of developing the Marvel movie "Silk," about Korean-American comic book superhero Cindy Moon.
More available platforms and the increase in what types of stories populate them mean more artists of Asian descent are writing their stories and being recognized for their efforts. The last year has brought momentum for change.
At my very first meeting with a talent agency, I first taped myself reading sides as anyone would. Then, I was quickly asked if I could do an additional take in an Asian accent, and when I asked them "Which one?", their reply was, "Oh, just any." It was like being dunked into an ice-cold bath. I felt like I was seeing the future of my career. Fast forward to today where that future thankfully doesn't seem so certain anymore.
Want more advice from the best in the biz? Check out all of our Backstage Live interviews here!