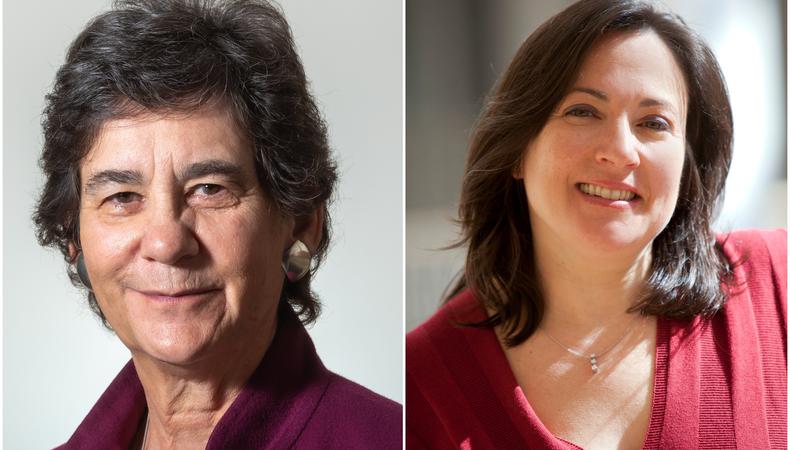 Welcome to Behind the Fest, Backstage's questionnaire series with film festival figures who want to get your work selected and seen. With behind-the-scenes insight from the men and women at Sundance, TIFF, Cannes, and more, their tips might just hold the key to your indie film success story!
A 23-year-old Turkish-Kurdish woman shot by her brother in an "honor killing." An early 20th-century evangelist who fakes her death to elope to Mexico. A teenager who becomes the first Italian female boxer to make the Olympics.
These women, real and fictional, are among the subjects of movies at Barnard College's Athena Film Festival this year. Since its inception in 2010, the New York City festival has focused on women's stories. Specifically, "extraordinary stories of fierce and fearless women leaders," according to a press release.
To better understand what that means, Backstage turned to AFF co-founders Kathryn Kolbert and Melissa Silverstein. They jointly explained their festival's leadership-based mission, how they're supporting women on and off camera, and offered key advice for filmmakers who may be looking to showcase their work.
What basics should people know about the Athena Film Festival?
The 10th anniversary of the Athena Film Festival, a weekend of inspiring films that tell the extraordinary stories of fierce and fearless women leaders, will take place February 27 to March 1 at Barnard College in New York. Over the last nine years, the festival has welcomed more than 35,000 people from all over the world to 200-plus screenings. This year we will have over 50 events, including films and panels. The 2020 festival is screening films with directors that are 80 percent non-men, 76 percent women, and 33 percent women of color.
At the festival, there are also a wide range of post-screening Q&A sessions with filmmakers, actors, and subjects, as well as panels, workshops, and discussions that highlight the unique challenges that women face in the film industry. The festival is a project of the Athena Center for Leadership Studies at Barnard College and Women and Hollywood, a leading voice for women in the entertainment industry. The Artemis Rising Foundation and its CEO, Regina K. Scully, is the festival's founding sponsor.
What's the mission of AFF? What distinguishes it from other festivals?
As the only film festival specifically focused on women's leadership, Athena provides a forum for dialogue about gender and social justice and an opportunity to showcase what it means to be a powerful woman today, inspiring women and girls in the process. The festival seeks to change what leadership looks like, making sure both the films and leaders within the industry include diverse stories of women's ambition, courage, and resilience and the talents of women both in front of and behind the camera.
Let's talk submissions—what films are considered, and what are the requirements?
The Athena Film Festival includes features, documentaries, and short films that honor fierce and fearless women leaders—both fictional and real. All films must include a woman in a leadership position at the center of the story. The films can be directed by persons of any gender.
What do you look for when evaluating submissions?
We look for captivating stories of truth, determination, innovation, and vision; for narratives of ambition, strength, and resilience; and for films that capture a new generation's take on what makes women effective and inspiring leaders.
When and how should filmmakers submit their work to the festival?
We open submissions for short films via FilmFreeway in June and close submissions in August. There is a modest submission fee of $14. For narratives and documentaries, we seek out films from film festivals, programs, series, and from directors and distributors who have appropriate content. When we come across a film that fits our criteria, we invite them to submit their film to the festival. The programming team considered hundreds of films for the 2020 festival.
What about the rest of the year? What else should we know about the festival?
In 2018, we launched the Parity Pipeline Program to advance our educational mission and encourage the development of women-identified filmmakers and the production of films which highlight women leaders. The Parity Pipeline Program includes educational programs for filmmakers and a works-in-progress program for documentaries directed by women at the festival.
We also offer two screenwriting labs for emerging screenwriters. The NY Lab is an intensive two-day skill-building workshop for eight women screenwriters. Our lab in LA provides in-depth mentoring and support for 16 screenwriters: eight who focus on film and eight who write for TV. Lab participants walk away with stronger writing skills, a refined script, and enhanced connections within the industry.
The Athena List, one of the festival's signature programs, is an annual slate of three to five screenplays with strong female protagonists that have yet to be made into films. To date, three winning and finalist scripts have been made into films, including "On the Basis of Sex" and "Clemency." We expect another to go into production in 2020. And this year we have established two awards that include development funds for filmmakers: the Alfred P. Sloan Athena List Award of $20,000 for a script about women and STEM, and the Athena Breakthrough Award of $25,000 for a first or second movie by a woman-identified filmmaker, presented by Netflix.

What advice would you give attendees?
The lineup for the 2020 festival has been released, and festival passes and individual tickets are now on sale at athenafilmfestival.com. Pass holders will be admitted to every venue before individual ticket holders. Ticket prices are reasonable, particularly for any student with an ID. We expect over 6,500 people to attend the festival, and as a result, many of the films will sell out.
The festival takes place at venues across the Barnard campus but are close together. Lounges and food are available on campus, and we encourage our audience members to see several films or panels and engage with each other throughout the weekend.
What's your No. 1 piece of wisdom for early-career filmmakers?
If you are a writer, make sure to find people you trust to read your writing. Get ready to accept criticism, because if you can't, you won't make it in this industry.
If you are a director, start directing. You can do it on your own. Find people to shoot with. Learn how to do everything on a set so that you can be valuable the first time you get the opportunity to be there.
Lastly, what's your favorite film seen recently?
"Portrait of a Lady on Fire"—ground zero on the female gaze in 2020.