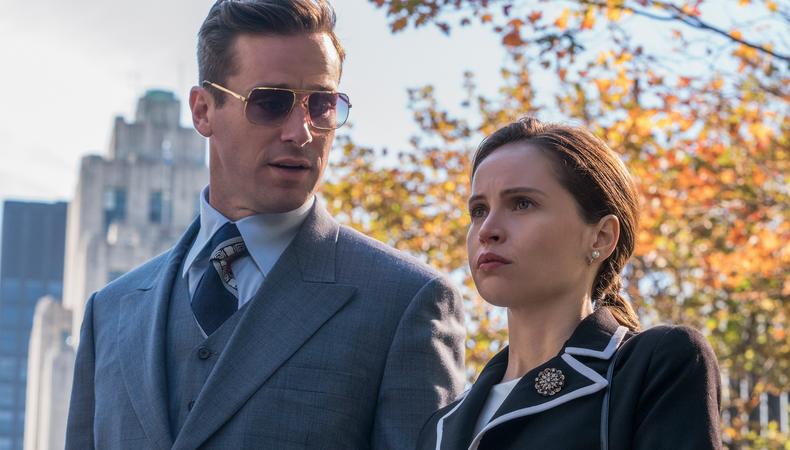 Ruth Bader Ginsburg has become one of the most iconic figures in American history, but people might not know it took her decades to earn that respect. "On the Basis of Sex" takes audiences back to Ginsburg's early law career and the beginning of her long, loving marriage, when gender equality became a foundational theme in and outside her home.
The film begins with Ginsburg (Felicity Jones) and her husband, Martin (Armie Hammer), at Harvard Law School in the mid-1950s, where she was one of just a few women in her graduating class. The story shows the personal side of the years she spent working her way up from a Rutgers law professor to arguing her first landmark gender equality case in federal court alongside her husband. It's a lesser-known origin story and seldom seen side of Ginsburg—and that may well be because the film's spark of inspiration came from a story shared during an intensely personal event: Martin's funeral in 2010.
That day, screenwriter Daniel Stiepleman, Ginsburg's nephew, learned about the only case the couple had ever argued together, and he knew it was perfect film material. He set out to turn the idea into a script. "I called Aunt Ruth and said, 'I have this idea, I'd love your permission, and, if possible, your help,' " he remembers. "I pitched her the movie, and there was a pause, and she said, 'Well, if that's how you'd like to spend your time.' "
Despite his personal connection, the film required extensive research. At Ginsburg's invitation, Stiepleman studied her files, lectures, drafts of briefs, and letters from those years at the Library of Congress. "I had to educate myself on the history and this part of the law," he says. "For about a week, I went through her files by day and over dinner we talked about that time in her life, her marriage and how it worked raising kids, and legal questions."
READ: 15 Female Film Directors You Need to Know
Stiepleman also had the challenge of bringing drama to Ginsburg's story in a truthful way. "She's someone who means what she says, who believes in politeness and in convincing people who disagree with her rather than trying to defeat them. She's not a big, flashy character," he says. "It became her finding her voice and ability as a young woman to stand up to men in authority and say, 'This is right, this is what I believe, and I'm going to convince you.' "
To bring that to the screen, Stiepleman shared his resources with Jones, who had quite the shoes to fill onscreen. "We had old family footage of Marty and Ruth graduating college together and going on their honeymoon that I sent her so she could study the way Ruth walks and moves," he explains. "It really paid off, because her performance is uncanny. She'd purse her lips in a certain way or look at somebody, and I thought, These things are so like Ruth. It was incredible. She just had it in her body."
That authenticity was essential for the Mimi Leder–directed film, whether in writing a convincing court argument or constructing a conversation between the Ginsburgs in their home.
"For a lot of people, Ruth is a hero; for some people, she's a divisive character; and for me, she's Aunt Ruth. I hope this demystifies her and helps people see the person she is—someone who's done extraordinary things," Stiepleman concludes. But he also hopes the story inspires. "The things she did, anyone can do; she's a human being. Anyone with a vision, heart, and the urge to work hard can do the things that she's done, as extraordinary as those things are."