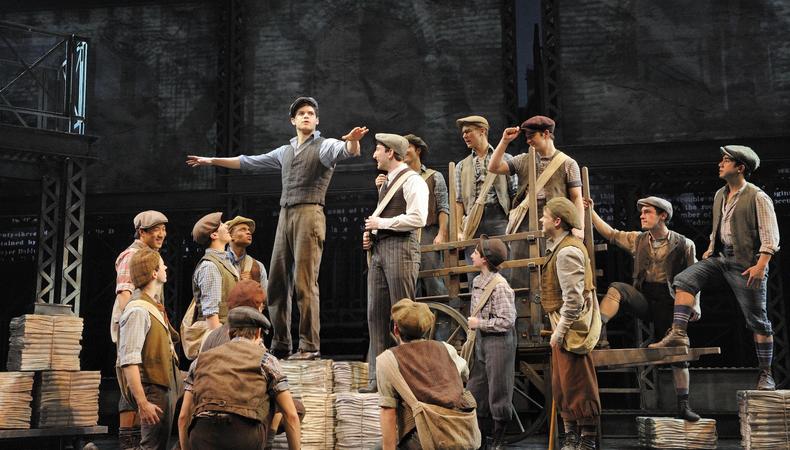 Finding age-appropriate audition tunes as a young male performer is perhaps even more challenging than it is for your female counterparts, as there are less "ingénue"-type roles for guys (a matter for another time). The last thing you'd want as a youthful performer is to weigh yourself down with material that ages you—which is why we've put together a list of the 12 best musical theater audition songs for young man-identified performers. From classic to contemporary, there's an option for everyone (even the most baritone among us).
A good audition song should fit you, your abilities, and the audition while captivating your audience.
It fits you. The song should fit your voice type and vocal range—this isn't the time to try going from your normative baritone to aspirational bass. It should also allow you to fully embody the character performing it, so choose one that's castable for you in terms of utility (gender, age, size, accent) and personality (can you fully portray the feelings involved?).
It fits the audition. If you're trying out for a role in "Once," it's probably not the time to pull out your best comedic song performance from "The Book of Mormon." Show your audience that you're able to portray the characters and emotions involved in the role you're auditioning for.
It crafts a narrative. Even if the song is just a few bars, you want to be able to take your audience on a journey and keep them coming back for more.
It depicts a powerful emotion. Whether it's an uplifting love song or a devastating dirge, the song should allow you to connect to listeners through the power of emotion.
It's recognizable but unique. Many casting directors recommend that you avoid the biggest bangers—there's only so many times one can hear "Close Every Door" from "Joseph and the Amazing Technicolor Dreamcoat" without allowing the melancholy to swallow them whole. Look for songs that are popular but aren't the best known from the show ("The Music of the Night" from "The Phantom of the Opera," here's looking at you) or songs that you can put your unique spin on in a way that will impress your audience.
"Michael in the Bathroom" from "Be More Chill"
Though the musical came out pre-pandemic, the sense of social anxiety and sense of connection Michael portrays in this song speaks perfectly to what many felt post-lockdown. Use it to highlight your comedic chops as well as deeper vulnerability.
"Giants in the Sky" from "Into the Woods"
It's hard to go wrong with Stephen Sondheim, as proven by this song that's particularly powerful for younger men. Create a sense of magic by adding your own unique spin to this whimsical tune.
"You'll Be Back" from "Hamilton"
This song is perfect to showcase your sense of humor and silliness—and that you can hit falsetto with a tenor voice, if you've got it. Try leaning into King George III's stalkery sense of dismay that the colonists dare leave him.
"I Believe" from "The Book of Mormon"
Let's just start with the obvious: This song is notoriously difficult to sing. The requisite breath control alone is something that many performers would never dream of attempting. But the song's exorbitant phrasing and lyricism is exactly what makes the Robert Lopez song so hilarious and impressive.
"I Love Betsy" from "Honeymoon in Vegas"
Andrew Barth Feldman, who won the 2018 Jimmy Award for best actor and went on to play the title role in "Dear Evan Hansen" on Broadway, beat out the competition with this song—and it isn't hard to see why. Sweet, emphatic, and a chance to display comedic chops, it has everything a versatile performer could hope for.
"Oh, What a Beautiful Mornin' " from "Oklahoma!"
Reinventing the classics presents some risk, but pulling it off presents an even bigger reward. Just look at the 2019 Tony-winning revival of "Oklahoma!," which took the Rodgers and Hammerstein golden age tuner and turned it inside out. You don't necessarily have to achieve that in order to successfully audition with a standard such as this one, but particularly for young performers, it's certainly worth considering.
"One Song Glory" from "Rent"
Artists singing about their art is a pretty commonplace practice in musical theater, and the more tortured that artist is, the better. Case in point, this tune, which yearns to put something into the world that transcends the ephemerality of the human condition. Try and get more existential than that in just 16 bars.
"On the Street Where You Live" from "My Fair Lady"
The golden age musical is a more adamant showcase for its titular lady than her male costar when it comes to big numbers, however this standout song in the Lerner and Loewe classic makes up for it. A fantastic choice for a short (16 bars) or long cut (32), it's really just you, your voice, and a swelling melody. All good things.
"Luck Be a Lady" from "Guys and Dolls"
Probably the most obvious selection on this list, but for good reason: This song provides the chance to show off both your belt and softer vocal prowess. It's from one of the most beloved shows of the last, oh, 73 years, making it a safe bet for any young performer who isn't looking to take a gamble beyond the one mentioned in the lyrics.
"Seize the Day" from "Newsies"
An All-American anthem with a modern twist, it's the number just before the musical's act break, and above all else, it is inciting—that is a great quality for a musical and a great quality for an audition for a musical.
"Shiksa Goddess" from "The Last Five Years"
It isn't surprising to see the Jason Robert Brown canon appear twice on this list; both Brown's songwriting style and the material to which he is drawn sit squarely in the young male wheelhouse. But more specifically, Brown writes from a place of specificity that can be an ideal place for less experienced male performers to mine personal connection to material.
"This Is the Moment" from "Jekyll & Hyde"
Let's be clear: Don't sing this one if you don't have the chops. Just don't—you'll thank us later. As with much of the Frank Wildhorn songbook, it can veer pretty easily into schmaltz and you need serious vocal faculties to elevate it into the sublime. But for that very reason, if you are able to pull it off, the feat will not go unnoticed.
Disclosure: This post is brought to you by the Backstage team and/or a Backstage Expert. If you purchase items through these links, we get a small share of the revenue from the sale from our commerce partner.