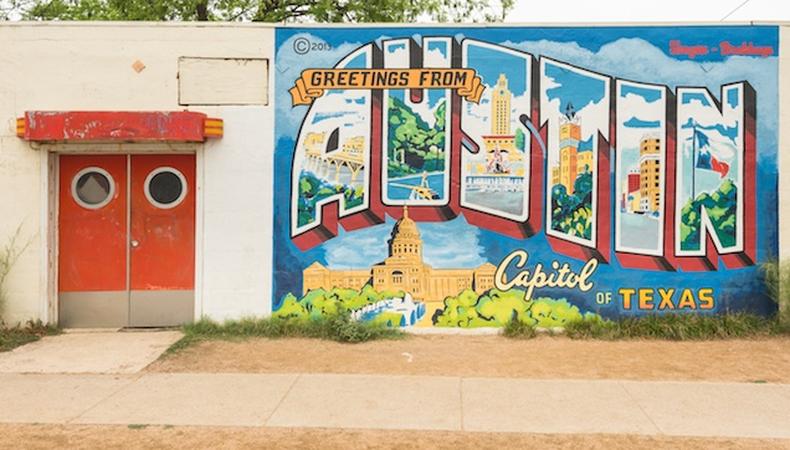 As the nation's perennial boomtown, finding a reasonably priced, suitably located home in Austin has become an increasingly arduous task for young artists. Here are five neighborhoods where it's still possible to make a living if you live to make art.
Johnston Terrace/Govalle
The most concerted effort to foster the Austin art scene is in lower East Austin near Springdale Avenue and Bolm Road. The Canopy art complex, a new but instantly vital 40,000 square-foot facility boasting over 50 diverse studios, including multi-use and gallery spaces, anchors this burgeoning creative community. Big Medium, one of Austin's signature galleries and organizers of the massive East Austin Studio Tour oversees the complex. Other hubs include Ground Floor Theatre, a black box theater whose productions focus on underrepresented communities, and the Museum of Human Achievement, a fiercely strange gallery and performance space that lives its slogan: "Think less nightclub, more cult." The City of Austin is also developing a 24-acre mixed-use arts district called thinkEAST adjacent to Govalle Park, which will offer affordable living and flexible studio spaces to Austin's creative community. Median apartment rental rates jump from $583 to $1,000 whether one settles north or south of Bolm Road and, like the rest of Austin, the area only continues to grow.
North Loop
A quaint, walkable neighborhood popular with young professionals and established artists, North Loop is a convenient bungalow-laded alternative to its pricier neighbor, the historic Hyde Park. Its cultural and commercial center is the North Loop strip, a collection of shops and restaurants protected as an official "Independent Business Investment Zone" (IBIZ). North Loop businesses are accordingly eclectic, including volunteer-run Monkeywrench Books and indie vinyl purveyors Breakaway Records. Nearby Hyde Park Theatre develops local writers, directors, actors, and designers, and produces the citywide FronteraFest, the premiere fringe theater festival in the Southwest.
South Lamar
Homes west of South Lamar Avenue are part of Austin's fastest-growing 78704 zip code, which means one is as likely to bike past a boutique hotel as a hole-in-the-wall taco joint. And yet, spots like upstart hangout Radio Coffee and Beer lend the area a sense of home and community. The ZACH Theatre is Austin's most robust professional theater company, staging more than 500 performances annually and offering a host of classes, camps conservatories, and costume rentals. And eastward down the river, Teatro Vivo produces accessible bilingual theater reflecting Latino reality.
Cherrywood
Cherrywood is a densely populated yet bikeable neighborhood that's inviting to singles and new families alike, with an active neighborhood association and a popular annual art fair. The progressive VORTEX Repertory Company is home to the city's leading alt-theater rep, and ColdTowne is a low-key hot-spot for improv and sketch comedy. Cherrywood Coffeehouse hosts regular open-mic nights and amateur performances. Nearby arts education nonprofit Creative Action also employs dozens of part-time teaching artists in area schools. And the cuisine certainly isn't lacking in ubiquity or diversity. Within a few blocks on Manor Road, one can fill up on full-flavored Tex-Mex from homespun Mi Madres Restaurant, or dine at Dai Due, named one of America's 10 Best New Restaurants of 2015 by Bon Appetit.
Central East Austin
Franklin Barbecue may be world-famous, but there's more to East Austin than queuing and scrumptious brisket. Rental and property rates near the I-35 corridor are skyrocketing, but areas just a bit further east are, for now, markedly more affordable for and supportive of upstart creatives. Chicon Collective's massive coworking space is "for hustlers, designers, developers, photographers, videographers that simply do," while theater collective Rude Mechs' the Off Center provides gallery and performance spaces to artists of all stripes. While not technically in East Austin, downtown comedy workshops the New Movement and the Hideout Theater are easily accessible, as is Esther's Follies, which bills itself as vaudevillian political satire and "Austin's answer to SNL" —and sure enough counts SNL one-and-done Noël Wells as alumni.
Inspired by this post? Check out our Texas audition listings!