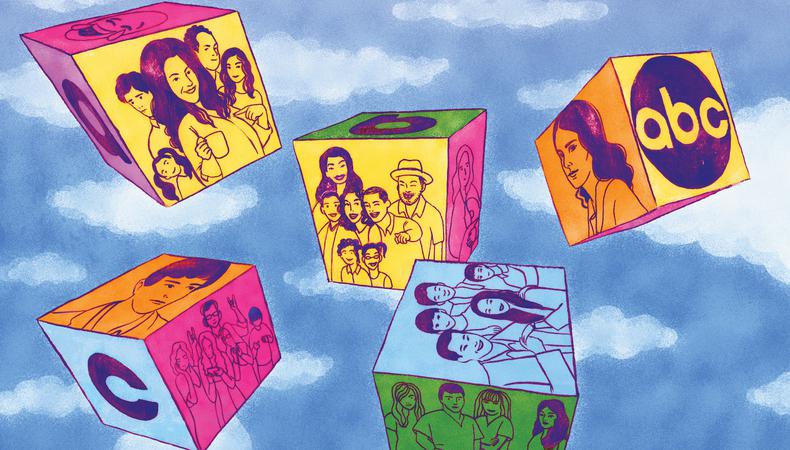 Pilot season: It happens every year, and even though the television landscape doesn't look quite like it used to, it's a reliably busy time for actors and network executives alike. Ayo Davis, who's been with ABC for more than 15 years, is the executive vice president of casting for ABC Entertainment and oversees the process for all ABC and ABC Studios shows. While it seems like the executives are secluded in their offices away from the "action," Davis is very involved and is always looking for new talent. She started her career at ABC creating opportunities for actors to be discovered, and she still does that from her seat at the top of the casting process, where the next self-tape could end up being her discovery.
What do you do at ABC?
I'm senior vice president of talent and casting for ABC Entertainment. I oversee casting for all ABC prime-time scripted series and ABC Studios–produced content.
READ: How to Land an ABC Pilot: A Step-by-Step Guide
How is your job different from that of an independent casting director?
There are similarities in what casting executives and casting directors bring to the table to ensure that each role is properly cast. Casting executives oversee the entire process. It's our job to make sure that each show has its own individual footprint as it relates to casting. We manage the needs of the studio and the network, and the wants of the producers, writers, and directors. We're focused on guiding the process from start to finish—that includes budgets, hiring the casting directors, educating creative executives on talent, and setting the overall casting strategy. Casting directors, on the other hand, handle the day-to-day casting of a show. They work closely with producers and directors to see that all roles are cast by collaborating with casting executives, agents, and managers. They identify talent, generate lists, host audition sessions, educate the team on talent, and advocate on the actor's behalf.
What is the process for getting cast on an ABC show?
There are many ways an actor can be cast on an ABC or ABC Studios show: through our casting directors, who work on the individual projects, or through my team, who are constantly identifying and tracking talent through our various initiatives and watching TV, film, theater, and comedy shows. Casting is a very collaborative process. My team and I work closely with our creative executives, as well as the heads of the studio and the network, to be certain that we land the right actor for the role. The goal is to find great actors who have the ability to connect to the human experience and enhance the storytelling.
What type of audition sticks out to you?
There are many qualities that resonate with our group when an actor comes in to read. It's such a powerful moment when you forget that you're watching an actor and the script comes to life. This often happens through an actor's skill set, authenticity, accessibility, and star quality.
What does pilot season look like from a casting perspective?
The busiest time of year is toward the end of January, when we receive a greenlight on our pilots. This is when broadcast networks are all casting at the same time with the same goals, making a mad dash to hire casting directors and identify actors for roles. It begins to calm down once the shows start filming, which is around mid-March, and we're left with a few multicamera pilots to cast.
How did you get into casting, and how did that lead to an executive position?
I began my career in casting at New Line Cinema working for the head of feature films casting, Valerie McCaffrey. This job was a fantastic learning experience, as we cast in-house as well as overseeing the casting on all New Line feature films. This provided me the opportunity to really understand the process and how casting can shape and enhance a project. Following New Line, I went into independent casting, first working for several casting directors before working on my own projects, including Eli Roth's "Cabin Fever." I later joined ABC as a casting director overseeing their talent showcase, which focused on inclusivity and identifying fresh and unique talent. Shortly thereafter, Keli Lee championed me for a role in the ABC casting department, where I had the pleasure as a casting executive to oversee many incredible shows such as "Desperate Housewives," "Lost," and "Grey's Anatomy." Now, as the head of casting, I oversee more than 30 series, roughly 25 pilots each pilot season, and a host of initiatives geared toward identifying and mentoring up-and-coming talent.
I'm sure you don't have a typical day, but what are some of your usual day-to-day tasks?
It changes depending on the time of year. During pilot season, a typical day for me would include attending anywhere from four to six tests, making lists, educating creative executives on talent, having extensive conversations about choosing the right actor for the right role, brainstorming sessions with the team, and lots of conversations with agents and business affairs.
What other executives do you work with at ABC when it comes to casting a show?
We work very closely across the board with executives including creative, business affairs, legal, marketing, and publicity.
What considerations have to be made when approving talent for a show?
We want someone who can embody the role you are casting, but specifically for pilots, we're looking for someone who can deliver in the long run.
How has what you do changed since you started?
Technology has changed the speed in which we receive auditions. We used to wait two days for VHS tapes to arrive in order to view someone's audition. Now, we can get a link instantaneously. An actor can tape themselves on their phone and be cast the next day.
Do actors have a better chance of getting cast if they live in New York, L.A., or other acting hubs?
While it's great to be in the room whenever possible, technology allows the actor access to be seen and cast from anywhere in the world.
This story originally appeared in the Feb. 13 issue of Backstage Magazine. Subscribe here.