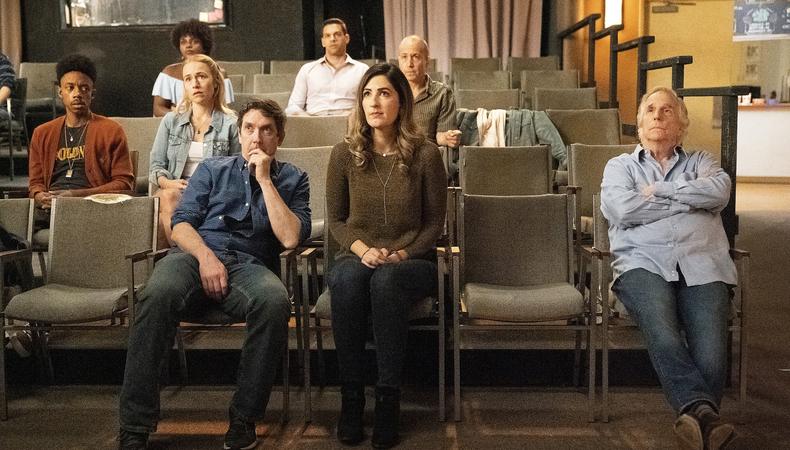 With this Year in Review, we at Backstage have picked through the weeds and found 2019's true gems of the best big- and small-screen ensemble work. And don't worry: We've got you covered with everything else you need to know this awards season right here.
Distributed by: HBO
Created by: Alec Berg, Bill Hader
Casting by: Sharon Bialy, Sherry Thomas
Cast: Anthony Carrigan, Glenn Fleshler, Sarah Goldberg, Bill Hader, Stephen Root, Henry Winkler
"Barry" has often been referred to as a dark comedy. In its second season's finale, Bill Hader and Alec Berg's HBO series seems to make that descriptor literal; the title character—a hitman, sure, but generally a pretty affable guy!—recedes into the darkness of an empty hallway, having just committed atrocities most television dramas would consider too grim.
Hader, in writing, directing, and acting as Barry (for which he has won two Emmy Awards), is not only testing the limits of what we consider comedy; his show is also interested in dissecting the notion of an "antihero." Are people who do bad things still fundamentally good? What if they're forced into it? And at what point are we, as an audience, unable to forgive an antihero their trespasses?
"Barry" feels partly like a response to prestige TV's other recent antiheroes (Tony Soprano of "The Sopranos," Walter White of "Breaking Bad," and Annalise Keating of "How to Get Away With Murder" come to mind), and partly intent on creating something entirely its own. Because, let's be clear: "Barry" is a bonkers show. It's filmed impeccably, has an excellent handle on believable twists we don't see coming, and is preoccupied with big questions about morality. But it is also nuts, and audaciously so.
READ: How Hiring a Drama Writer on 'Barry' Helped Make One of TV's Best Comedies
Just look at Season 2, Episode 5, titled "ronny/lily." Nothing on TV in 2019 was as jaw-droppingly zany. Following Barry's attempt to ambush a target that goes so far awry as to seem like a waking nightmare—complete with a demonic teenager proficient in tae kwon do and biting faces—the episode mounts the plot's stakes to unimaginable heights, straining our suspension of disbelief almost to the breaking point.
But the reason we believe this story every shocking step of the way is its players. Outlandish as they may be, there's enough raw human emotion and genuine chemistry between them to convince us this is all still within the realm of reality.
Emmy winner Henry Winkler as lovable schmuck and borderline exploitative acting guru Gene Cousineau sells us on the poor guy's mourning over his lost lover, only to slip in a line delivery so pathetic it's hysterical. Sarah Goldberg's Sally is every talented but frustrated actor finding her own voice; she has a Season 2 monologue listing all her neuroses that Goldberg nails in one remarkable, unbroken take. Filling out Gene's acting class are D'Arcy Carden, Rightor Doyle, Kirby Howell-Baptiste, and more, each stealing hilarious moments in the spotlight. Their ability to cohere into Gene's cult following, particularly during their autobiographically inspired and overly committed theater pieces, is ensemble acting at its funniest.
Populating the other half of Barry's double life, that of a veteran-turned-hitman in way over his head, are Stephen Root's Monroe Fuches, who wiggles out of any situation no matter how criminal, and Anthony Carrigan's NoHo Hank, the daffily upbeat Chechen mafia boss. Poor Fuches is an asshole and a coward, but Root periodically reminds us that his fatherly devotion to Barry is bone-deep; NoHo Hank's attachment to Barry is similarly touching, as are his enthusiasm for American culture and love for his criminal brethren. (Side note: The show's funniest moment may be Carrigan laugh-vomiting.)
And just as, by all accounts, we should see this all as absurd clownery, we also should not find ourselves rooting for Barry. But Hader dares us not to. The multihyphenate gives us too many laughs and glimmers of hope at redemption for us to write him off as a murderous sociopath. We can't wait to see if this antihero keeps getting away with it.
This story originally appeared in the Nov. 13 issue of Backstage Magazine. Subscribe here.