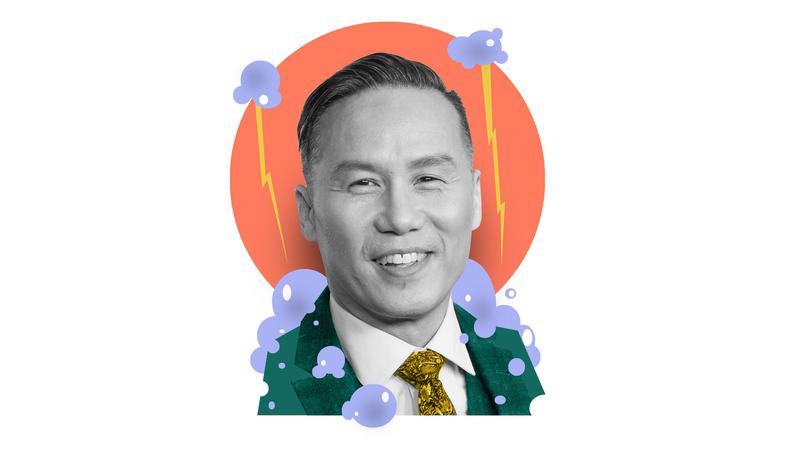 BD Wong has done it all. On Broadway, his performance as Song Liling in "M. Butterfly" won him a Tony. On film, he's a mainstay in the "Jurassic Park" franchise. On TV, he's beloved for his portrayal of Dr. George Huang on "Law & Order: SVU." Now, he's flexing his comedic skills, returning for Season 2 of Comedy Central's "Awkwafina Is Nora From Queens," on which he plays Nora's father, Wally. Here, Wong shares his feelings about self-tape auditions and his early screen roles.
What has playing Wally in "Awkwafina Is Nora From Queens" added to your acting skills?
It's been a long time since I've done any kind of improv. This is a very improv-friendly set—not improv-dependent, but improv-friendly. I wanted to be able to participate in that in as enthusiastic a way as everyone else. That requires a little bit of letting go of preconceived ideas and the strong reverence to the script that I was trained to have. I've also never been in a romantic relationship in a role before, actually, so that's also a nice thing that I love.
What different muscles do you get to flex with improv?
It's a completely different way of acting. Like a lot of improv-driven and improv-enhanced projects, there's a fair amount of structure and script to it. A lot of times, you do get reminded, "Let's get it back to what it originally was or what it needs to be to retain the scene." It's an editor's medium: You can cut, you can edit out, you can fail. It's not like being live onstage. As a result, you owe it to yourself to try things and to leap. And when you are doing so in the presence of other people who are comfortable with it, it really becomes fun. I have loved doing it.
"The way people actually lose their temper—you see it in a reality show sometimes, when it's really true and it's really happening.... It's very messy and weird and off, and it's not controlled and performative."
Tell us about your first day on a professional set.
I was super excited to get the role of—nobody's going to know what this is, because it doesn't exist anymore—Fotomat boy. I was a Fotomat boy in an episode of a TV show called "Simon & Simon." It was a one-hour sitcom, buddy show. I was the kid that was at a Fotomat, which was a one-stop drive-through place where you developed film and you picked up your pictures. I don't remember the plot, but this guy was supposed to drop off his roll of film, and I was supposed to fill out the envelope and give him the receipt. I was really nervous. The first take or the first rehearsal that you ever do when you're nervous and you have no experience is terrible, because you're on your own unless you happen to have somebody nearby who has the experience and is looking out for you. The world of filmmaking has its own language, and if you don't know any of it, as I didn't, you're totally lost. I didn't have any concept of marks or hitting marks. I was intelligent enough to know these were things to look out for, but I didn't know how to do them. I remember I was so nervous that the first take we did, the guy gave me the roll of film, I said my line, and then I gave him back the roll of film. When you're nervous, it shows up in your actions in the weirdest ways. That was my first job.
My first job in a movie was in "The Karate Kid Part II," and I played this boy passing out flyers. I had one line. That was really fun because I was in that movie with a lot of friends I knew—a lot of young Asian American actors who all got jobs on this movie. I felt like I was part of a community, which was great.
What advice would you give your younger self?
What I would say is: Enjoy it more. I was very cerebral; I was very interested in making sure I did things right. It could've been a lot more fun. Even in my first Broadway show, I felt really stressed out, and I went through the whole process of carrying this weight of it. I loved the experience; I was still enjoying the experience and the work, but I was very down, at that time, with people messing around backstage or pranking. Now, I'm a terrible prank person backstage, because I've gotten to the point that the work can be enhanced by the relationships you have with the other actors, and that includes your sense of humor with them and your bond with them. Don't wait too long to start having fun. I saw other people having fun and I was afraid of it, because I was too serious about the work.
What is your worst audition horror story?
I had an audition for the revival of "Into the Woods," and I was not prepared for the fact that the room would have so many windows. I know that sounds crazy. I went in there, and there was a window across the street, and all these things were going on in it. There maybe was another rehearsal studio across the street. I remember being really distracted by the activity that was going on across the street when I was trying to concentrate. My eyeline was pointed right at this activity; it was very distracting. Usually, the nightmare auditions I've had had to do with distraction. There was a movie audition—I wanted this part so bad and rehearsed the heck out of it. When I went in, they held the audition in a room next to another room where there was singing. It was a very emotional scene, and I couldn't find it. It began this long process of feeling ever so slightly angry or bitter toward producers and casting directors who weren't looking out for us, for not giving us an environment where we can do our best. I'm always advocating for that.
The other aspect of nightmare auditioning is all about self-taping. It's totally under-discussed that actors are putting themselves through all of this jumping through hoops to make these elaborate tapes for these casting directors and producers, and buying all this equipment and spending hours and hours of time; partly because of COVID, but know this started well before COVID—using this as a replacement for renting rehearsal rooms and having auditions. The nightmare that I've had includes doing things hundreds of times, and also the fact that you have to come up with these elaborate ways to come up with a reader if you don't have someone who will read with you. You either have to hire somebody or have a friend do it, which is a pain in the ass, because you can only use your friends so much for this kind of thing. My one nightmare story is of trying to make an audio tape of the other character's dialogue and playing the dialogue and practicing the timing of it so I can respond to it as if I'm really acting, which ended up quite successful, because I was in control of all of it; but it was incredibly time-consuming. Nobody would ever appreciate the time that it took to do that.
What's the wildest thing you ever did to get a role?
I wrote all of these weird verses to audition for the original cast of "Seussical." I don't know why I did it, but I had all these verses written, because the material had holes in it and I wanted to fill in the holes and create continuity. I really wanted that part, and I really wasn't right for it. I went above and beyond, which I do a lot. I've been told, "Please don't bring props," because I used to bring a lot of props.
What performance should every actor see and why?
I'm really into Michaela Coel and Phoebe Waller-Bridge. I'm into their self-generation, their writing, their acting. Sometimes your acting is even better when you've written the material for yourself, because you know exactly how complex it is and what those complexities are, because you wrote it. You know what that character is supposed to be and do and feel. Some of the best work comes from the people who've written stuff for themselves. Their work is so complex and idiosyncratic and real and funny, and also tragic. It runs the spectrum of emotions and feelings of comedy and drama. I love those two actors, in particular, and their two shows, "I May Destroy You" and "Fleabag."
The other thing I tell students is: Reality TV is ironically good for learning how to act. We have created a vocabulary in our minds for TV acting and film acting, which makes things clear but isn't based on real life. The way people actually lose their temper—you see it in a reality show sometimes, when it's really true and it's really happening. You realize, Oh, yeah, that person was not performing. That's a real person. It's very messy and weird and off, and it's not controlled and performative. So I say watch a really good reality show when they're not cheesy reality shows, when they're not contrived. You can see what a person who's really in an argument feels like. Watching a person become surprised in real life is a great acting lesson as someone who gives a performance of it. It really is the only way to draw inspiration. It's real.
Do you have a history with Backstage?
I grew up on Backstage! Backstage was absolutely essential to me when I first came to New York a long, long time ago. I'm grateful for all of the information and the start that I got by using Backstage as a tool to start my career.
This story originally appeared in the Aug. 26 issue of Backstage Magazine. Subscribe here.
Looking for remote work? Backstage has got you covered! Click here for auditions you can do from home!