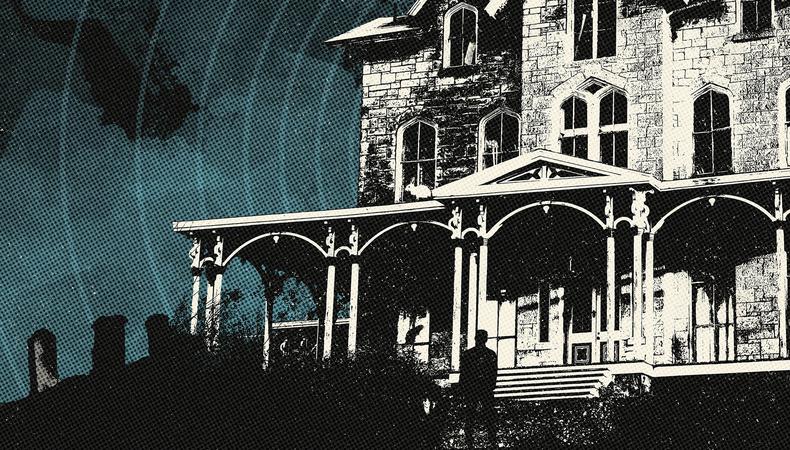 Welcome to Behind the Fest, Backstage's questionnaire series with film festival figures looking for that next big festival hit. Featuring behind-the-scenes insight from the organizers and programmers at Sundance, TIFF, Cannes, and more fests from around the globe, these tips might just hold the key to your indie film success story!
Nightstream, a virtual collaboration among five U.S. genre film festivals—Boston Underground (BUFF), Brooklyn Horror, Northbend, The Overlook, and Popcorn Frights—kicks off Oct. 8 and runs through Oct. 11, with films available on the event's streaming platform until the 14th.
All proceeds from Nightstream will be shared with artists and filmmakers involved in the collaboration, donated to charities and small businesses in each festival's hometown. The program is highlighted by a conversation with filmmakers Nia DaCosta (of the new "Candyman" remake) and Mary Harron (for the 20th anniversary of "American Psycho") plus the world premiere of Hulu's new thriller "Run" starring Sarah Paulson.
Backstage spoke with three collaborators across four of the five festivals involved in Nightstream about joining forces virtually and what it means for boosting visibility of genre festival fare. Participating in the conversation were Co-Director of The Overlook Landon Zakheim, Artistic Director of the Boston Underground Film Festival Kevin Monahan, and Senior Programmer of North Bend Film Festival and Programmer of Brooklyn Horror Film Festival Joseph Hernandez.
What is the purpose of Nighstream, and how did it come together?
Landon Zakheim: Nightstream is an initiative created in the wake of the pandemic by joining together five similarly minded genre festivals (the Boston Underground, Brooklyn Horror, North Bend, Overlook, and Popcorn Frights film festivals) with community-driven missions, loyal fanbases, and creative programming who each found themselves without a home in 2020 and a desire to shift our individual labor of loves towards a virtual edition. Uniting under one banner allows us to demonstrate a focus on communal celebration and re-think what festivals can and should be in the current moment, putting our filmmakers and audience first while we experiment with the best ways to adapt to a celebration that can honor the hard work of new and master filmmakers—and do our part to save Halloween as best as we can for an audience dedicated to strange, underground, macabre, vanguard, and fiercely independent work.
Kevin Monahan: I believe that this type of confederation between festivals is unique; I've certainly never seen anything like it. These are unprecedented times and we are seeing a massive consolidation of industry, and if you're a consumer of media that doesn't work out in your favor most of the time. These five festivals joining forces under the Nightstream banner levels that playing field a bit while simultaneously fulfilling our bargain with filmmakers and audiences who were put out by our cancelled events.
With festivals being cancelled one by one this year, there is a large population of cinephiles out there that are underserved and we intend to rectify that. We decided to up the ante a bit by taking this to a national stage instead of just playing to our built-in audiences, which is good because Nightstream is definitely bigger than the sum of its parts. That's an advantage that this new paradigm presents to us. Now someone who might be a big fan of genre film, but doesn't live in a place with a festival like The Overlook or North Bend or Popcorn Frights or Brooklyn Horror or Boston Underground can participate.
Joseph Hernandez: Just because we're all cooped up inside doesn't mean that the desire to watch movies went away. In a similar vein, neither is it fair or conducive to the vitality of the industry that all these newly completed works sit on a shelf undiscovered and uncelebrated. In a world filled to the brim with new content, film festivals have only grown in importance as curatorial lighthouses that help shine a light on voices old and new that audiences should take notice of and make time for. So in these vastly different circumstances, the only right choice was to figure out the best and safest way to do what we do. That's Nightstream.
What was the selection and programming process like?
LZ: While each of the five festivals involved have somewhat different approaches within our individual physical editions (which take place from spring to fall in five different cities with a variety of different needs), our philosophy in this endeavor has been to program collaboratively. Each festival has retained autonomous authorship of its shorts programming (now represented collectively by 20 programs of short films in the lineup) but the 40-plus features were decided upon as a group. The programming isn't representative of any one specific festival, but keeps all of our current and potential audiences in mind.... We're looking for a wide variety of films that fit the genre mold—from bold and innovative international work, to envelope-pushing comedies, and everything in between.
READ: How Beyond Fest Became a Favorite Among Genre Film Fans
What are the potential benefits of submitting to Nightstream?
LZ: Of the very many calamities this year has wrought, filmmakers of all stripes have been robbed of a festival experience and all that comes with it: audience interaction, bonding with other filmmakers, career opportunities, and immeasurable memories as a reward for the hard work of completing a great project. Our initiative seeks to remedy that by offering a celebratory experience more so than a digital series of screening links and webinars, allowing filmmakers and audiences to connect in a variety of interactive ways. Each feature selection receives laurels from all five individual festivals, and will be considered alumni filmmakers of each. Shorts, on the other hand, get chances to play at any of the five festivals, as each organization considers them individually, as though they were programming their regular in-person lineup.
Since each festival brings with it a close family of filmmakers, one can see where close collaborations have formed. Filmmakers who have met at the Overlook Film Festival have come together to make their next projects on more than a few occasions after spending the weekend together at what they refer to as "horror summer camp." The bonding experience between artists is of utmost importance to us, and we can see that with the number of returning filmmakers who come back even when they don't have projects to present year after year.
What's your advice for attendees on getting the most out of any fest?
LZ: What we strive to create is a fully interactive weekend-long experience. And what we've found is that communally enjoying a summer camp-like escape creates incredibly strong bonds between filmmakers, press, industry, volunteers, staff, and fans alike. We like to advocate and echo the advice said often by some well known festival filmmakers from the circuit: when you find yourself just having a great time with a group of people you like over shared interests, it turns out you're accidentally networking. But when you find yourself trying to use social situations for the purposes of networking, it usually turns out that you're being a jerk.
KM: The best thing about film festivals is that there is a built-in conversation starter. There are people at film festivals that have probably just seen the same movies that you did, and they want to talk about them. Take advantage of that! Of course this strategy requires you to prioritize attending screenings as much or more so than networking opportunities.
JH: There's a reason why the latter word in "film festival" is used. It's not just about the individual experience of going to see films, but the act of celebration that surrounds it. Attending a film festival means exiting the movie and jumping into a fascinating conversation of what you just saw with like-minded individuals; it means heading over to a happy hour event where you meet a future collaborator or someone who just saw your film and shares their appreciation with you, literally reminding you why you make movies in the first place; or maybe, you're going to pack your day with four screenings and a panel featuring one of your favorite filmmakers before heading over to a party for beers and figuring out your "top films of the fest" list with your closest friends...and then going to bed so you can do it all over again the next day.
What career advice do you have for early-career filmmakers?
LZ: Find a good group of people you can trust, whose taste you respect, and allow them to be ruthlessly honest about your work at every stage. You don't have to take every single note given, but be able to listen to folks who want you to do better so you don't get lost in the woods while trying to achieve your vision. Don't try to adapt your movie to what you think other people want to see. Trying to anticipate what you think programmers and executives you've never met might be looking for is a great way to alter your work to the point that it's satisfying to no one. Make the film you want to make, and then surround yourself with the allies you need to make it as sharp and tight as possible.
KM: Don't try to edit your first film by yourself. Find an editor you really vibe with and understands what you're trying to accomplish. If it grows into a working relationship, that's great. If not, you'll at least learn something. Also, when submitting to festivals, do your research. Look at the programming of that festival and think "would my film belong here?" Don't blow all [your] submission budget on the A-list festivals and ignore the smaller ones where your film probably has a better chance of being accepted.
What are some of your favorite films seen recently?
LZ: Since we've been relentlessly viewing new work for festival consideration, the final Nightstream lineup will be reflective of our favorite genre films of the season. And of course we have to acknowledge strong new voices in genre like Natalie Erika James, the filmmaker behind Sundance hit and summer release "Relic," a movie that would have been showcased at our in-person Overlook Film Festival had it gone on in New Orleans in May as originally planned.
Personally, it warms my heart to see a wonderful work like [Chloé Zhao's] "Nomadland" still rise to great festival word-of-mouth in a fall bereft of the normal festival atmosphere. I'm equally tickled that a film as narratively risky and formally challenging as Charlie Kaufman's "I'm Thinking of Ending Things" exists and was funded by a major streaming platform, [Netflix].
KM: This sounds like a cop out answer, but I'm not kidding. If you want to know what my favorite films of the year are, you need look no further than Nightstream's lineup. Adam Rehmeier's "Dinner In America" and Zoe Wittock's "Jumbo" were intended to be Boston Underground's opening and closing night films, respectively, and are both easily in my top 10 for 2020.
JH: To throw some more 2020 genre films into the mix, everyone should seek out Quentin Dupieux's amazing "Deerskin" before catching "Mandibles," his follow-up and the Closing Night selection of Nightstream. Rob Savage's "Host" is not only the most impressive film to come out of quarantine, but it might be the scariest movie of the year. If you're like me and love soul-crushingly bleak storytelling then Veronika Franz and Severin Fiala's "The Lodge" is required viewing. The vicious and visionary "Possessor" from Brandon Cronenberg knocked me sideways. And lest we not forget the absolute stunner that is Carlo Mirabella-Davis' "Swallow."