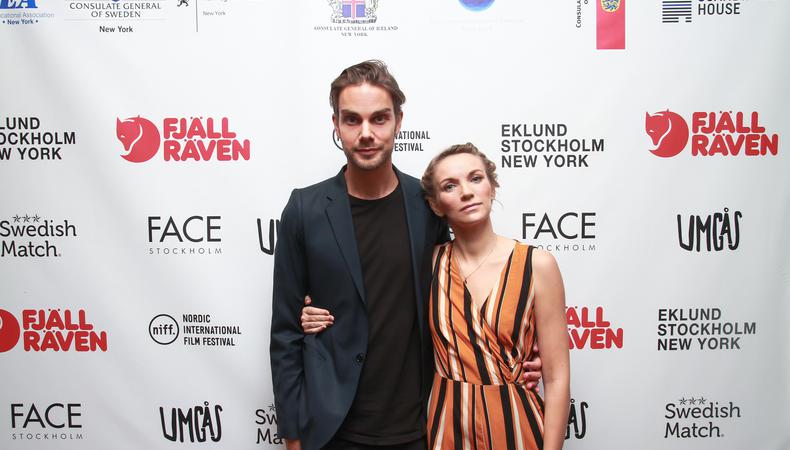 Welcome to Behind the Fest, Backstage's questionnaire series with film festival figures looking for that next big festival hit. Featuring behind-the-scenes insight from the organizers and programmers at Sundance, TIFF, Cannes, and more fests from around the globe, these tips might just hold the key to your indie film success story!
The New York-based Nordic International Film Festival (NIFF) is the largest Nordic film festival outside of Europe, and this year's online festival will donate 50 percent of ticket sales to the Black Lives Matter movement.
"BLM having its moment in time right now," says NIFF co-founder Linnea Larsdotter. "We of course wanted that to be our focus for this year."
This year's program will open with a special New York drive-in screening on Oct. 15 of Ari Aster's horror hit "Midsommar," as the festival has partnered with the film's distributor A24, along with Rooftop Films. The event runs Oct. 15–20. Backstage spoke with co-founders Johan Matton and Larsdotter about diversity, the festival's programming this year, and how filmmakers and attendees can best connect virtually.
Tell us about the Nordic International Film Festival. What distinguishes it from other film festivals?
Linnea Larsdotter: We are a very filmmaker focused film festival. Our main goal is to make sure that the filmmakers have a good screening experience and also custom-made networking opportunities. We match-make filmmakers with further contacts after the festival. So if they need help with distribution, we do that. We even connect filmmakers that have separate films in the festival with each other if they have upcoming products that we know about that they should collaborate on. This year, of course, it's a stranger year...it's hard to make that happen as much as possible as we're not in the same physical space anymore.
What kind of thought goes into the programming process?
LL: When we program, we're not just looking for great content that sporadically fits into our categories. We are very much looking to program a lineup that has a cohesive feel to it. So when we're looking at our films, you start to see a through-line amongst our years, where we have selective liberal, short blocks, and documentary blocks, and Nordics films that feel like you're sitting down and watching a program from beginning to the end of the lot.
What are some benefits to filmmakers submitting to the festival?
LL: In normal years, we have for many years given away travel for American filmmakers to go to the Nordic region and meet the film industry airing with the markets and distribution. We want to see that networking so that the American independent market could meet the Nordic market and hopefully build some collaborations out of that. We asked the founders who are available, and whenever they reach out to us, our alumni reach out to us. We are happy to help. We do not have screenings [year-round] in different setups in collaborations with different institutions...we have one big event per year and then the rest is more sporadic.
Johan Matton: And during that event, we are giving away educational programs to the filmmakers who are winning certain categories, in cooperation with New York Film Academy.
Talk about why 50% of this year's ticket sales are going toward the Black Lives Matter movement.
LL: Being a Nordic festival, we've quite openly struggled with a great diversity from all the Nordic films. The Nordic region is quite the homogenous group of people and they tackle diversity issues very differently than the States. So what we've done since the first year was to have a silent theme that sort of influences the program a little bit, and it's always linked to the political climate.... We have started a diversity process where we have filmmakers fill out a diversity forum so we can get a better view on what it looks like in front of and behind the camera, on the films that get submitted to us.
JM: It's an underlying, private thought process that we have had, where we believe that film and cinema is at the forefront of change in the world. So for us to have the privilege to have filmmakers mixing up...and being a film festival, we have to look at the opportunity to create change in the world and enlighten people. Because we believe that the art comes first and then the political change. You usually see it in Hollywood. And then we see the conversation with Hollywood and we see the political landscape changing. And as a film festival, I believe we have an opportunity to see the issues and [bring] them forth so we can have the conversation and make a difference.
Any advice for attendees of the festival this year to get the most out of the program?
LL: Some people [choose films based on] what they're interested in. But we have a brand new concept this year that our senior programmer came up with, which is something called "programmers pairing." So if you're overwhelmed looking at the lineup like, Oh, I don't know how I can consume this content, what should I pick? We have three small groups of films that you can sort of purchase a ticket through together, that either complement each other or reflect each other in some way. And I think that's such a clever concept and I'm really excited to have that as a part of our festival this year, the three different little programs or pairings where we have already curated a mini-program within the program.
Do you have a favorite film?
JM: A film that I very much admire because I think it's executed so well, from the screenwriting point of view and all the way through directing and post-production and acting, is "Blue Valentine" with Michelle Williams and Ryan Gosling.
LL: I will mention a Swedish movie a couple years old now. It's called "Together." It's from Lukas Moodysson who did "Show Me Love" and "Mammoth." I love that movie, I think the story and the acting and directing are spectacular.