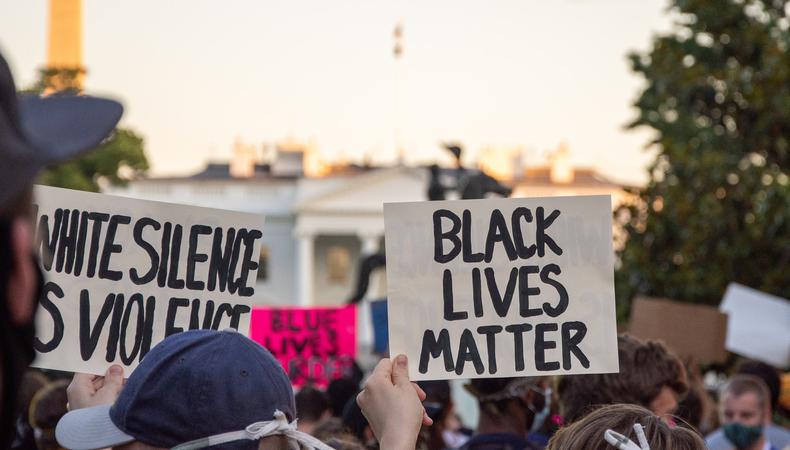 A resource for performers, creators, and allies to the Black Lives Matter movement including organizations, art, and people you can donate to, follow, and watch.
Backstage is committed to spotlighting, protecting, and uplifting black and brown narratives, and we want to give our readers access to the information they need to help us in that mission.
As Black Lives Matter protests swept the U.S.—initially sparked by the murder of George Floyd in May 2020—Hollywood and Broadway have been forced to reckon with their own racial disparities. Below, we've compiled the latest news regarding BLM's impact on the entertainment industry.
September
Broadway Advocacy Coalition Founds "Artivism Fellowship"
The Broadway Advocacy Coalition announces a new activism fellowship that focuses specifically on Black women artists.
August
Lincoln Center Theater and Second Stage Theatre Artistic Teams Hire New Directors
Two of New York's most renowned nonprofits, Lincoln Center Theater and Second Stage Theatre, have announced high-profile hires who are women of color.
Will a Post-COVID Broadway Be a Fairer One? Can It Be?
Broadway has long been inaccessible for people of color—will the industry standstill allow for systemic change?
June
McDonald, Warren, Okpokwasili Win at Inaugural Antonyo Awards
On June 19, Broadway Black hosted the inaugural Antonyo Awards—a counterpoint to the Tony Awards, celebrating excellence from Black actors, designers, and creators on and off Broadway.
Audra McDonald and Dozens More Industry Leaders Form Black Theatre United
On June 16, a new alliance of Black theater professionals came together in response to the most recent string of police brutality against Black people.
The Long-Overdue Conversation About Racism on Broadway
Only nine Tonys have been awarded to Black theater-makers over 73 Broadway seasons.
Black Actors Respond to Black Lives Matter Movement
Hollywood actors like John Boyega and Michael B. Jordan spoke publicly about their experiences with racism.
The Writers Guild Foundation has compiled a list of nonprofits, collectives, and production houses that support Black creatives (with a focus on writers and filmmakers). For a more holistic resource, see artist Annika Hansteen-Izora's evolving list of creative ecosystems and funds that support Black people across the country—with priority going towards those that support Black women and Black queer, trans, and nonbinary people.
We've also rounded up a list of organizations working towards racial justice more broadly—on federal, state, and local levels:
And our friends at the Freelancers Union have put together a "not-at-all-comprehensive list of resources for Black freelancers" that spotlight ways to get and give support.
Several streaming channels, including the Criterion Channel and Netflix, have put together curated collections of films and TV series by Black filmmakers, writers, and creators (some of which are available to watch for free). In addition to those titles, below is a list of educational documentaries and scripted films and shows that specifically focus on race, racial identity, and racial injustice, and rigorously examine the nuances of those conversations and existences.
FILMS
"13th" (Netflix)
From Ava DuVernay, "13th" is a documentary depicting the history of racial inequality in America with a focus on prisons and the ways in which the 13th Amendment has contributed to the disproportionate incarceration of Black people in America.
"American Son" (Netflix)
A Broadway play-turned-Netflix feature written by Christopher Demos-Brown, "American Son" takes a look at racial injustice within the police system and the very real ways it affects one interracial family. Directed by Kenny Leon and starring Kerry Washington and Steven Pasquale.
"BlacKkKlansman" (Hulu)
A return to form for the legendary auteur Spike Lee. Starring John David Washington and Adam Driver, the film follows the true story of an African American police officer (Washington) who infiltrated the KKK with the help of his Jewish colleague (Driver). A mix of comedy, drama, and social justice imagery, the 2018 film won an Oscar for best adapted screenplay.
"Blindspotting" (HBO Max)
The brainchild of Broadway's "Hamilton" star Daveed Diggs and long-time friend, poet, and actor Rafael Casal, this powerful film examines the complex relationship between best friends from the same neighborhood, one Black and one white. The narrative focuses on ideas of privilege, whiteness, incarceration, and racial profiling, and features an incredible spoken-word monologue from Diggs.
"Detroit" (Hulu)
Kathryn Bigelow's 2017 feature "Detroit" turns back the clock on the 1967 Detroit riots, one of the largest riots in United States history. The powerful story features heartwrenching performances from John Boyega, Anthony Mackie, Algee Smith, and more. Sadly, and unsurprisingly, the events from more than 50 years prior remain resonant.
"Do the Right Thing" (Rent or Buy on Amazon)
A game-changer of a film from Spike Lee, this 1989 classic examines racial tensions in Bed-Stuy, Brooklyn. The film was nominated for two Oscars and stars Lee, Ossie Davis, Giancarlo Esposito, Ruby Dee, John Turturro, Danny Aiello, and more.
"Fruitvale Station" (Rent or Buy on Amazon)
Ryan Coogler writes and directs this biographical drama that follows Oscar Grant III, a Black man, on the last day of his life before he is killed by public transportation security in the Bay Area. The critically acclaimed film features a career-making performance from Michael B. Jordan.
"If Beale Street Could Talk" (Hulu)
A gorgeous look at the romance between a young Black couple that is tested when the man is wrongfully arrested. Academy Award winner Barry Jenkins ("Moonlight") adapts James Baldwin's "If Beale Street Could Talk" for the big screen. The film features stunning performances from KiKi Layne, Stephan James, Regina King, Colman Domingo, and Teyonah Parris.
"Loving" (Rent or Buy on Amazon)
Based on the true story of the Virginia arrest of an interracial married couple in the United States that lead to Supreme Court's historic decision in 1967. It's a heartbreaking but beautiful look at the prejudice they suffered and overcame powered by stellar performances from Joel Edgerton and Ruth Negga, who received an Oscar nomination for her portrayal of Mildred Loving.
"Moonlight"
This 2016 indie from filmmaker Barry Jenkins won the best picture Oscar for a reason. Divvied up into three acts—"Little," "Chiron," and "Black"—the coming-of-age drama follows our queer, black hero as he navigates life in modern-day America with interrelated, often traumatic life experiences.
"Mudbound" (Netflix)
Directed by Dee Rees, this 2017 Netflix entry centering on two men—one Black and one white—from the same small town in Mississippi returning from World War II, and the stark differences in what coming home after years overseas means. It stars Mary J. Blige, Jason Mitchell, Carey Mulligan, Jonathan Banks, and Garrett Hedlund.
"Queen & Slim"
As much an of-the-moment Black Lives Matter feature as you're likely to get, this gorgeous and devastating feature from screenwriter Lena Waithe and director Melina Matsoukas stars Daniel Kaluuya and Jodie Turner-Smith as a Bonnie and Clyde on the run after they shoot a racist, brutalizing cop in self-defense.
"Seven Seconds" (Netflix)
A Netflix original series starring Oscar and Emmy Award winner Regina King, "Seven Seconds" follows the story of a white police officer who kills a Black child in a hit-and-run accident and the racial tensions that follow.
"Stay Woke: The Black Lives Matter Movement" (YouTube)
"Stay Woke: The Black Lives Matter Movement" is a documentary that premiered on BET in 2016. Led by Jesse Williams, the piece explores how the Black Lives Matter movement came to be.
"The Hate U Give" (Hulu)
This 2018 feature directed by George Tillman Jr. stars Amandla Stenberg as a young woman who witnesses the fatal shooting of her best friend at the hands of a police officer and follows the action she takes thereafter.
"Whose Streets?" (Hulu)
This 2014 documentary follows the 2014 uprising that took place in Ferguson, Missouri, after the killing of the 18-year-old Black man Michael Brown.
TV SERIES
"American Crime"
This little-watched but acclaimed anthological series from ABC and creator John Ridley stars a never-better Regina King and unflinchingly tackles everything from modern-day slavery by way of illegal immigration and the economy of underage sex workers, to racial and religious prejudices in the American legal system, to the plethora of class, gender, and race dynamics within elite private schools.
"Atlanta"
Multi-hyphenate actor-writer-producer Donald Glover received wide-spread acclaim for this FX entry centered on a group of friends living in Atlanta, Georgia. The dramedy touches smartly (and sometimes with a surreal edge) on elements of race and opportunity in the music industry and beyond, and stars Glover, LaKeith Stanfield, Brian Tyree Henry, and Zazie Beetz.
"Black-ish"
Starring Tracee Ellis Ross, Anthony Anderson, Marsai Martins, Jennifer Lewis, Yara Shahidi, and Laurence Fishburne, this Emmy-nominated ABC sitcom tackles everything from being Black in a white neighborhood to police brutality—uncharted territory for a network family show.
"Insecure"
From self-made Hollywood success Issa Rae is the HBO adaptation of her former comedy web series "The Misadventures of Awkward Black Girl," "Insecure." The half-hour comedy focuses on the rarely told story of Black female friendships with Rae and Yvonne Orji at its core, and Jay Ellis, Natasha Rothwell, Amanda Seales, and more rounding out the rest of this phenomenal cast.
"Orange Is the New Black"
One of the few shows told from the perspective of the policed rather than the police, this early success from Netflix follows the various stories of the female inmates at Litchfield Correctional Institution and features one of the most inclusive Black and Latino casts on television.
"Watchmen"
Much more than a rehashing of the cult-classic graphic novel and the 2009 feature film adaptation, Damon Lindelof's visionary take on the "Watchmen" universe tackles evils more human than supernatural: racism in America. He even opens the series with the Wall Street massacre and examines how that race-based violence echoes through to present day.
"When They See Us" (Netflix)
Created, co-written, and directed by Ava DuVernay, "When They See Us" centers on the false accusations of five Black and Latino males, known as the "Central Park Five," and the fraudulent charges and prison time they faced in relation to the rape and assault of a woman in late 1980s New York. The film's learning companion is available here.
Ava DuVernay (@ava)
Ava DuVernay is one of the leading Black visionaries in Hollywood, bringing such projects as "Selma," "13th," and "When They See Us" to screens big and small.
Amanda Seales (@amandaseales)
Comedian, author, actor, producer, and podcast host Amanda Seales has consistently used her Instagram platform to further conversations around race and sexism in Hollywood and beyond. The star of "Insecure" and creator of Smart, Funny, and Black posts resources and astute observations while leaving some space for levity whenever possible.
Trevor Noah (@trevornoah and @thedailyshow)
Since taking over "The Daily Show" in 2015, Trevor Noah has been a prominent voice in the fight for social justice lending searing and clear-cut commentary on current events. The South African-born comedian has won an Emmy Award for his work on the talk show, and is also a New York Times bestselling author for his autobiography "Born a Crime."
Audra McDonald (@audramcdonald)
Though she has won more Tony Awards than anyone else in history, Audra McDonald still finds time to engage with causes near and dear to her, which prominently includes social justice.
Jesse Williams (@ijessewilliams)
An actor known for his work on "Grey's Anatomy," Jesse Williams is also a fervent activist. He received the BET Humanitarian Award in 2016, and used his speech to highlight racial injustice and police brutality.
Yvette Nicole Brown (@yvettenicolebrown)
Yvette Nicole Brown is known for her roles on "Community" and "Drake and Josh," and as such, she will bring the funny online, but she has also been a loud supporter of the Black Lives Matter movement, and has been providing helpful resources for her followers. Find her on Twitter @ynb and Instagram @yvettenicolebrown.
Janelle Monáe (@janellemonae)
As prolific a musician as she is an actor, Janelle Monáe is as much an activist and speaks out on her social platforms as much as she does in her work.
John Boyega (@johnboyega)
Now best-known for starring in the latest "Star Wars" trilogy, John Boyega has been a strong supporter of the Black Lives Matter movement for years. He also frequently speaks to the ways in which he has personally been subjected to racism.
Mj Rodriguez (@mjrodriguez7)
Mj Rodriguez has become one of the biggest stars of the small screen thanks to "Pose," a series that features the largest-ever number of transgender actors as series regulars in its cast. She is an active voice for both Black and transgender communities.
Austin Channing Brown (@austinchanning)
Writer, speaker, and practitioner on a mission to help organizations practice inclusion in their spaces and have conversations around racial injustice.
Bozoma Saint John (@badassboz)
The CMO at Endeavor has been using her platform to have discussions around Black inclusion in brand strategy and awareness.
The Conscious Kid (@theconsciouskid)
A great resource for parents struggling or looking for guidance on having tough conversations around race, culture, and bias with their children.
Check Your Privilege (@ckyourprivilege)
A guide to "dismantling relationships with systems of domination."
Luvvie Ajayi Jones (@luvvie)
Host of the "Rants & Randomness" podcast as well as New York Times bestselling author of "I'm Judging You: The Do-Better Manual" Jones uses comedy and technology to further racial justice initiatives.
Brittany Packnett Cunningham (@mspackyetti)
Co-host on "Pod Save the People" and a member of President Barack Obama's 21st Century Policing Task Force.
Rachel Elizabeth Cargle (@rachel.cargle)
A writer and activist working at the intersection of race and womanhood.
By default, no ethnicity or gender is assigned to roles on Backstage's Post a Job system, to encourage color-blind and gender-blind casting.

Productions can optionally tag a specific ethnicity and/or gender, or any combination of ethnicities and genders, to each role. However, in general, these tags are describing the fictional role/character, not necessarily the talent themselves—anyone can still apply to any role, regardless of whether or not their profile is an exact match for the role description, and the productions can then evaluate all applicants together and easily cast against type.
Casting notices are actively edited for racist and hateful language.
Looking for remote work? Backstage has got you covered! Click here for auditions you can do from home!