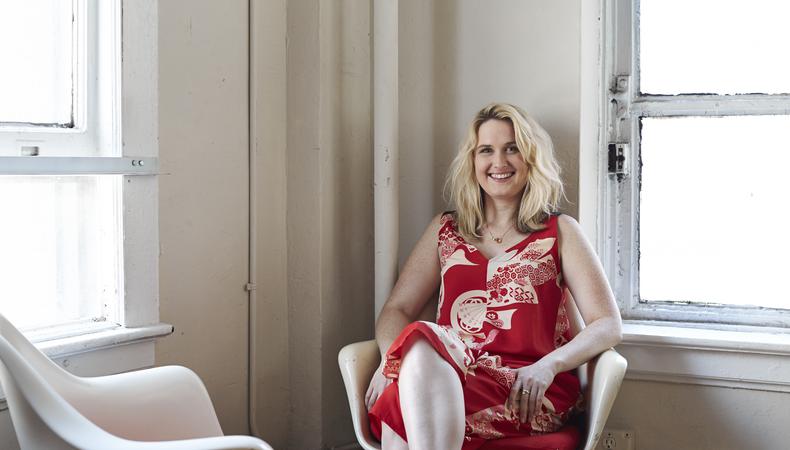 Welcome to Behind the Fest, Backstage's questionnaire series with film festival figures looking for that next big festival hit. Featuring behind-the-scenes insight from the organizers and programmers at Sundance, TIFF, Cannes, and more fests from around the globe, these tips might just hold the key to your indie film success story!
The 20th annual Tribeca Film Festival emerges as the first major American film festival since the start of the pandemic over a year ago to bring back in-person events. The historic downtown New York festival has always marked the beginning of Hollywood's awards season, and the 2021 program is even more significant given its return to festival-going normalcy and last year's cancelation.
With this return comes the addition of an official podcast section of the festival, featuring world premieres of fiction and nonfiction series. The opening night film will be Jon M. Chu's screen adaptation of Lin-Manuel Miranda's musical "In the Heights," while closing night will be hosted at a full-capacity Radio City Music Hall with a COVID-vaccinated audience. Other special events include live recordings and a preview of the queer action comedy Audible Original "Hot White Heist," produced by Alan Cumming and starring Cynthia Nixon, Bowen Yang, and Bianca del Rio. Over 60% of this year's feature films are directed by female, BIPOC, and LGBTQ+ filmmakers, with the festival receiving a record high of over 11,000 submissions overall.
This year's Tribeca Film Festival takes place June 9–20 at venues across the city, with the Tribeca at Home virtual hub making premieres available for those participating virtually. Backstage spoke with Cara Cusumano, festival director and VP of programming, about the return of in-person movie-going—"I just hope that people know that the schedule is up, the tickets are available, and they make a point to come out and see something in person!"—and advice for filmmakers looking to follow in the footsteps of Tribeca success stories.
How does Tribeca currently fit into the larger festival landscape? What role does it play?
I think that we're playing a really important role at this moment in time after over a year of festivals not really being able to happen in person. All of the virtual events that have happened have been incredible, and I'm so in awe of our industry adapting so creatively. But I think we've been missing that big, communal, big screen, in-person, live experience and the connection with each other and with filmmakers. And so, to be able to bring that back and lead the way and do something of this scale is really important for the festival landscape as a whole, and for filmmakers and audiences, too.
What is the process of selecting programming like at Tribeca?
It's a lengthy process. Pretty much as soon as the festival ends, we start thinking about the next year and tracking films that we know are being made. We open for submissions. I think we opened for submissions this year in the late summer, early fall. So over that time, 10,000 submissions came in across all of our different categories. We have a pretty big team and each of them are devoted to a very specific area, whether that is podcasts or feature films. Even within that, people are just watching international documentaries and getting really familiar with what is coming in so that they can really speak to what they're recommending as the best of the landscape [each] year.
What year-round resources through Tribeca should new filmmakers know about?
People should know about Untold Stories, which is a grant that the festival gives a million dollars to actually make a feature film. So you can submit scripts for that, and that's devoted to underrepresented directors and filmmakers. And there's a couple different kinds of short film labs and development programs we have. Through Her Lens is one that I think has been really incredible, sponsored by Chanel, that's for a female filmmaker making a short film. And we select some finalists and they come to the city and do a series of educational labs and internship programs. Ultimately, one of them is awarded funds to actually make their short film.
Do you have any career or craft advice for new filmmakers?
In terms of submitting to festivals and making sure that you stand out, it's important to trust your own voice and your unique experience. We see a lot of films that don't work because people tried to make something they thought everyone else would like, or they tried to kind of edit themselves, or they think something will be perfect for Tribeca. But they should make something that's perfect for them. And that's the stuff that we really do respond to, that has personality and uniqueness.
Do you have favorite Tribeca success stories that have come out of the fest?
There have been some really great filmmakers that have had their first work at Tribeca, from Alma Har'el [of the award-winning film "Honey Boy" to] Nia DaCosta, who just directed the new "Candyman" movie for Jordan Peele and is next going to do "Captain Marvel 2." We had Ryan Coogler's very first short film played at Tribeca. Obviously he's done well for herself!
And then a film like "Virunga," that I thought was a really amazing discovery for us, maybe five or six years ago, went on to be nominated for the Oscar, and ultimately had real world impact and change. So a different kind of success story that I think is equally important to this environmental film that managed to actually save this group of wild apes that they were trying to protect and raise awareness around.
Talk about the decision to include a podcast section this year. What do you hope it does for the future of the fest?
The festival, for many years, has embraced interdisciplinary storytelling that goes beyond just film and embracing creators who are telling their stories in cinematic ways in all kinds of platforms, and you can see that in our immersive programming and our TV programming. Podcasts were a place where we felt like there was a real explosion of creative, cinematic storytelling happening and we, as curators, could have a role to play there in helping major work get launched, but also really discovering new talent. And there's such an easy barrier of entry for people to be making their own podcasts independently that we felt like as curators, we could really come into this space and help elevate those really talented voices and connect them with a bigger audience.
And what's a favorite film you've seen recently?
We just got to add Steven Soderbergh's "No Sudden Move" to the festival this year as the centerpiece, so that was so much fun to get to watch. We've been watching amazing documentaries and amazing indie films, but...a big, new movie with a great, legendary director, telling kind of a fun pulpy crime story? I totally ate it up.