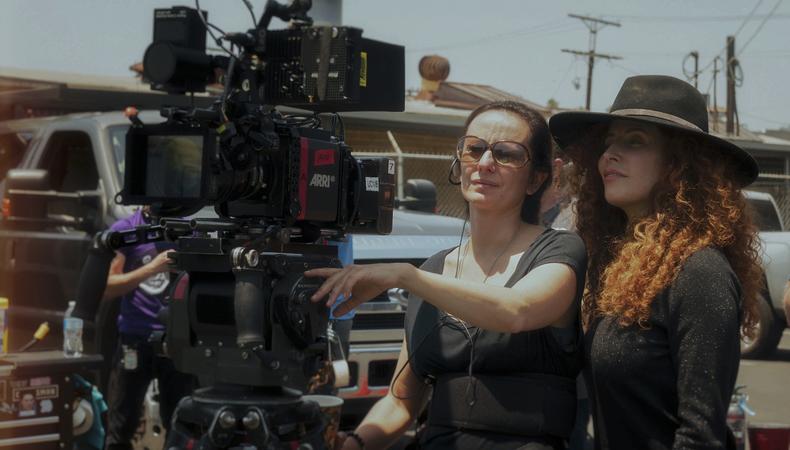 In 2017, following a series of public drunken outbursts and altercations with the police, actor Shia LaBeouf was ordered to 10 weeks in rehab. There, he was diagnosed with PTSD, stemming from childhood abuse at the hands of his father. Those events are the basis for LaBeouf's newest film, "Honey Boy," about a child actor named Otis whose father is equal parts encouraging and cruel. It is scheduled to be released Nov. 8 by Amazon Studios.
As part of his therapy, LaBeouf was asked to write down his childhood memories. He wrote them in the form of a script, which he then emailed to director Alma Har'el. "He was convinced no one would work with him again; it was a pretty hard time," she recalls. "I got that email and once I read it, I felt it should be turned into a film. The two had previously worked together on the music video for Sigur Rós' song "Fjögur píanó," which dealt with similar themes of addiction and abuse.
LaBeouf's father, depicted as the character James in "Honey Boy," was a mercurial figure; he was a former clown who would run lines with LaBeouf but was also a felon and a recovering alcoholic. "What was very clear from the script was the relationship between father and son: the exploring and competition between them; the expectation of masculinity; the frustration and the shame of the father as well as the love and the need for approval from the child and the position he found himself in, needing to actually pay his father for chaperoning him," says Har'el. "All of that, combined with my own inclination for this topic—because I too am a child of an alcoholic—made for perfectly ripe material for me to want to dive into."
From that initial email, Har'el went back and forth with LaBeouf on revisions ("I think we went through probably 80 or 90 drafts"). Within two months of LaBeouf's release from rehab, they were in preproduction for "Honey Boy," which in its final form depicts both Otis as a boy and as an adult in rehab, working through his anger and trauma.
Har'el didn't want "Honey Boy" to be a straight biopic. Instead, she wanted it to be something of a therapy session for her collaborator, so it was decided that LaBeouf would play James. Har'el used her experience from her previous films, where she had a therapist on set to help her subjects work through their memories. "[Shia] being able to play with his younger self seemed like a therapeutic approach," she remarks. LaBeouf wore nose plugs throughout the filming process to impede his breathing so he could mimic his father's slow, nasal speaking voice."
When casting Otis, Har'el didn't want actors who looked like LaBeouf. Instead, she wanted young men who could develop meaningful relationships with her star. Noah Jupe was cast to play the child Otis, while Lucas Hedges plays the adult version. For three months before filming began, the three actors worked on their characters together.
"Noah and Shia spent every day together juggling and hanging out and going to baseball games and playing cards together. They had so much history when they walked into that room that it made it so much easier," says Har'el. "And the same thing with Lucas, who was literally walking in Shia's shoes from the day he got to Los Angeles. He borrowed Shia's shoes and walked in them."
Since "Honey Boy" is her first narrative film, Har'el brought in her experience working on music videos and documentaries to create a filmscape that is dreamy and poetic. To her, the film isn't just about one boy and his father; it's about the disillusionment that every child eventually has with their parents, and how to go from pain to forgiveness.
"I think it's something kind of universal, which everybody shares," says Har'el. "There's a certain amount of pain you inherit that is generational, and then you kind of have to figure out how to spend that pain. I think Shia spent it on this script and this film."
This story originally appeared in the Nov. 7 issue of Backstage Magazine. Subscribe here.
Want to hear more from the best creators in film, TV, and theater? Get it right here!