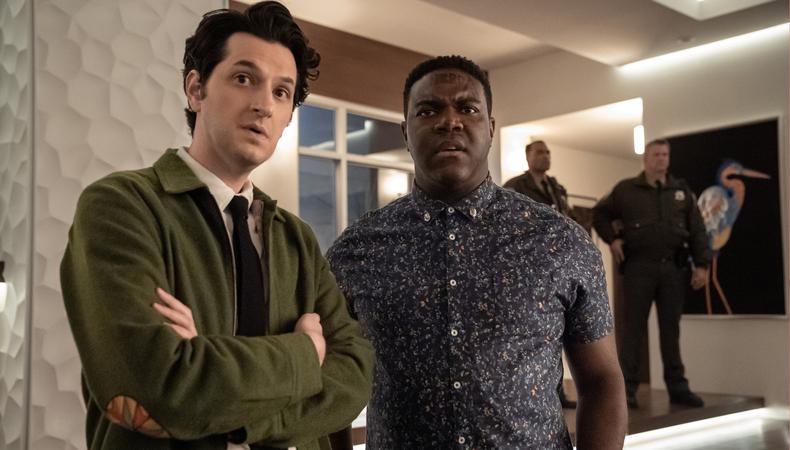 Ben Schwartz has come a long way from doing improv and sketch with his group Hot Sauce at the Upright Citizens Brigade Theatre. The Emmy-winning writer and comedian is perhaps best known for his scene-stealing turn as Jean-Ralphio on "Parks and Recreation" and for voicing the titular speedy blue rodent in "Sonic the Hedgehog" and its recent sequel. But his turn as Yasper on Apple TV+'s murder mystery–comedy "The Afterparty" might just be his best work yet.
On "The Afterparty," series creator Christopher Miller encouraged Schwartz to lean into his improv roots.
"The fun is once you know the parameters of what you're allowed to play with. When you find your constraints, you know what you're saying. I find this with any type of improv: The goal isn't to make the scene something else. For example, [say] we are talking about what we ate, and then me being like, 'Oh, my God, there's a dolphin over there. Can you believe that dolphin is jumping right at us?' That doesn't make sense. But if I know what we're really talking about, if I know what our scene is about, then, dramatically or comedically, I can improvise within the confines of that. I did that quite a bit for ['The Afterparty']. I always felt taken care of, and because of that, I took bigger risks with my improv. It's always finding out what my character's intentions are."
Failure was a big part of finding his comedic voice.
"If you want to be an actor, find a stage and get on the stage. I performed at a yoga studio once! Anywhere that they would let me get onstage, I'd get on. Doing that allowed me to find the things that I should push away from, find the things that I should push toward. Through those failures, risks, and lessons, you gain confidence. Not narcissism or ego, but confidence in being onstage and being a performer."
Not knowing what the future holds can be your greatest asset as an early career creator.
"[When I was younger,] I dedicated every minute of my life to [performing,] because I wanted so desperately to be a part of this industry and loved the idea of making people laugh. I would wake up at 5 a.m. and write freelance jokes for David Letterman's monologue. On my lunch break, I would sleep in the security office. And then after that, I'd go to Upright Citizens Brigade, and I'd take classes or I'd intern. And then I'd get on a train to get back to Westchester at 1 a.m., and I just wouldn't sleep. I loved it so much. I loved being around all these creative people and loved laughing at other people's performances. But I also loved the idea of me doing a show and people laughing and feeling better when they left than when they came. I think that drive and that anxiety, which is still inside of me is, comes from a place of: Holy shit! Will I ever be able to do this? Will I ever be able to maintain this?"
This story originally appeared in the Jun. 2 issue of Backstage Magazine.