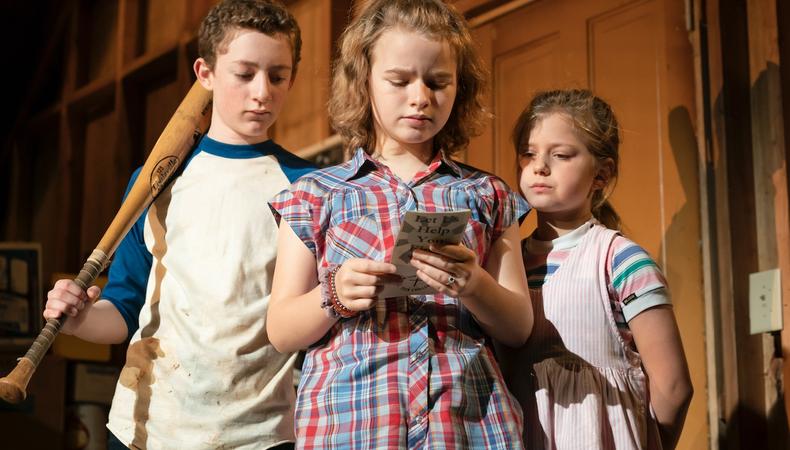 That children may actually hold the key to life's existentialism is one of the very big ideas to manifest from the very small characters at the heart of "Make Believe." The familial drama, wherein four siblings are portrayed in its first half by young actors, may be a first of its kind play: for adults, but largely about children. But it was in fact those kids who, as she pieced the show together, pushed playwright Bess Wohl to cross-examine what she knows she doesn't know.
"I was becoming a mom at the time [I was writing it], and I think when you become a parent, your own childhood bubbles up. Suddenly I remembered things that had been buried," Wohl recalls. "I started to question the whole conventional trajectory of life that is, you're born with all these questions and then you grow up and the answers become apparent. I realized, maybe it's the opposite: You're born understanding and you grow up and realize what a total mystery the entire thing is. Part of what the play is getting at is this idea that maybe the adults know even less than the kids do."
Profundity in unlikely places is to be expected from Wohl, an Off-Broadway stalwart who's intimate with defying convention. One of her best-known plays "Small Mouth Sounds," for example, is set amidst a silent retreat and infamously features hardly any speaking throughout its 100-minute entirety. But even so, with "Make Believe" (running through Sept. 15 at Second Stage's Tony Kiser Theatre), Wohl will push the parameters of the form in new ways, still.
READ: 29 Broadway Power Players Actors Should Know
"I was really interested in children onstage. I felt like every time I saw kids in anything, they were on the outside of the action. I was also interested in people whose perspective we don't normally see, and putting them centerstage," she explains. "The one piece of apprehension I had—that was completely wrong—was, 'Will [the child actors] be able to memorize their lines?' But they're incredible; if only all adults were as locked down as these children. They're also wonderful actors. It's interesting to see what they bring of their own understanding of the world to the process. It feels like a really essential part of how this play has been made."
That aspect of working with children, Wohl explains, is actually no different from working with any actor in the developmental phase of her shows; her writing is heavily informed—and even shaped—by actors.
"Something I learned a long time ago is, sometimes when you cast the actor who seems exactly right for the character, it's less interesting than when you cast the actor who's a little off," she says. "There is an interesting friction between the words and the person and it makes everything feel more textured and layered and deep."
To be clear, her collaboration with actors doesn't just start once they've been cast. Frequently for Wohl, particularly as a playwright who works predominantly on new plays, actors can be consequential the moment they walk in the room.
READ: The Cosmic Connections Between the Women of 'Hadestown'
"It's so great to explore and see people bring in their takes on the characters, and I always feel immense gratitude that people got my play at home and read it and worked on it and got dressed up—some of them put on makeup!" she praises. "I think what actors don't realize is the playwright is sort of in Hell during auditions because you're listening to the text and secretly just wondering if a scene works. It's such an incredible feeling when that right person walks in the room and the whole thing just clicks. You breathe this sigh of relief, partially because you found the person, but also because you're like, 'Oh, this scene does work.' "
The "perfect" pairing, ultimately, may not actually exist between actor and the character as it exists on the page. For that reason, Wohl urges you to simply bring your whole self into the room, because oftentimes, that interpretation will be more compelling than the way a role was initially conceived.
"Sometimes you never find that person who's the perfect click. In that case, you go through all the auditions and you are looking at the work people did, you are figuring out the closest fit, who seems the most malleable, who was taking direction best," she says. "What actors can do to be that person is bring themselves into the room and all their complications. No part that I can write is as interesting as a person—any person—who walks in the room. I'm looking for how this actor is meeting the material and how they're finding themselves in the character, rather than diluting or simplifying themselves to fit the character."
That Wohl—who will additionally make her Broadway playwriting debut this winter with another show, "Grand Horizons"—would contort a role in the name of more sincere storytelling fits precisely within her broader playwriting purview: to find resonation within the specific by writing as authentically to her own experiences as possible. Naturally, that's the same advice she'd give to other writers.
"With every play, you sit at the computer and think, 'How do you write a play?' because nobody really knows, which is the great thing about writing plays," she says. "I think it's a really exciting time to be a playwright and a female playwright in particular because stories [the industry] had said wouldn't be meaningful to the larger world really are. For a long time I tried to think, What does the world care about? And I am shifting now to think, What do I care about? What is the truth of my own experience as a woman? If you tell it truthfully, no matter who you are, your own story matters."
Want to hear more from the best creators in film, TV, and theater? Get it right here!