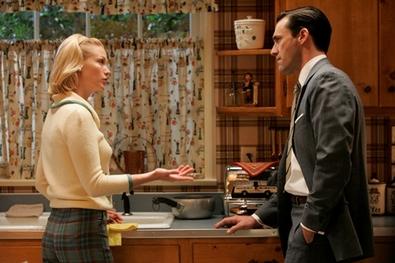 It's the end of an era.
"Mad Men," the 1960s advertising drama that has held up a new standard for television's golden age since its debut eight years ago, begins airing its final episodes April 5 on AMC. In honor of creator-director Matt Weiner, costume extraordinaire Janie Bryant, and its phenomenal cast, we're recounting seven of the show's best acting moments, one from each of its seven seasons. So sit back, pour yourself a cocktail, and, as Don (Jon Hamm) would say, take a spin on the carousel.
Warning: Spoilers ahead!
Betty gets fired up in Season 1, Episode 9, "Shoot"
"Mad Men" is a show made up of gorgeous moments, visually, intellectually, and emotionally. The first season's astonishing attention to 1960-specific detail had critics and cinephiles rethinking what television could do for period drama. And although there were many memorable performances—Don's affair with Rachel (Maggie Siff), the "basket of kisses" that changed Peggy (Elisabeth Moss) forever, and that first swish across the office from queen bee Joan (Christina Hendricks)—nothing remains more iconic than the final frame of "Shoot."
January Jones charts the decline of Don and Betty's marriage beautifully, and in this episode dips her pinky toe outside the parameters of her perfect housewife status. After Betty briefly returns to work as a model, Don's work politics interfere and she's forced to pretend her hopes weren't dashed to pieces. The scene when she's let go reveals a rarely seen vulnerability, but it's the episode's closer—Betty shooting a BB gun at the neighbor's pesky birds, cigarette dangling lazily from the corner of her mouth—that cements itself as proof that Jones helped put this series on the map.
Don and Peggy cover for each other in Season 2, Episode 5, "The New Girl"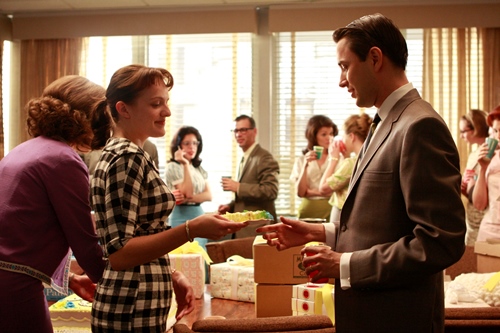 Carin Baer/AMC
"This never happened. It will shock you, how much this never happened." Don and Peggy's relationship is unlike any other on television: mentor-mentee, friends then enemies, father-daughter, sometimes mother-son. In Season 2, in the midst of Don's torrid affair with Bobbie (Melinda McGraw), we learn Don and Peggy both have dirt on each other: A flashback reveals Don was there just after Peggy delivered her baby. Hamm and Moss hit the scene out of the park, shifting their characters' complicated partnership to a more equal standing. What he teaches her about reinvention and ignoring painful truths is quintessential "Mad Men," and, one could argue, quintessentially American.
Everybody loses their jobs in Season 3, Episode 13, "Shut the Door. Have a Seat"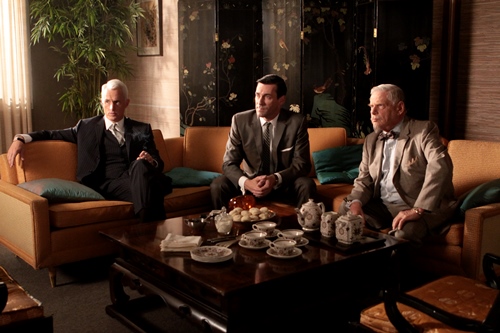 Carin Baer/AMC
Business shenanigans are the best. When Sterling Cooper's employees learn they're about to be bought out by a larger ad firm, Don realizes they can sever their contracts and move all their accounts and supplies to a brand new company. With everyone's career suddenly in flux, Don's marriage to Betty finally crumbles. The entire episode is too good to pick any one moment, but Lane (Jared Harris) merrily rejecting his former employers over the phone is certainly a highlight, as is Roger (John Slattery) calling in Joan and Bert's (Robert Morse) approving smile upon seeing her sashay back into the office.
Don and Peggy get to work in Season 4, Episode 7, "The Suitcase"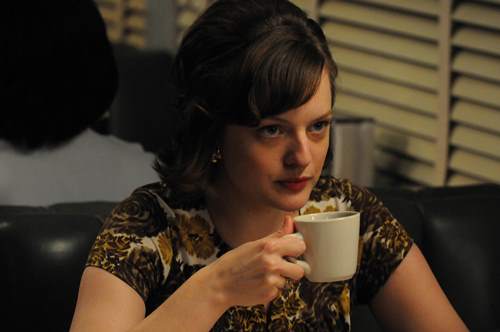 Michael Yarish/AMC
What many refer to as the show's crowning achievement is an episode mostly dedicated to one long, fraught night at the office featuring Don and Peggy. Fiercely acted throughout, "The Suitcase" proves that all is not necessarily lost for Don, who finds in Peggy a loving friend in a time of need. Moss can shamelessly weep like nobody's business, and Hamm imbues the final scene—he places his hand on hers in an echo of the pilot episode—with profound poignancy. It's a dual masterclass from two of the best performers on television.
Joan makes her big move in Season 5, Episode 11, "The Other Woman"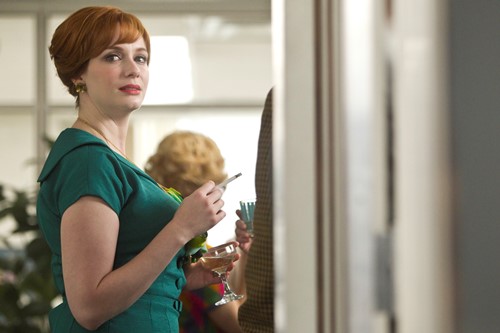 Jordin Althaus
Season 5 found Joan in several turning points. Hendricks delivered the ultimatum to her scoundrel of a husband (Sam Page) with chilling grace: "You're not a good man. You never were. Even before we were married and you know what I'm talking about." But it's Joan's later bid for a partnership that gives Hendricks the chance to really show off. In a goosebump-inducing scene, she agrees to sleep with a client to secure the company's Jaguar account. The dead look in her eyes as he removes her fur (a fur former lover Roger gave her!!) defies description.
Sally sees Don in a new light in Season 6, Episode 13, "In Care Of"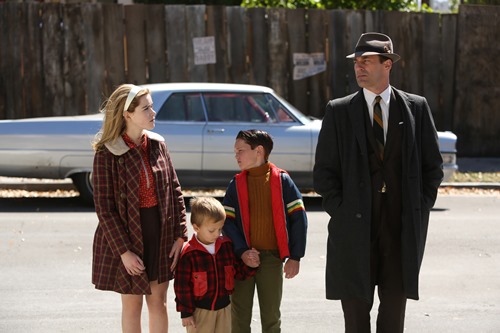 Jamie Trueblood/AMC
Much like the Season 3 finale, the kicker for Season 6 is a fitting cap for each character: Don's new wife Megan (the fabulous Jessica Paré) moves to L.A. in part to get away from him; Peggy gets her heart broken by Ted (Kevin Rahm) but sits victoriously in Don's vacated office; and, somewhat bizarrely, Pete's (Vincent Kartheiser) mother is lost at sea. Kartheiser gets to deliver the series' best comedic line—"Not great, Bob!!"—but it's the look Don's daughter Sally (Kiernan Shipka) gives him in the episode's final moment that trumps pretty much every other performance all season. Not only does Shipka look uncannily like Hamm and Jones' child, she's picked up their mannerisms and subtleties, steadily coming into her own as one of the strongest actors on the show.
Armstrong lands, Peggy conquers, and Roger mourns in Season 7, Episode 7, "Waterloo"

The most recent episode aired may also provide the series' best acting moment: Apollo 11 lands on the moon and each character watches the footage, as transfixed as we are. Peggy then pulls off the best advertising pitch of her career, a stirring monologue that doubles as a career high for Moss. Best of all is Roger's moving reaction to Bert's death. Before seizing control of Sterling Cooper & Partners and making everyone rich, Roger mourns his surrogate father with bitterness and regret. Slattery takes us to the brink of grief, and it's basically the saddest, most beautiful thing. Almost as sad as this show coming to an end. I'm not crying, you're crying!
(BONUS: Bert sings farewell.)


Justina Mintz/AMC
Need more "Mad Men"? Check out this week's cover story with Elisabeth Moss!