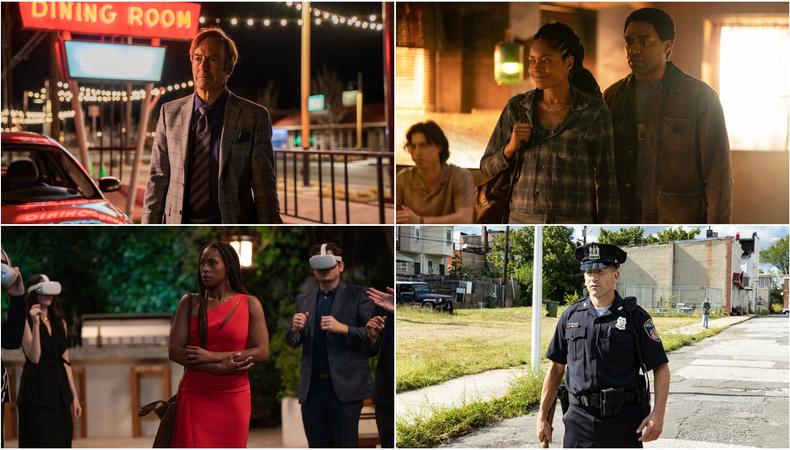 Television doesn't sleep. Backstage is breaking down, month by month, the buzzy shows and performances that merit attention from awards voters and couch potatoes in the ever-growing landscape of the small screen.
Spring has sprung, and so has a fresh crop of new and returning TV series. April sees the resurgence of several faves, including the second seasons of Netflix's "Russian Doll" (April 20), HBO Max's "The Flight Attendant" (April 21), and Amazon's "Undone" (April 29); Season 3 of HBO's "Barry" (April 24); and the sixth and final season of AMC's "Better Call Saul" (April 18).
Meanwhile, a few TV stalwarts are making their showrunning returns, including David E. Kelley with Netflix's "Anatomy of a Scandal" (April 15) and David Simon with HBO's "We Own This City" (April 25). Prestige dramas are heading to Washington, D.C., with Showtime's star-studded "The First Lady" (April 17) and Starz's "Gaslit" (April 24). For comedy aficionados, British sketch legend Catherine Tate is hitting Netflix with "Hard Cell" on April 12, and HBO's "A Black Lady Sketch Show" will return for its third season on April 8.
Read on for our must-watch picks for April, plus a full list of shows headed to your screen this month.
"Roar"
Following their show's abrupt cancellation in 2020, "GLOW" co-creators Liz Flahive and Carly Mensch are (pun intended) roaring back onto the small screen. "Roar," coming to Apple TV+ on April 15, is a new female-centric anthology series based on a 2008 short story collection by Cecelia Ahern. The show will be comprised of modern fables with names like "The Woman Who Was Fed by a Duck" and "The Woman Who Solved Her Own Murder." And trust us, the cast is to die for: Nicole Kidman, Cynthia Erivo, Issa Rae, Merritt Wever, and "GLOW" alums Betty Gilpin and Alison Brie among them.
"The Man Who Fell to Earth"
No, alas, David Bowie has not been resurrected; but Showtime's new adaptation of the iconic Walter Tevis sci-fi novel is still very good news. The miniseries from Jenny Lumet and Alex Kurtzman ("Star Trek: Discovery," "Star Trek: Picard") doesn't look like it will be as trippy as the 1976 Nicolas Roeg film, but it is a timely tale of an alien coming to Earth to try to save his dying home planet—and ours to boot. Oscar and Emmy nominee Chiwetel Ejiofor stars as the titular extraterrestrial, and Oscar nominee Naomi Harris plays the woman who befriends him. The series, which drops April 24, also features Clarke Peters, Bill Nighy, and Jimmi Simpson.
"We Own This City"
"The Wire" mastermind David Simon is returning to the streets of Baltimore with "We Own This City," a miniseries based on the nonfiction book of the same name by Baltimore Sun reporter Justin Fenton. Premiering April 25 on HBO, the six-episode show digs into the corruption at the heart of the BPD's infamous Gun Trace Task Force. Simon created the series alongside his "The Deuce" collaborator George Pelecanos; "King Richard" helmer Reinaldo Marcus Green directs. The ensemble, led by Jon Bernthal, includes Wunmi Mosaku, Treat Williams, Jamie Hector, and Josh Charles.
Acorn TV
April 4 – "Harry Wild" premiere
Amazon Prime Video
April 1 – "The Boarding School: Las Cumbres" Season 2
April 1 – "The Outlaws" premiere
April 15 – "How to Survive Being Single" Season 2
April 15 – "Outer Range" premiere
April 15 – "Verdict" premiere
April 22 – "A Very British Scandal" premiere
April 28 – "Bang Bang Baby" premiere
April 29 – "Undone" Season 2
AMC
April 10 – "61st Street" premiere
April 18 – "Better Call Saul" Season 6
Apple TV+
April 1 – "Slow Horses" premiere
April 15 – "Roar" premiere
April 29 – "Shining Girls" premiere
Bounce
April 3 – "Saints & Sinners" Season 6
Epix
April 24 – "Billy the Kid" premiere
FX
April 19 – "Mayans M.C." Season 4
HBO/HBO Max
April 1 – "The Informant" premiere
April 1 – "The Thaw" premiere
April 7 – "Close Enough" Season 3
April 7 – "Tokyo Vice" premiere
April 7 – "Trinity of Shadows" premiere
April 8 – "A Black Lady Sketch Show" Season 3
April 14 – "The Garcias" premiere
April 21 – "The Flight Attendant" Season 2
April 24 – "The Baby" premiere
April 24 – "Barry" Season 3
April 24 – "Three Busy Debras" Season 2 (airs the same day on Adult Swim)
April 25 – "We Own This City" premiere
April 28 – "Made for Love" Season 2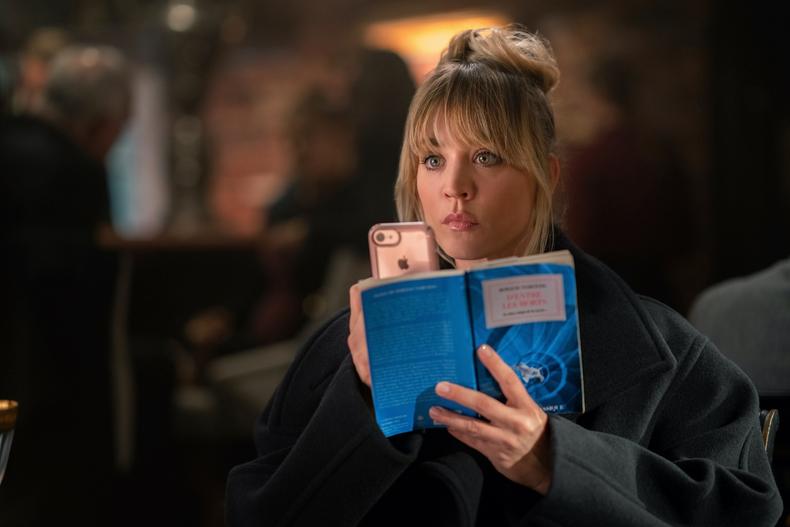 "The Flight Attendant" Photograph by Jennifer Rose Clasen/HBO Max
Hulu
April 6 – "The Hardy Boys" Season 2
April 8 – "Woke" Season 2
April 28 – "Under the Banner of Heaven" premiere
IMDb TV
April 22 – "Pretty Hard Cases" Season 2
Netflix
April 1 – "Tomorrow" premiere
April 5 – "Black Dog: Being a Teacher" premiere
April 8 – "Dirty Lines" premiere
April 8 – "Elite" Season 5
April 8 – "Metal Lords" premiere
April 9 – "My Liberation Notes" premiere
April 12 – "Hard Cell" premiere
April 13 – "Almost Happy" Season 2
April 13 – "Smother-in-Law" premiere
April 15 – "Anatomy of a Scandal" premiere
April 15 – "Heirs to the Land" premiere
April 19 – "Pacific Rim: The Black" Season 2
April 20 – "The Marked Heart" premiere
April 20 – "Russian Doll" Season 2
April 20 – "Yakamoz S-245" premiere
April 21 – "He's Expecting" premiere
April 22 – "Heartstopper" premiere
April 28 – "The 7 Lives of Lea" premiere
Paramount+
April 8 – "iCarly" premiere
April 14 – "Cecilia" premiere
April 28 – "The Offer" premiere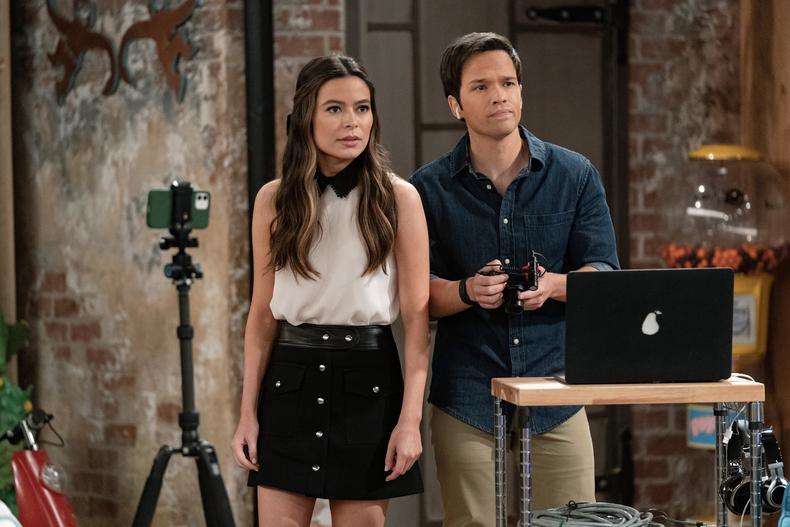 "iCarly" Lisa Rose/Paramount+
PBS
April 17 – "Annika" premiere
Peacock
April 14 – "Killing It" premiere
April 28 – "Smother" Season 2
The Roku Channel
April 15 – "Swimming With Sharks" premiere
Showtime
April 17 – "The First Lady" premiere
April 24 – "The Man Who Fell to Earth" premiere
Spectrum
April 4 – "Long Slow Exhale" premiere
Starz
April 24 – "Gaslit" premiere
TBS
April 10 – "Chad" Season 2