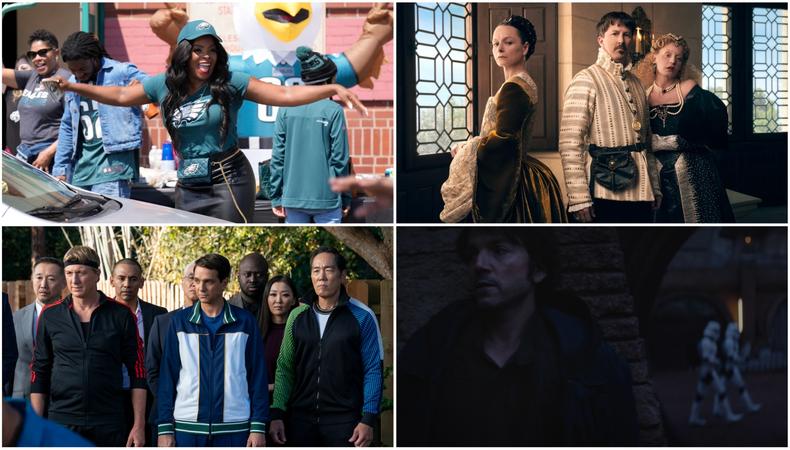 Television doesn't sleep. Backstage is breaking down, month by month, the buzzy shows and performances that merit attention from awards voters and couch potatoes alike in the ever-growing landscape of the small screen.
Next week, the 74th Emmy Awards will crown the best of last season's television. But with a busy schedule of new and returning shows on networks and streamers alike, September is also a time to look forward to what's next for the small screen.
Past Emmy winners making a comeback include the fifth season of Hulu's "The Handmaid's Tale" (Sept. 14), the final season of FX's "Atlanta" (Sept. 15), and Season 6 of Adult Swim's "Rick and Morty" (Sept. 4). Current nominee "Abbott Elementary" is returning for its sophomore season on ABC (Sept. 21), as are past contenders "Ramy" (Sept. 30 on Hulu) and "Cobra Kai" (Sept. 9 on Netflix). HBO cult hit "Los Espookys" is back for a second season on Sept. 16, and two longtime audience faves are debuting their final seasons: Paramount+'s "The Good Fight" on Sept. 8, and OWN's "Queen Sugar" on Sept. 6.
In case you were hurting for more high fantasy hot on the heels of last month's "House of the Dragon" premiere, Amazon debuted its long-awaited "The Lord of the Rings: The Rings of Power" at the top of the month. Disney+ is continuing to build out its galaxy of "Star Wars" spinoffs with "Andor," premiering Sept. 21, featuring Diego Luna reprising his character from "Rogue One." Meanwhile, NBC is rebooting the sci-fi classic "Quantum Leap" (Sept. 19); Showtime is debuting a series adaptation of 1980 film "American Gigolo" starring Jon Bernthal (Sept. 11); and "Lost" star Matthew Fox is going back to TV with Peacock's apocalyptic thriller "Last Light" (Sept. 8).
RELATED: How to Get Cast on 'House of the Dragon'
Here are our top three picks for the most promising new series dropping this month, as well as a list of everything else coming to the small screen in September.
"The Serpent Queen"
Fans of shows like "The Great" and "Harlots" have another juicy, irreverent period drama to look forward to. "The Serpent Queen" stars Oscar and Emmy nominee Samantha Morton as Catherine de' Medici, a scion of the powerful Italian Medici family who went on to marry France's King Henry II. Set in the 16th century, Justin Haythe's ("Revolutionary Road," "Red Sparrow") series is based on Leonie Frieda's book "Catherine de Medici: Renaissance Queen of France." The show, which drops on Starz Sept. 11, looks to be both fun and dishy—a refreshing contrast to the dour "House of the Dragon." Speaking of, "The Serpent Queen" also stars "Game of Thrones" villain portrayer Charles Dance as Catherine's uncle Pope Clement VII.
"Reboot"
Rebooted properties are a dime a dozen these days, but what about a show about making a reboot? Steven Levitan ("Modern Family," "Just Shoot Me!") created and executive produced this meta Hulu series (premiering Sept. 20) about a revival of "Step Right Up," a fictional 2000s sitcom for, yes, Hulu. Rachel Bloom ("Crazy Ex-Girlfriend") stars as the writer who proposes the reboot with the original cast, a deeply dysfunctional group of B-listers portrayed by Johnny Knoxville, Judy Greer, and Keegan-Michael Key. Fred Melamed, Krista Marie Yu, Paul Reiser, and Rose Abdoo, to name just a few, round out the killer ensemble. Here's hoping "Reboot" proves to be more interesting than all the actual reimagined IPs clogging up the airwaves.
"Entergalactic"
Multihyphenate Kid Cudi is expanding into adult animation with "Entergalactic," a TV special for Netflix that was originally intended to be a series. Cudi created and stars in the series, as well as executive producing alongside Kenya Barris ("Black-ish"). The show centers on Jabari (Cudi), an up-and-coming artist whose career gets sidetracked when he falls for his neighbor Meadow (Jessica Williams). Animated in a style reminiscent of "Spider-Man: Into the Spider-Verse," the special's star-studded voice cast includes Timothée Chalamet, Ty Dolla Sign, Vanessa Hudgens, Christopher Abbott, Jaden Smith, and Macaulay Culkin. "Entergalactic" premieres Sept. 30.
ABC
Sept. 21 – "Abbott Elementary" Season 2
Sept. 21 – "Big Sky" Season 3
Sept. 21 – "The Conners" Season 5
Sept. 21 – "The Goldbergs" Season 10
Sept. 21 – "Home Economics" Season 3
Sept. 25 – "The Rookie" Season 5
Sept. 27 – "The Rookie: Feds" premiere
Acorn TV
Sept. 5 – "Recipes for Love and Murder" premiere
Adult Swim
Sept. 4 – "Rick and Morty" Season 6
Amazon Prime Video
Sept. 1 – "The Lord of the Rings: The Rings of Power" premiere
Sept. 21 – "Prisma" premiere
Sept. 23 – "September Mornings" Season 2
Sept. 30 – "Jungle" premiere
Sept. 30 – "Un Extraño Enemigo" Season 2
AMC+
Sept. 1 – "Pantheon" premiere (also on HIDIVE)
Apple TV+
Sept. 2 – "Life by Ella" premiere
Sept. 9 – "Central Park" Season 3
BET+
Sept. 29 – "Zatima" premiere
CBS
Sept. 19 – "Bob Hearts Abishola" Season 4
Sept. 19 – "NCIS" Season 20
Sept. 19 – "NCIS: Hawai'i" Season 2
Sept. 19 – "The Neighborhood" Season 5
Sept. 20 – "FBI" Season 5
Sept. 20 – "FBI: International" Season 2
Sept. 20 – "FBI: Most Wanted" Season 4
Sept. 29 – "CSI: Vegas" Season 2
Sept. 29 – "Ghosts" Season 2
Sept. 29 – "Young Sheldon" Season 6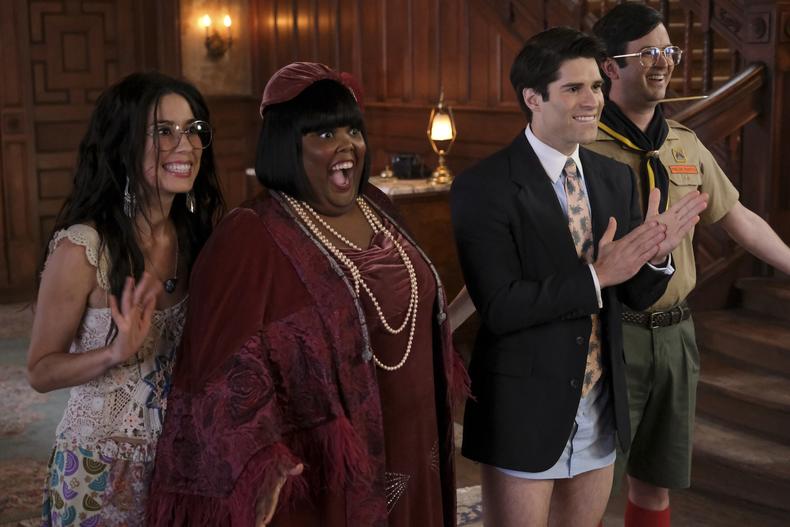 "Ghosts" Bertrand Calmeau/CBS
Disney+
Sept. 8 – "Cars on the Road" premiere
Sept. 21 – "Andor" premiere
Sept. 28 – "The Mighty Ducks: Game Changers" Season 2
EPIX
Sept. 12 – "War of the Worlds" Season 3
Fox
Sept. 11 – "Monarch" premiere
Sept. 19 – "9-1-1" Season 6
Sept. 20 – "The Resident" Season 6
Sept. 25 – "Bob's Burgers" Season 13
Sept. 25 – "Family Guy" Season 21
Sept. 25 – "The Great North" Season 3
Sept. 25 – "The Simpsons" Season 34
Sept. 29 – "Call Me Kat" Season 3
Sept. 29 – "Welcome to Flatch" Season 2
Sept. 29 – "So Help Me Todd" premiere
FX
Sept. 15 – "Atlanta" Season 4
HBO
Sept. 16 – "Los Espookys" Season 2
Hulu
Sept. 7 – "Tell Me Lies" premiere
Sept. 8 – "Wedding Season" premiere
Sept. 14 – "The Handmaid's Tale" Season 5
Sept. 20 – "Reboot" premiere
Sept. 27 – "Reasonable Doubt" premiere
Sept. 30 – "Ramy" Season 3
NBC
Sept. 19 – "Quantum Leap" premiere
Sept. 20 – "New Amsterdam" Season 5
Sept. 21 – "Chicago Fire" Season 11
Sept. 21 – "Chicago Med" Season 8
Sept. 21 – "Chicago P.D." Season 10
Sept. 22 – "Law & Order" Season 22
Sept. 22 – "Law & Order: Organized Crime" Season 3
Sept. 22 – "Law & Order: SVU" Season 24
Sept. 27 – "La Brea" Season 2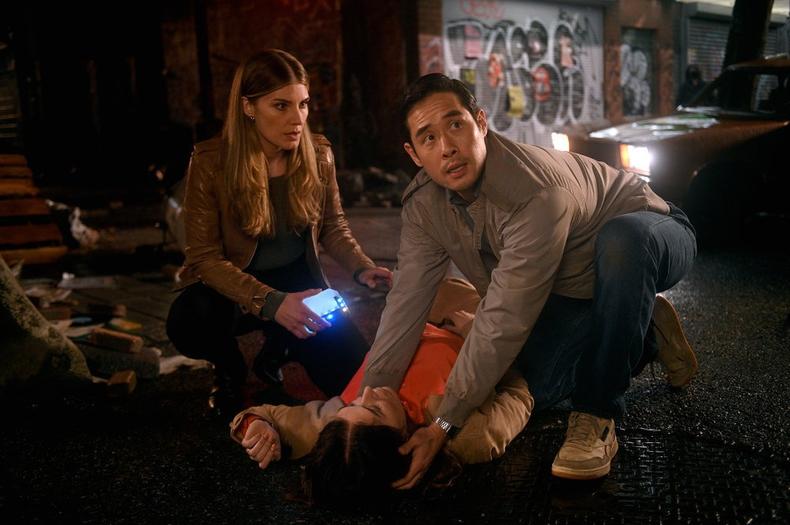 "Quantum Leap" Serguei Bachlakov/NBC
Netflix
Sept. 1 – "Off the Hook" premiere
Sept. 2 – "Devil in Ohio" premiere
Sept. 2 – "The Fabulous Lives of Bollywood Wives" Season 2
Sept. 2 – "Fakes" premiere
Sept. 2 – "You're Nothing Special" premiere
Sept. 9 – "Cobra Kai" Season 5
Sept. 9 – "Merlí. Sapere Aude" Season 2
Sept. 9 – "Narco-Saints" premiere
Sept. 14 – "El Rey, Vicente Fernandez" premiere
Sept. 14 – "Heartbreak High" premiere
Sept. 14 – "The Lørenskog Disappearance" premiere
Sept. 16 – "The Brave Ones" premiere
Sept. 16 – "Fate: The Winx Saga" Season 2
Sept. 16 – "Santo" premiere
Sept. 22 – "Snabba Cash" Season 2
Sept. 22 – "Thai Cave Rescue" premiere
Sept. 23 – "The Girls at the Back" premiere
Sept. 23 – "Jamtara: Sabka Number Ayega" Season 2
Sept. 30 – "Entergalactic" premiere
OWN
Sept. 6 – "Queen Sugar" Season 7
Paramount+
Sept. 8 – "The Good Fight" Season 6
Sept. 18 – "SEAL Team" Season 6
PBS
Sept. 25 – "Van der Valk" Season 2
Peacock
Sept. 8 – "Last Light" premiere
Sept. 12 – "Days of Our Lives" Season 57
Sept. 15 – "Vampire Academy" premiere
Showtime
Sept. 11 – "American Gigolo" premiere
Starz
Sept. 11 – "The Serpent Queen" premiere
Sundance Now
Sept. 1 – "The Secrets She Keeps" Season 2
Sept. 15 – "The Light in the Hall" premiere