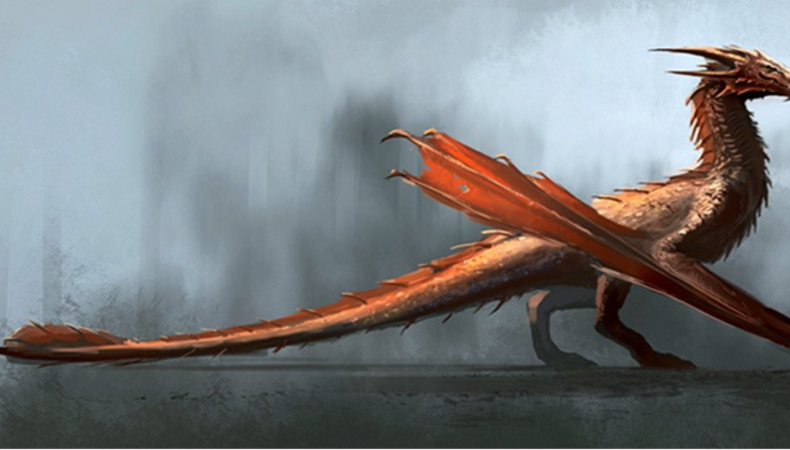 "House of the Dragon," a prequel to HBO's hit series "Game of Thrones," is in the works at the premium cable network. Though not much is known about the series at this time, it will be based on George R.R. Martin's book, "Fire & Blood." Taking place 300 years before Robert's Rebellion, the series will tell the story of House Targaryen, the ancestors of Daenerys Targaryen, who have a long and storied lineage as well as an association with dragons.
One of four "Game of Thrones" prequels that were being developed when the record-breaking fantasy series ended in 2019, "House of the Dragon" is currently the only one moving ahead. One series, which was set to star Naomi Watts and had already filmed a pilot, was canceled in Oct. 2019, and the other two are on temporary or indefinite hold.
"House of the Dragon" is being created and written by Martin and Ryan Condal. Along with Condal, veteran "Game of Thrones" director, Miguel Sapochnik, will serve as showrunners. Although it was originally expected to begin filming in 2020, production restrictions due to due to COVID-19 have resulted in major delays. As of the Jan. 2020 10-episode order, scriptwriting had begun.
Some of the series' principal casting was announced in fall 2020, and in December 2020, WarnerMedia CEO Jason Kilar shared that principal photography would begin "in a few months." The series will film mainly in England, at Leavesden Studios in Watford, outside of London, a departure from the parent series' home base in Belfast, Northern Ireland.
Currently, there are no casting calls for "House of the Dragon" on Backstage, but casting began in Jan. 2020 with reports that casting calls for the characters of Aegon, Visenya, and Rhaenys Targaryen had gone out. (There were no confirmations from HBO that it was a legitimate casting call.)
Included in the casting call were the following character names and descriptions:
Aegon Targaryen: 20s, caucasian male. Married his two sisters Visenya and Rhaenys. Withdrawn, quiet, pious. Harsh with those who defy him. Riding the dragon Balerion. Lead.
Visenya Targaryen: 20s, caucasian female. Older sister and wife of King Aegon Targaryen. A voluptuous, stern, serious, and unforgiving woman. Riding the dragon Vhagar. Lead.
Rhaenys Targaryen: 20s, caucasian female. Youngest sister of King Aegon Targaryen. Kindhearted, graceful, playful, curious, impulsive, and given to flights of fancy, with a mischievous aspect to her personality. Riding the dragon Meraxes. Lead.
In July 2020, after COVID-19 restrictions shut down productions worldwide, sources confirmed that the series was casting once again. Information is still being kept tightly under wraps, but reports emerged that two of the characters casting were Targaryen family matriarchs Princess Rhaenyra Targaryen and Dowager Queen Alicent Hightower. Of course, HBO has not publicly confirmed these reports to be true, but based on what has been released about the series, these characters and their storylines seem to line up.
Casting continued in fall 2020 with the first offical announcement of a lead cast member, Paddy Considine, as King Viserys I. Fans of "Game of Thrones" lore and history know that Viserys I was selected by a council to succeed Jaehaerys Targaryen for the throne around 100 years after Aegon's conquest. He is described as a warm and kind man who aims to continue his grandfather's legacy. However, good intentions do not always result in good leadership, as fans of the A Song of Ice and Fire books and "Game of Thrones" know well.
In December 2020, three more principal cast members were announced, Olivia Cooke as Alicent Hightower, Emma D'Arcy as Princess Rhaenyra Targaryen, and Matt Smith as Prince Daemon Targaryen. Hightower is the daughter of Otto Hightower, the hand to the king, who was raised close to the king and his inner circle. The character is described as "the most comely woman in the Seven Kingdoms," with "courtly grace and a keen political acumen." Rhaenyra Targaryen is the king's firstborn. She has everything, except that she is not male. Daemon Targaryen is King Viserys' younger brother and heir to the throne. His character is described as a "peerless warrior and a dragonrider" who "possesses the true blood of the dragon."
Around the same time as the December casting announcements, more rumored casting descriptions hit the internet. These include:
Ser Criston Cole: male, late 20s or 30s, series regular. Middle Eastern or Mediterranean. Ruggedly handsome, the soul of knighthood and chivalry, a capable warrior.
Harrold Westerling: male. The longest-serving commander and white cloak in the Royal Guard still recalls the brilliance of the Seven Kingdoms of yore. Once a powerful knight with a successful military record, he is a man with presence and status. He has the responsibility to the king to watch over and care for the princess. In the current regime, in which widespread peace has led to complacency and indulgence, he feels something of a lack of purpose but still serves the king in a fierce, if silent, loyalty.
Mysaria: female, 30s, series regular. A striver and schemer, she seeks to rise up in a society that sees her as an outcast and an outsider. Her beginnings are as a sex worker, but she never lets an opportunity slide, and her intelligence and unflagging ambition will carry her ever nearer to her goal: to wiled power over the powerful. It remains to be seen whether she will use it to gain acceptance or revenge. Life in Westeros is a game, and she plans to win it.
In the meantime, you can audition for these fantasy projects casting on Backstage right now!
In advance of pilot production, "House of the Dragon" has announced the following cast members:
Paddy Considine as King Viserys I

Olivia Cooke as Alicent Hightower

Emma D'Arcy as Princess Rhaenyra Targaryen

Matt Smith as Prince Daemon Targaryen

Steve Toussaint as Lord Corlys Velaryon

Rhys Ifans as Otto Hightower

Eve Best as Princess Rhaenys Velaryon

Sonoya Mizuno as Mysaria
News of Considine's casting came in October 2020, while the three additional cast members were announced in December 2020. In February 2021, the announcement came that Toussaint, Ifans, Best, and Mizuno would join the cast. Casting and pre-production on the series continue.
We will post an update when there are more casting announcements.
READ MORE:
No announcements have been made about who is casting "House of the Dragon." Nina Gold was the casting director on "Game of Thrones" and Lucinda Syson cast the now-canceled prequel series pilot. Gold has also cast the new "Star Wars" trilogy, "The Crown," "Chernobyl," "Paddington" and "Paddington 2," and more. Syson has also cast "Wonder Woman" and "Wonder Woman 1984," "Aladdin," "Blade Runner 2049," "Edge of Tomorrow," and more.
There have been no confirmed public casting calls for the show, but expect it to have an ensemble cast full of new characters. Since the series takes place hundreds of years before the events of "Game of Thrones," there will be no returning actors. The show will likely be cast out of the U.K., though given "Game of Thrones" cast internationally, "House of the Dragon" likely will as well.
6 London TV Agents All Working Actors Need to Know
Keep in mind that for larger speaking roles—series regular, recurring, guest star, co-star, contract—you'll likely need to go through your agent. Don't have an agent? Here's how to get one.
Should you find an audition, make sure you're prepared:
"Game of Thrones" leaned heavily on the community in Belfast, Northern Ireland, when filming scenes that required large crowds, and "House of the Dragon" is likely to do the same. The best chance of getting cast as an extra in "House of the Dragon" is to live in or near Belfast. Carla Stronge was the Northern Ireland-based casting director who coordinated extras for "Game of Thrones." Ana and Rafael Guadarmuro handled crowd casting in Spain and Elin Reynisdóttir handled extras casting when "Game of Thrones" filmed in Iceland.
Background work often does not include relocation or travel stipends, so being a local hire is crucial for getting repeat work as an extra. For more information on what it means to be a local hire, click here.
For more information on how to land work and make a living as a background actor, check out Backstage's guide to working as an extra.