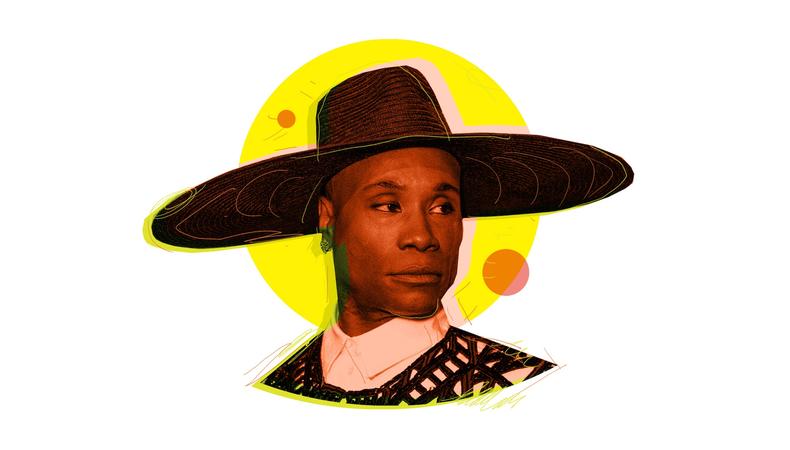 A Tony winner, Grammy winner, and now Emmy nominee, Billy Porter is making his way to EGOT status thanks to his equally rousing and heartbreaking performance on Steven Canals, Brad Falchuk, and Ryan Murphy's "Pose," now airing its second season on FX. But, as he recounts below, it took Porter years in the business to get here; he first acquired his Equity card in a regional production of "Dreamgirls" while training at Carnegie Mellon and never looking back. Read on to hear how he refused to audition for an Oscar-winning Steven Spielberg feature, why theater legend Patti LuPone says he has "brass balls," and how being his mold-breaking self is always going to beat out the lesser alternative.
How Billy Porter Became the HBIC
How did you get your SAG-AFTRA and Equity cards?
I would come up here to New York on my summer breaks from college, right? [During my] sophomore summer, I booked a summer stock production of "Dreamgirls" at Candlewood Playhouse [in Connecticut] playing C.C., and I got my Equity card. My SAG-AFTRA card came after the Tony Award [–winning] performance of "Miss Saigon." I was eligible to buy in because I had done it, so I just bought it.
What's the wildest thing you've ever done to book a role?
I never had a traditional voice—like, my voice was always very high, too high for traditional male [roles] at the time. My voice is more traditional now, as it's lowered over the years. I guess the craziest thing I can think about off the top of my head is going in for the revival of "Grease," which is ultimately a success story. But, actually, I didn't like that they were just calling the black guy in with no character. Everybody else who was coming in has a character, and the black guy is just random, so I was pissed off. And I didn't want to do "Grease" anyway, that's not my gig. That's not what I wanted to do. So when they came back and said, "Well, you can come in for the teenager or Roger," who sings "Mooning," I was like, "Well, if I'm gonna do 'Grease,' I want to be onstage the whole time. I want to be a human being." Even then, I wanted to be a human being, not a fucking clown who comes in, drops in in the middle of the show, stops shit. You know. So I went in and sang "Mooning," and I redid the whole song to sort of fit what black people were doing in the '50s. I based it on Otis Redding—like, how would Otis Redding do this? I did an arrangement like that literally out of spite, and they hired me to do the same thing for the Teen Angel. That's how that arrangement of "Beauty School Dropout" came to be.
Do you have an audition horror story you could share with us?
I remember going in for "Lincoln"—I didn't get to Spielberg. This is back when nobody was really seeing me for shit, but I got this audition for some reason. No script, only the sides, with Soldier 1, Soldier 2, and Lincoln. So I'm reading the script and I'm reading my sides and I'm like, the way this soldier is talking to Lincoln is weird to me because he's a black man, he's a black soldier, but he's so casual with Lincoln. So casual, I don't understand. So I went in and I asked the question: "Well, what is the relationship? I don't know the script, I don't know anything. I don't know how to prepare this because I have absolutely no information about any of it." That's how we're required to go in now. So I go in, I ask this little casting director, "What is his relationship?" "He's a soldier." She had an attitude. "What do you mean?" "He's a soldier!" I said, "Listen, I'm not doing this. We have no information!" And I can't remember what [the soldier] said, but it was so casual and so irreverent. I was like, "Do you see what this black soldier is saying to Lincoln in the 1800s, and you're giving me shit for asking a question about that? Never mind." And I didn't even audition, I just left. It's so great to be finally in a position where I don't have to go through that.
What one performance should every actor see and why?
That's so not fair! I'm gonna distill it to what's in the forefront of my mind right now, because Patti LuPone is on "Pose" and I just sang "Everything's Coming Up Roses" on Sunday [at the Tony Awards]: her "Gypsy," her Mama Rose. I've never in my life. For me, it was the perfect balance of the actress being inside the character, being very generous to everybody around her, while simultaneously understanding that she's the star of the fucking show. The duality of that; understanding how to do all of those things, because when you're Mama Rose, you also have to be the star of the show…. She was on set yesterday, [and] I played [the Tonys video] for her! I said, "Girl, they called on me at the Tonys, and I asked myself, 'What would Patti do?' Just as many of us have asked ourselves that through the decades." And I played it for her, and she just laughed. She was like, "Billy Porter, you have brass balls!"
What's one piece of advice you would give your younger self?
You're right—don't ever question it. Don't ever question your instincts. You're right, even when everybody's telling you you're wrong. It'll take some time, but you're right. I wish somebody had said that to me. [I was questioning my instincts] because my instincts weren't working on paper. I wasn't getting work, I wasn't getting jobs. My gayness was my liability for a very long time. But I was right.