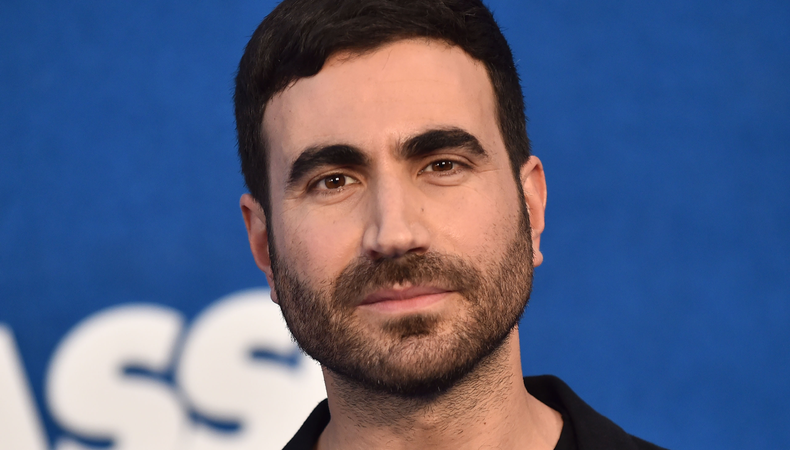 "In the Envelope: The Actor's Podcast" features in-depth conversations with today's most noteworthy actors and creators. Join host and Awards Editor Jack Smart for this guide on how to live the creative life from those who are doing it every day. This episode is brought to you by UCLA's Professional Programs at the School of Theater, Film & Television.
Brett Goldstein has created, by his own candid admission, "loads of stuff that no one's watched." As the actor, writer, podcaster, and comedian explains to Backstage, breakthrough successes in Hollywood are always the result of unseen projects, rejections, and persistent hard work.
"It takes ages," Goldstein warns his fellow artists. But a passion for storytelling, rather than the promise of any success, is what can and should drive one forward, he says. "Fame and success and awards should never be the aim. The aim should be: Are you enjoying the making of the thing? Because the making of the thing, whatever level you're at—if it's a short film you're making with two friends, or it's a massive Apple TV show—it's still the same. You're still creatively making a thing. And if that makes you happy, then you'll be all set."
The massive Apple TV+ series in question is "Ted Lasso," the American-British fish-out-of-water comedy from creators Bill Lawrence, Joe Kelly, Brendan Hunt, and titular star Jason Sudeikis that dominated this year's Emmy Awards list with 20 nominations, a new record for a freshman comedy series. Hired first as a writer and then as Roy Kent, aging captain of the fictional English Premier League team AFC Richmond, Goldstein has earned a Writers Guild Award, ensemble SAG Award nomination, and now 2021 Primetime Emmy nod for supporting comedy actor.
"It's so funny, this thing of 'overnight success.' I've been doing this for 20 years, but yes, sure, it happened overnight!" Goldstein got his start in fringe theater shows and stand-up comedy stages all over the U.K., starring on "Derek," "Hoff the Record," and "Adult Life Skills," for which he won a British Independent Film Award. He created shorts that became the film "SuperBob," last year's AMC limited series "Soulmates," and more, and collaborated with the likes of Ricky Gervais, Catherine Tate, and Lawrence, the latter eventually inviting him to join the "Ted Lasso" writers' room.
It wasn't until Season 1's development was well underway that Goldstein worked up the courage to ask about playing Roy, submitting self-tapes in an exactingly polite email. "I had grown up with family friends who were professional footballers, so I'd seen the sadness that is, you do this thing that is incredible, and then at some point, whether you like it or not, you can't do it anymore. I understood the tragedy of Roy in that area.
"But it was also the rage," he adds with a laugh. Roy's perpetually grim expression, tightly wound physicality, and gravelly, foul-mouthed vocalizing are not terribly difficult to tap into, he says. "His guts are good, his instincts are good. He just didn't have the words for expressing it always. And I think that's why his voice is like that, because he's holding everything in, because he's this cauldron of feelings. But if he let it out, he'd just be crying all the time."
The show's second season, which began airing weekly on July 23, was mapped out before Season 1 became such a word-of-mouth hit. "We actually weren't influenced by the reaction because it hadn't happened yet," remembers Goldstein. "I think it's quite easy to get caught up in the discussions about a show that people are having. But you have to tell the story you were going to tell. As amazing as it is, all these wonderful things that people are saying, you also have to engage in it and then forget it. Because you have to not be influenced by what people want or what people think they want."
The same goes for navigating Hollywood in general, particularly auditions: "Do your thing," and then forget about it, is Goldstein's advice. "It is a lottery. Psychologically you have to go, I'm just offering them a flavor. And it might not be the flavor they want. They might want chocolate, and I'm offering vanilla or whatever it is. I mean, this metaphor is getting stretched. Offer them a fucking flavor from the spice board!"
And no one, especially actors, should put all their eggs in one basket. "If I'm not acting, I'm writing," says Goldstein. "I'm never not busy. As long as I've got stuff going on, even if this stuff is going nowhere, then I've had a good day.... This magical part you're waiting for? Write it."
Stay tuned also for casting insider Christine McKenna-Tirella's update, which includes covering the recent changes to Actors' Equity Association membership. Her recommended Backstage notices of the week include a CVS health commercial and financial services social campaign.
Listen now on:
Looking for remote work? Backstage has got you covered! Click here for auditions you can do from home!