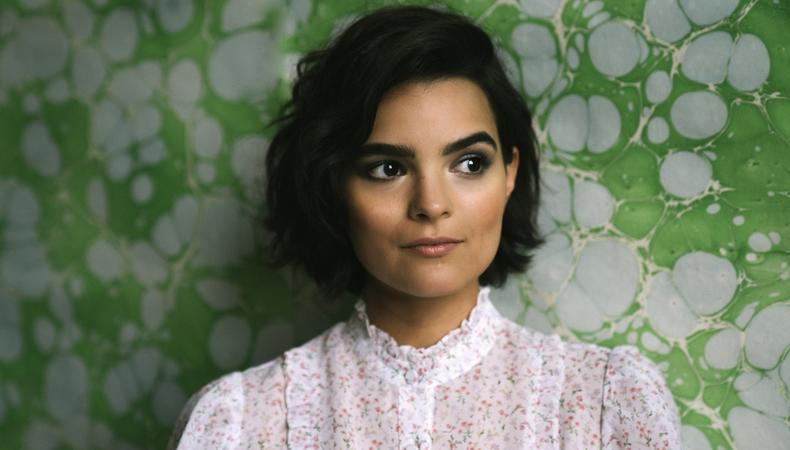 The following Backstage Live was compiled by Backstage readers just like you! Follow us on Twitter (@backstage) and Instagram (@backstagecast) to stay in the loop on upcoming interviews and to submit questions live on camera.
Brianna Hildebrand may have moved to Los Angeles five years ago to pursue a career as a singer-songwriter, but it's acting onscreen where she's been finding her footing after a series of acting classes and auditions. Audiences will know her best as Negasonic Teenage Warhead in Marvel's two "Deadpool" features. But her latest project, Netflix's "Trinkets," puts her front and center as Elodie Davis, a queer teen who, while grieving the loss of her mother and moving to a new town, forges a trio of girlfriends at Shoplifters Anonymous. "They're the unlikeliest of friends, and they get into some trouble together," Hildebrand teases.
Hildebrand finds Elodie universally relatable, warts and all.
"Reading her, I was just like, 'I relate to this.' I feel like everyone can relate to saying the wrong thing at the wrong time, or not fitting in, or just feeling like an outsider. That's so universal, and anyone watching can put themselves in Elodie's shoes. I was excited to play that."
Her secret to auditioning? Leave desperation at the door.
"I got a scholarship to this acting class, and then I was in acting class for a year every night, and I just started auditioning. I was still actively pursuing music at the time, and I had gone in on hundreds of auditions. Oddly enough, 'Deadpool' was the one audition where I finally convinced myself that it didn't matter if I got it, you know? I think you kind of have to get into that mindset of 'it is what it is' so that you're comfortable in the room auditioning. I feel like we're all our own worst critics, and for me, I sometimes have raging anxiety, so it's been a helpful skill to learn to let it go."
READ: How to Audition for Netflix
"Deadpool" put her to the physical test, while "Trinkets" got emotional.
"For 'Deadpool,' there's a lot of physical training that's involved, and stunts, and really trying to get familiar with the superhero world. And with this, it was more me trying to get in touch with my emotions and what grieving might be like. It [has] a lot more personal relationships that I got to delve into, which was nice."
Memorizing lines is about hearing them aloud.
"I'm an auditory learner. I like to record myself saying something and listen to it over and over, or I'll say it over and over. Sometimes I'll write down all of my lines in a notebook and keep writing them, which helps. Honestly, I think what helps the most, though, is saying them out loud. I'm really grateful to have a girlfriend who will stay up all hours of the night with me and just read back with me."
READ: How to Memorize Lines Fast
Finding an acting community helped her along the way.
"I would say that the transition [from music] was pretty natural. I love Meryl Streep, I love Ellen Page; I really got into watching hardcore dramas and just studying those, [which] got me really excited about being in the industry. And also, surrounding myself with other people who loved acting got me really pumped and inspired…. I would say try one [acting class], at least. Try a couple, because they're all different, and you can easily find a community of people who like acting and can help you out."
Hildebrand builds a character's interior first, but dressing the part doesn't hurt, either.
"When we were in Portland filming ['Trinkets'], I found myself buying a lot of clothes or bags that I wouldn't normally have bought. I got home and was like, 'That's not me.' But I admire some people who really go out and change their wardrobe or put a lot of effort into the appearance side of it. I try to get into the headspace and leave it at that—but apparently, I don't do well at that considering I have, like, six different bags that I'll never use."
This story originally appeared in the July 11 issue of Backstage Magazine. Subscribe here.